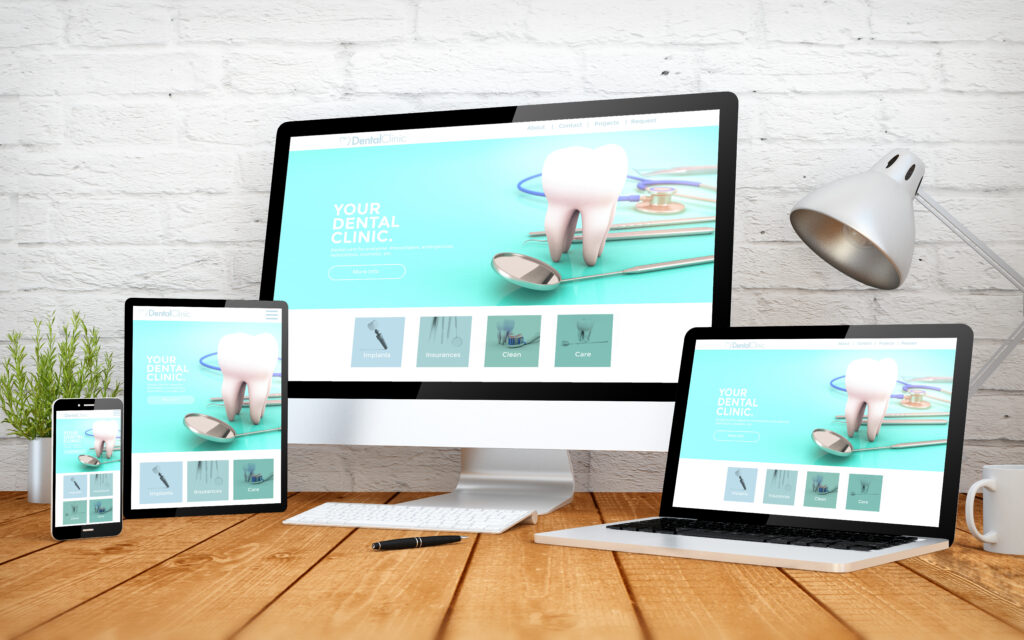 If you want to reach people in your area who need to schedule dental care, you should make sure you are easy to locate online. Search engine optimization and original, relevant content are important to your overall efforts at reaching people. With that said, you should also think about the experience people will have when visiting your website. Many people who locate your links will do so while using smartphones and tablets, not just laptops and desktops. What this means is that your website should be responsive to these different formats to provide optimal viewing experiences. If your site is not yet up to this standard, MDPM Dental Marketing can help!
Having your website redesigned or rebuilt becomes necessary every few years, as doing so lets you keep up with changes to technology and design trends, and it ensures you are not missing important features. Beyond just thinking about the responsiveness of your pages, think about what you miss out on when you lack the capacity to provide the right technical SEO, or what can happen when older pages make people feel less motivated to seek out your services.
Your Dental Office Should Have A Website That Works On More Than Just Desktops And Laptops
Simply put, if your website is difficult to use on anything other than a desktop or laptop, many of your visitors will depart quickly and not return. This means the work you put into being easily searched and discovered leads to less value. Many sites have already made the transition to a more responsive user interface. However, if you are only updated to the point where mobile users and desktop users have a good experience, you can still lose some views. Updating your web presence so that it is fully responsive will help you keep more of the viewers who find you and turn them into new patients!
Going Beyond "Mobile-Friendly"
A mobile-friendly website is one that can be used effectively on a mobile device. Because so many people rely on their phones to search online and gather information, you can expect people to benefit from a positive mobile experience on your site. However, this is only part of what a fully responsive site can do for you. A more advanced user interface can effectively move between formats that are optimized for desktop, tablet, and phone users, and it can even respond to the relative window size on a laptop or desktop. Because of this, visitors are less likely to become frustrated or confused and leave before seeking you out for an appointment.
Why Websites Need To Be Updated And Replaced Over Time
Transitioning to a fully responsive site is important. It is also just one example of why you should pay attention to changes in digital marketing and website design. Spending too long with the same design will leave your site with a less appealing look. It can also mean missing out on technical updates that help with SEO and the user experience. One of the advantages to having a dedicated dental marketing team is that you do not have to try and keep up with changes in website design and marketing on your own. You are free to focus on providing great smile care to your patients while still having reliable information about when changes should occur and why they matter. In addition to updating and replacing sites, we are there for you if you have questions about its maintenance, and we can provide timely updates when information changes to your address, office hours, or team will need to be made.
Is Your Website Your Only Resource For Digital Promotion?
Having a current, well-made website matters, but remember that your site is not your only means of connecting with people on the internet. We can extend changes to your website and branding to your social media pages by updating them and designing them to have an appealing look. We can also supply original, eye-catching, and relevant content to share on these pages. This helps you foster a stronger relationship with existing patients and connect with new ones!
We Offer Support For All Of Your Digital Marketing Concerns!
Our support for our clients covers the spectrum of digital marketing concerns. You can rely on MDPM Dental Marketing to support you through your social media activities, which can further boost your SEO and help you share relevant information about your practice. We also provide the original content that you can depend on to grow your reach and speak to your capacity for taking on different aspects of smile care. Whether you are a new practice, new to your area, or in need of a change in your approach to outreach, we can support you in your work to connect with more people!
Talk To MDPM Dental Marketing About Upgrading To A Fully Responsive Website!
The internet is a vital resource when it comes to finding local services. Thanks to the prevalence of smartphones and tablets, people are increasingly reliant on different devices that need different kinds of responsiveness from the websites they visit. If you want to make sure people who are searching for dental care in your area find you and find the right information about your practice, it is hard to overstate the importance of having a web presence that can fit whatever device a visitor happens to be using! For a new site or a site redesign, MDPM Dental Marketing can work with you on creating a responsive platform. We can also help you use your digital space to boost your overall SEO and connect with the right people, which will help ensure that site visits lead to more in-person appointments! To find out more about how our services can benefit you, please reach out to MDPM Dental Marketing today at 972.781.8861!