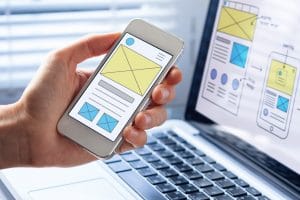 How often do you actually use your desktop or laptop to search for a business or service online? Most people use their smartphones, even when looking for dental care! In fact, mobile internet usage beat desktop usage in 2016 and even by 2012, smartphone sales exceeded desktop purchases. Way back in 2010, Google's CEO urged designers to focus on mobile-first designs. We say all of this to remind dentists that having a site that looks good and is easy to navigate on a smartphone or tablet is crucial for staying competitive, attracting new patients, and enjoying improved SEO. With that in mind, let's learn a little more about responsive, mobile-friendly design, and you should consider this when redesigning your website or formulating your online marketing strategy!
A True Mobile-First Approach
At one time, all focus was placed on the desktop version of your dental website. By the early 2010s, most designers were beginning to incorporate mobile versions, but mainly as an afterthought. These versions were still difficult to navigate on a phone or tablet. Now, websites for dentists, like other businesses, must place priority on their mobile version, ensuring it is responsive and able to adapt to the screen size of a variety of devices, from desktops and laptops to smartphones and tablets. When done properly, these will be easy to scroll through and find information without needing to zoom and pan with your finger and thumb to access links or crucial information. The focus is on user experience (UX), ensuring your potential clients can find the information they need quickly. Otherwise, you risk them simply giving up and moving to another dentist, one with a responsive site. Since studies show that over half of web traffic around the world is navigated via mobile phones, and that people will give up on a site that doesn't hold their attention in less than 15 seconds, this approach is more vital than ever!
Creating A Responsive Design
You can't just scale down your desktop website, as people search online in very different ways on a desktop or a phone. With a desktop, people will be more willing to browse, looking at various pages and really getting a feel for your philosophy and services. But on a device, they don't want to exhaust their fingers trying to find key information. Which is why having custom content is important. But with mobile, we want key information quickly. We need to know your name, your location, your contact information, and the very basics about your services nearly instantaneously. When we design a mobile-first website, we keep that in mind, structuring the homepage to offer the most valuable information front and center. We start with mobile, but also create a different design for desktop to ensure quality UX standard on multiple devices. We then start from the smallest viewpoint, mobile, and work up through tablet, laptop, desktop and several different monitor sizes. We offer multiple sets of styles for a variety of sizes and devices! Part of this process including creating sites with 5+ Breakpoints, so it will look and function well on multiple devices. We also perform quality checks on technical and design on a number of different devices.
Benefits for Your SEO and Mobile Conversion Rates
Search engine optimization (SEO) is valuable. Every dentist needs front page real estate when someone searches for dental services in their city. In fact, you not only want front page, you want to be one of the first results for businesses in your area. In 2018, Google started mobile-first indexing, which means priority is given to those with a responsive, mobile-friendly UX. After all, Google's entire purpose is to bring people to the answers they want, which means directing them to local services and easy-to-navigate websites. A number of factors go into improving your SEO obviously, such as content, social media, reputation management, and more. But being mobile-friendly is a major factor and one every dental practitioner must take into account when creating an online marketing plan. You need to rank higher, and to do so you need a better face online, organic SEO, and custom content. Fortunately, MDPM Dental Marketing will help with all of these factors!
When to Create a New Dental Website
Pick up your phone and Google your practice. How does your site look? Is it a clunky, scaled-down version of your desktop? Is it hard to navigate your menu or find information about your location and services? Does the design simply look outdated? Then you likely need a new one, and we can help. From the initial interview and throughout the design and build stages, we will work with you to create a site that reflects your unique philosophy and approach to dental care. Each one is fully-responsive and easy to view on different devices. We always stay on top of industry standards and accessibility guidelines, and employ a number of factors to help improve SEO, including custom content and copy, social media map platforms, Google Analytics and even Search Console/Webmaster Tools.
The ones we create for dentists are simple and sleep, with fast loading times (a MUST, as Google pointed out that over 53% of searchers leave a site that takes more than 3 seconds to load), eye-catching visuals, and of course, a responsive build that looks great on your smartphone or tablet! If you have any questions, or if you would like to start the process of creating your online presence and marketing plan, then please contact our team today to get started.
MDPM Dental Marketing Creates a Custom, Mobile-First Websites for Dentists
Being mobile-friendly is no longer an after thought in web design and online marketing. At MDPM Dental Marketing, we create mobile-friendly websites for your practice that meets the latest industry standards and offer a sleek, modern look to help attract new patients looking to improve their oral health. We also help manage your online presence, updating your site and offering tech assistance, and even working with you to improve your reputation management and social media strategies! To find out how we create responsive designs for our dental clients, and to schedule your interview at your earliest convenience to see what options we will offer your practice, please call MDPM Dental Marketing today at 972-781-8861. Let's work together to help your dental practice grow and thrive!