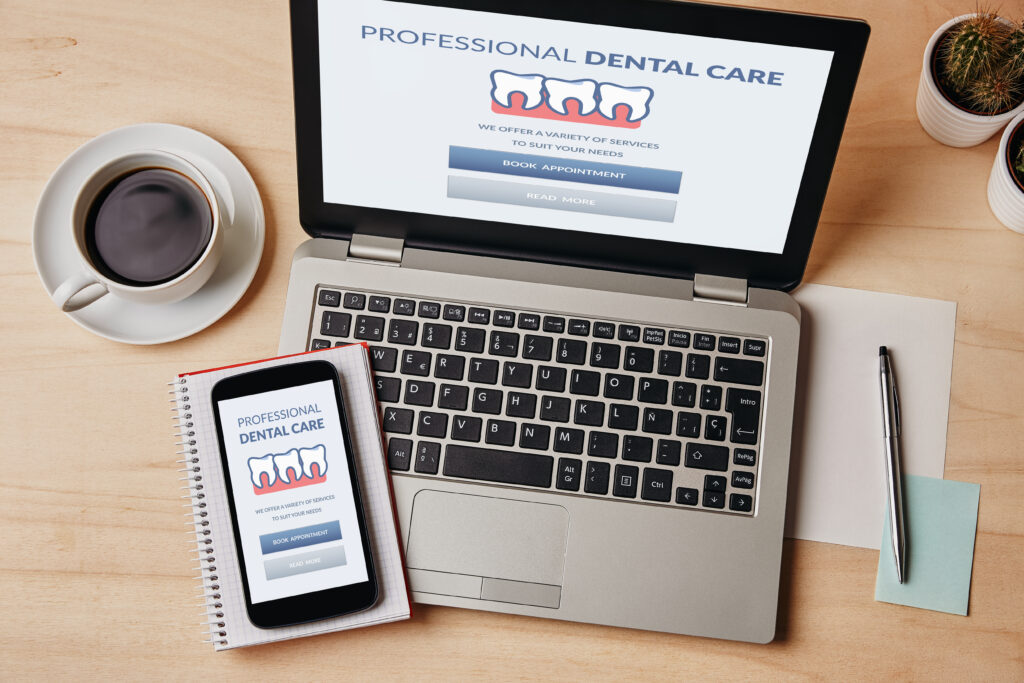 What can you really expect from a website you create for your dental office? A well-made and modern site can make it easier for you to reach more people in your area, show up more frequently in the right online searches, and generally boost your visibility. Having the right features will also help you by making your site more useful to your current patients! Changing technology can affect different aspects of a person's experience with your website. Upgrading or replacing an old site can mean providing a web presence that lets people address payment matters, schedule care, review wait times, and more!
MDPM Dental Marketing is ready to help you with different aspects of digital marketing and website support. As part of that support, we can help you do more with your site by using it as both a means of growing your practice and a welcome resource for the people who already rely on you for smile care. Beyond offering technical assistance, we can offer guidance on design choices that help you establish your brand, provide original content to reach more people, and help you take advantage of different social media platforms.
Is Your Website Due For An Update?
Changing trends in design and the introduction of new site features that become popular can make your once-fresh page for your dental office seem stale. This can be a problem, as your digital space can be the first interaction that many people have with your practice. A site that looks old or poorly designed can reflect poorly on you and turn away potential patients. As changes continue to affect digital spaces, the importance of interactivity has risen. People can look at your website as more than just a way to learn more about you. They can also hope to find features that make working with and visiting you easier. We are happy to work with you on making the addition of useful new features part of a larger plan to change your website and boost your visibility online.
The Right Website Can Help You Reach New People And Serve Current Patients
You do not have to choose between a website that attracts new patients and one that can better serve people already in your care. We can help you understand what features have become popular as well as what additions are important for your ability to promote yourself. Some of these features can make you more attractive to search engine algorithms by making you site easier for them to "read" and by providing more information to share on search results. These features, in addition to design updates that make your page easy to explore on a phone, tablet, and desktop, can be valuable for boosting your overall SEO (search engine optimization). We can add additional features that are more recognizable and have direct benefits for site visitors. An updated site can feature helpful payment portals, listings for current wait times, online communication options, and more to accommodate patients.
Adding Features That Provide Better Interaction For Patients
Site interactivity helps people take care of bills, make arrangements for care, and engage with your office. These features let current patients know more about what is happening with your practice by offering updates about wait times, information on appointment availability, and providing live chat functions. They can also be a great way to share forms that first-time patients need to have prepared, which shortens the time needed to prepare for their appointment. You can even provide pop-ups as needed to share updates about changes in hours or other matters that you want people to know.
Improving Your SEO Efforts
Committing to better organic SEO means committing to website design and activities that raise your visibility in the right online searches. With technical features that communicate effectively with search engine algorithms and original, relevant content shared consistently on your site, we can help push your site links up on Google searches. This is activity that helps you put your name, services, and contact details in front of more people in your area in order to grow your practice and fill up your appointment book! We provide both technical assistance and the creation of relevant, SEO-friendly content about your practice so that you can benefit from positive site activity without having to expend your own time and energy to support it.
Our Dental Marketing Support Can Rely On Different Channels To Grow Your Overall Reach!
The right website can be vital if you want to grow your practice, but it is not all that you can rely on when you want to reach more people. We can combine your webpage updates and activity with social media efforts to further extend your reach. Social media provides another space where patients can follow you and receive updates, as well as more links for search engines to find and share in response to local searches for dental offices and services. To help sustain your activity and stay visible in these spaces, we can provide monthly kits that make it easy to make relevant and consistent posts!
Talk To MDPM Dental Marketing To Learn More About Adding Website Features That Benefit Your Patients
Does your website feel old and less functional in comparison to more modern sites? Changes in design and technical features can make a page feel obsolete, something that can hurt its reach and ability to attract new business. MDPM Dental Marketing is ready to help you make important updates so that you can more easily reach new people and support the patients who already visit you! We provide broad support for your website needs, as we offer technical assistance in designs and upgrades, provide relevant and SEO-friendly content, and even offer support in social media activity! If you would like to find out more about how we can help you, please reach out to MDPM Dental Marketing today at 972.781.8861!