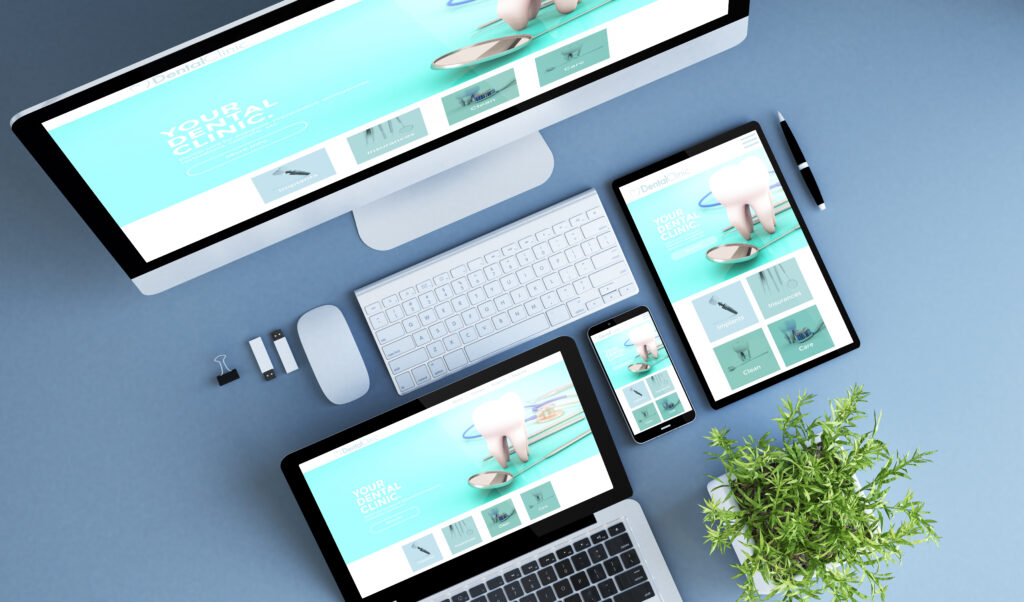 Recent breakthroughs in AI technology have opened up new possibilities in how websites are created, and how they are able to engage with visitors. Better algorithms and improvements in generative text have even started to change how we look for information and services online! Between the changes we have seen and the ones we can expect to see in the near future, is it time for you to rethink how you present your dental practice online?
MDPM Dental Marketing has supported dentists throughout the country for many years. We continue to keep up with changing SEO trends and technology so that our clients continue to have the right support. Google continues to be vital to digital marketing success, and as recently as March of this year, they made updates to their algorithm to prioritize original and authentic websites. In other words, practices that try to take a fast track with generic sites and AI-produced page content are at risk of downgrades that keep them from reaching anyone. We are protecting our clients against this kind of limitation by providing authentic, relevant, and engaging content on websites that are custom-built to best reflect your practice.
The Limitations Of Generic And AI-Dependent Websites
Technology breakthroughs have made it easier to build and share a website with the world, but the quality of these sites can hurt their value. Google's March 2023 broad core algorithm put more emphasis on the EEAT scores of sites in order to help people find authentic and helpful pages. By doing so, the search engine is lifting up links that hold more valuable information while keeping lower quality, less helpful pages from cluttering up the top spaces on search results pages (SERPs). While the benefits of using AI assistance in designing sites and generating copy may change over time, doing so now could put you at a serious disadvantage if you want to reach new patients.
Defining EEAT And Its Impact On Your Site's Reach
EEAT stands for Experience, Expertise, Authority, and Trustworthiness. When Google's algorithm scans a webpage, it evaluates that copy on these fronts to see if it really offers visitors the kind of help they want. These metrics are especially important when a site has medical information. Relying on generative text programs puts you at risk of sharing low-interest, less reliable information. This can hurt your reach, and it even puts you at risk of unknowingly sharing inaccurate medical information, which can be interpreted as false advertising, something that can lead to stiff penalties.
Why We Focus On Organic SEO
Organic SEO remains an effective strategy for several reasons. Original and informative site copy can earn higher ranks on relevant Google searches, and it can encourage potential patients to give you a call and schedule treatment. It also offers a better long-term strategy for reaching people, one that builds over time and avoids the recurring costs of pay-per-click (PPC) marketing. Having more informative and interesting content will help you stand apart from competitors with generic, less interesting materials on their own sites. It can also help you establish your value to search engine algorithms, which can keep your links highly ranked in the right online searches.
Enjoy A Web Presence That Truly Represents Your Practice
By customizing your website and content, we can make your online presence a true extension of your office. Many people will learn about you by visiting your site, which means they already have an impression of you before they take their first step into your waiting room. If you don't want to give people a generic and impersonal greeting when they show up to your office, why would you put up a generic and impersonal website to greet them online?
Our Digital Marketing Support Goes Beyond Helping With Your Website
We continue to offer more for our clients as changes in website marketing take place. We can upgrade your site by improving its design and site copy, and we can introduce interactive features that make it more beneficial to existing patients. We can also expand your reach by assisting with your social media. Further support through targeted PPC marketing and reputation management can offer more avenues for reach, which can help you bring in more people and support your practice.
Talk To MDPM Dental Marketing About Marketing Your Practice With A Better Web Presence
Your web presence should be an extension of you. This will help you stand apart and make a good first impression, and it will help you avoid the limitations of current AI-assisted digital marketing efforts. If you would like to find out more about what we can do to help you grow your web presence and practice, please contact MDPM Dental Marketing at 972.781.8861!