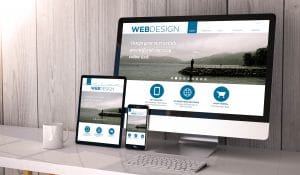 Does your website exhibit current design trends, or has it fallen behind? This is an important question to ask, as an outdated online presence can hurt your ability to maintain a site visitor's interest, and compel them to make an appointment at your practice. It can also hurt your SEO – as Google's indexing efforts have improved, the search engine has become better at analyzing user engagement and interest. If your outdated website has become difficult to navigate, if it is hard to use on mobile devices, or if it just looks unappealing, people can be less likely to explore the services you provide. We can improve your site design as part of an overall plan to help you successfully market your practice online!
Making Your Website Easier To Navigate
As technology offers more ways for people to search, they can expect more user-friendly features on your page. If you have not thought about how easy it is for people to use your site, particularly when they use a mobile device, your SEO can be negatively impacted. You should also be aware that people are increasingly comfortable with voice-based searches, and support from live chat features that help them find what they are looking for.
Updating The Look Of Your Website
A website that looks out of date can seem less trustworthy, and it can be less engaging. Because of this, you could be turning people away without even realizing it! The colors, designs, and images you incorporate into your site have more than just esthetic value. By keeping your site modern, you make it clear that the information is regularly updated, which can make it feel more relevant to users.
We Can Help You Make The Most Of Your Online Presence
Your website is an important tool for reaching new users. If your website is poorly designed, if it is not focused on local SEO, or if it lacks useful content for visitors, you may be giving people a poor first impression of you before they ever come to your practice! We can help you navigate every area of online marketing you need to concern yourself with, so that you can provide a positive initial impression, and make a stronger case for your services to people in your area who are seeking dental care.
MDPM Consulting Can Help You Update Your Site Design
MDPM Consulting is ready to help you take on the challenges of website design, and online marketing! If you have questions about the services we provide, or if you are worried your current website is doing a poor job representing your practice, you can reach us with the contact information provided below.
Do you need to update your website design? Contact us today and let us help! Email MDPM Consulting atinfo@mdpmconsulting.com, or call us at 972-781-8861.