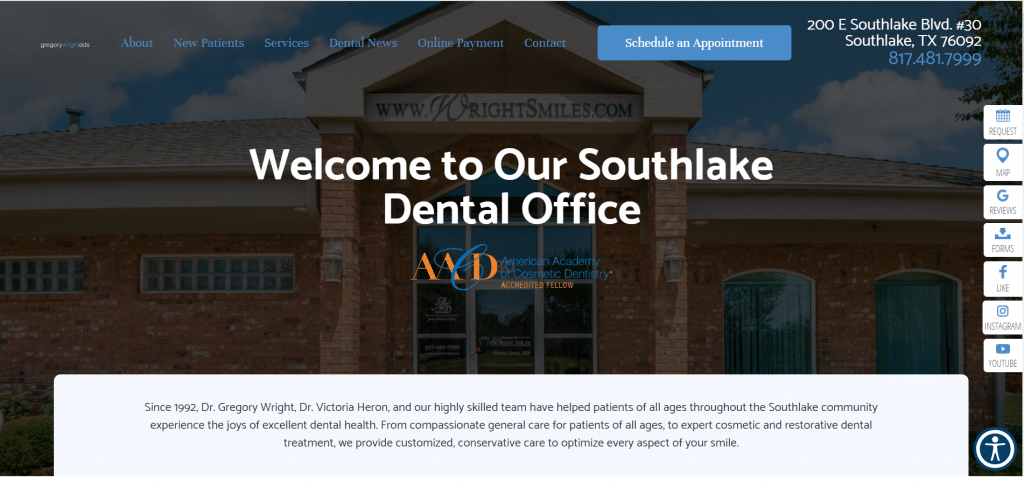 Thanks to your website, many people will form a first impression of you, and your practice, before they ever set foot inside your dental office. After all, when an individual has a question about their oral health, or when they want to find a dental office near them, they almost certainly turn to the internet for help. Is your site making a first impression you would be proud of, or does it suffer by comparison to websites that competing practices host? For the sake of your online marketing success, you need to pay attention to the life cycle of your site. After three years, your digital presence can appear outdated, it can lack important SEO features, and it may run poorly compared to newer sites. We regularly help our clients, like Dr. Gregory Wright, when they need a new website. We are also ready to help new clients who want to replace their previous page, create a site for a new practice, or establish a microsite to help them focus on a particular area of dental care!
Upgrading Dr. Wright's Website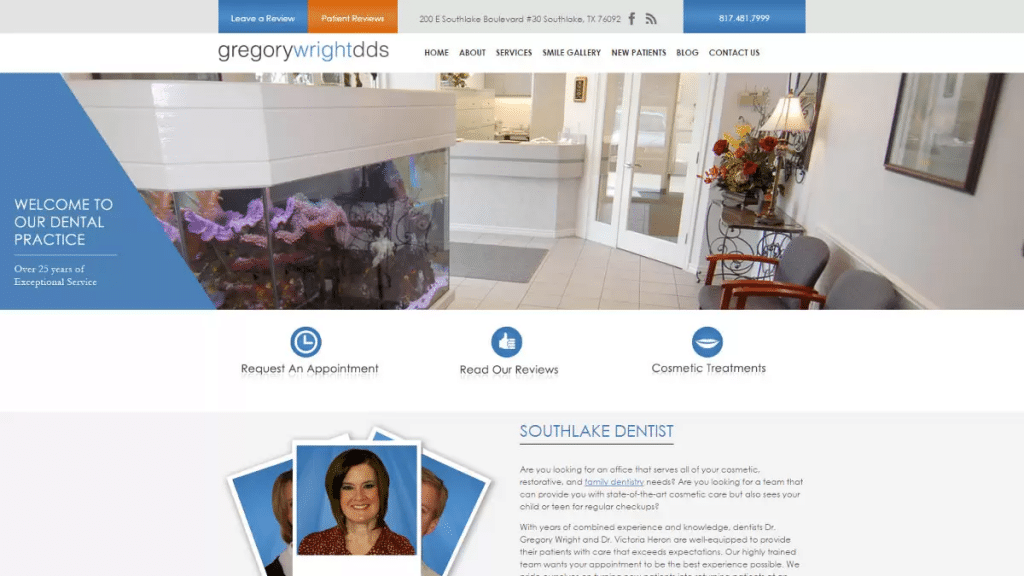 Dr. Gregory Wright and Dr. Victoria Heron have provided quality dental care to the Southlake, TX community since 1992. Their practice offers a range of important oral health services, and Dr. Wright is an Accredited Fellow with the American Academy of Cosmetic Dentistry! For years, the site we built and designed for him helped him establish his dental office as a great destination for people in the area. With their webpage established, we helped them reach out to more of the Southlake community with engaging site posts, and through technical and locally driven SEO efforts. 
While Dr. Wright's site gave his practice important support, and better online visibility. Unfortunately, time will take its toll on the value of any website. Eventually, newer sites appear online that load faster, boast trendier designs, and feature the right technical SEO features to communicate with Google and other search engines. Dr. Wright continued to offer amazing dental care, but his aging site made it more difficult to reach the right people online. Dr. Wright's new site gave him a more attractive, easier to explore platform to broadcast his skills, and boost his SEO. Creating a new site also ensures that his pages are easier to read on mobile devices, which can lead to better rankings from Google. 
You Should Replace A Website After Three Years
Some websites are designed with more care than others, and the life cycle of a poorly made site can be relatively short. With that said, you should be prepared to replace a website after three years. By this time, you can assume that many changes beyond your control have taken place. Google can implement algorithm changes that affect the way sites are read, and ranked. New technology can allow websites to do more with their pages, while an older site can lose speed and become frustrating to use. You should also consider that color and layout preferences change with time. Because people may see your website before they see your office, think of your online presence as a different kind of waiting area – would you want to greet people with a waiting area that looked dated and uncomfortable? If the answer is no, you should be mindful of how your digital presence reflects you.
Take Advantage Of New Website Technology And Design Trends
We keep pace with changes in website design trends, and we monitor developments that affect SEO. Because of this, we are prepared to replace you old website with one that looks better, runs more effectively, and has an easier time communicating with Google and other search engines. We can use new technology to lay out information in a way that is easy to follow, but not overwhelming. We can also make sure that your site works well on modern devices, particularly mobile devices like smartphones and tablets. Having a mobile-friendly site is particularly important now, as Google's move to mobile-first indexing means that new sites are actually being evaluated on mobile platforms, not desktops. If your site has not been optimized for mobile devices, you can struggle to secure good rankings in relevant searches. 
Improving Your Local SEO With Your New Website
If you want to turn site visits into new appointments, you should be focused on reaching people in your area. As we build your new site, we can include keywords, links, and location information that ensures Google knows your exact location, and ranks your site highly when people near you are engaged in relevant searches. In addition to making sure that different site pages boast your current address and contact information, we can use meta information on pages to communicate directly with Google. Google can hesitate to provide better local support on sites without a clear central location – building these SEO efforts into your site's design and technical information can give you a key advantage. 
Making Sure Your Site Is Current With Your Practice
Three years of technology and design updates can make your website look out of date when compared to competitors. Your practice can also go through considerable changes in that time, which may leave your site with incorrect information. During your update, we update pictures of your office, add any new awards or credentials you may have earned, and ensure that your NAP is accurate. NAP refers to your Name, Address, and Phone Number, three vital pieces of contact information. If this information features any typos, or reflects old information, it can create a problem for local SEO. 
While building you a new website, we can also help you do a better job sharing important links. We can add icons that connect people directly to your social media pages, and give them direct access to spaces where they can leave positive online reviews. This can help you interact with patients on more platforms, and encourage more favorable feedback online, which can convince new patients to make their first appointment.
MDPM Consulting Is Ready To Provide You With A New Website!
If your website is more than three years old, if it no longer reflects your current practice, or if it pales in comparison to the sites other practices near you are using, you can benefit from a change. MDPM Consulting is ready to build your new site, and provide ongoing SEO support that will help you see the most valuable from your digital platforms! For more information, call MDPM Consulting today at 972-781-8861.