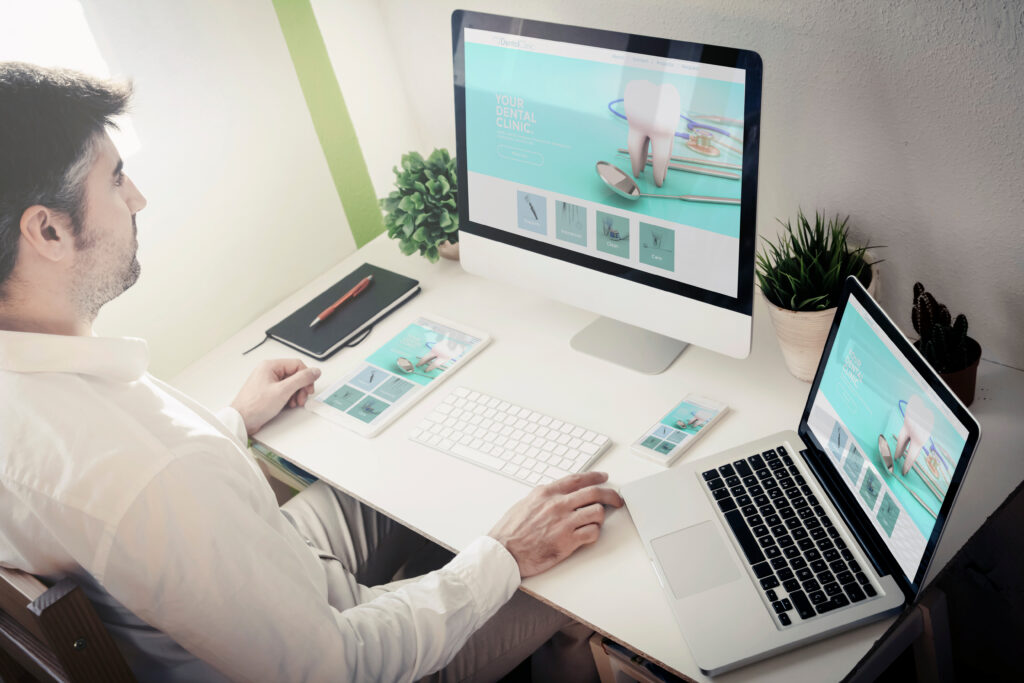 If the arrival of the new year has you thinking about what you should change about your dental practice, you may want to take a look at the online presence you currently maintain. There have been changes in technology and design preferences over the years that affect what potential patients expect to see when they find you online. Beyond maintaining the right look, you can be expected to include features on your site that make it more interactive as well as easier to read on all screen sizes. Catching up to these changes can be important on its own, but doing so can also help you with your larger hopes for boosting your online profile and marketing yourself more effectively.
With the help of MDPM Dental Marketing, you can make meaningful changes to the way you present yourself digitally. We provide a range of assistance in website design and maintenance, and we help boost visibility through effective SEO (search engine optimization) efforts. Between growing your reach and making your webpages more attractive, we can help you grow your practice in 2023 and beyond!
Changes In Website Technology Affect What Patients Expect From You
Would you expect patients to be satisfied with your practice if you offered outdated treatment options and did a poor job keeping up with your waiting area? Staying on top of important updates in dentistry and maintaining a welcoming environment certainly benefit you. It is important that you also think about the impression that your website is making: Older pages that are outdated and are hard to navigate can give someone a negative impression of you before they set foot in your office! However, by making a timely update, you can both improve on your digital first impressions and make it easier for people in your area to find you.
Can Your Site Adapt To Fit Different Screen Types?
A fully responsive site is one that looks attractive and proves easy to use on all platforms. While you can count on many of your patients to find you on desktops and laptops, many others will use handheld devices. Beyond just making sure your pages fit these different screens, an update can give your site the ability to adjust as needed to look its best and function effectively no matter how someone explores it.
What Patients Can Expect To Do Through Your Website
If someone in your community is looking for a specific type of smile care—for instance, if someone near you wants to know about professional teeth whitening—you want your site content to appear in their Google searches. Better SEO is certainly a priority when websites are developed, redesigned, and maintained with relevant content. With that said, there are new expectations for site features that existing patients can rely on to make experiences with your practice easier. We include plans for better interactivity with your digital space. The right features let people pay existing bills through your site, learn about updates regarding holiday closures or changes in hours, receive important forms, and even request appointments! You can also provide a chat feature that makes asking questions easier for both your patients and your dental office.
We Help With More Than Just Website Design And Function
A fully supportive online marketing team can help you expand your patient list, fill your appointment calendar, and generally enjoy a successful new year. Creating or updating the website you use to promote your dental office is just part of what we do. After the site is running, we provide continued maintenance and technical support whenever it might be needed. We also produce original content that we will share; this creates new links for Google and other search engines to find, and it helps people learn more about what you can do for them. Our services are geared toward organic growth, which means your site's overall appeal becomes more clear to human visitors and search engines that rank site links by relevancy. With that said, we can help you make smart use of paid SEO, or PPC marketing, which helps you place links in Google's paid ad spaces.
Growing Your Digital Marketing And Overall Outreach With Social Media
For you to truly see the most value from your online marketing efforts, you can use more than just your webpages. Our digital support includes support through your social media channel! Effective social media posting strategies are easier to follow, as we provide eye-catching and relevant content to share that can engage current and potential patients. We can also share website posts through your social channels, which can help with SEO for both spaces.
Talk To MDPM Dental Marketing About Adding New Features To Your Website!
A change at the start of the year can have a lasting impact. With the support of MDPM Dental Marketing, you can make your website a more appealing space, and you can improve its standing with Google and other search engines to ensure it appears in more searches. We are ready to help you whether you need to set up your first site or replace an older one, and we can continue to support you in order to produce a significant SEO boost. For more information on updating your website in ways that help you attract more patients and meet their needs, please contact MDPM Dental Marketing today at 972.781.8861!