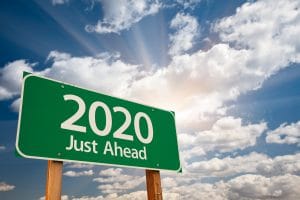 The final months of the year (and the decade) are here, and it is important for you to think seriously about what your goals for 2020 should be. Before the new year begins, you should be clear on what you hope to accomplish, and have a marketing strategy in place to make sure that your efforts are successful. Do you plan on opening a new franchise location, and begin serving new patients in a new community? Are you planning to bring in new dental experts to work with you? To make the most of significant changes and developments, we can help you map out a marketing strategy that ensures people know what you are doing, and are excited to visit your practice. Even if you plan on returning to the goals you set in 2019, we can help you update your strategy so that you continue seeing growth, and avoid problems that arise because of local competition. For our current clients, we are ready to meet and discuss the right approach to marketing in the new year. We can also provide a FREE analysis to any practice interested in working with us for the first time!
Outlining Goals For Your Practice In 2020
Many people see the start of the new year as an opportunity to set goals for themselves, and look for ways to grow and improve as individuals. When it comes to preparing for the new year, it is important to set goals for your practice as well. With that said, it is important to set goals, review areas of improvement, and map out a marketing strategy before January in the new year. After all, the plans you make can have a significant impact on your ability to support your dental office, identify opportunities for growth, and sustain positive relationships with your current patients. The efforts you make throughout 2020 will also be key in setting you up for success in 2021 and beyond!
The Importance Of The Right Online Activity For Dental Marketing
If you want to develop a successful marketing strategy for your practice, you need to take online marketing seriously. The right SEO strategy can be vital to your effort to stand out in your community. In addition to introducing you to new people, the right support can ensure your digital platforms are doing a good job keeping you in communication with your current patients base. In addition to being a successful and sustainable way for you to promote yourself, our approach to organic SEO can help you see significant value while limiting costs.
No matter how comfortable you are with your current approach to SEO and online marketing, it is important to keep up with changing trends and developments. When Google introduces changes to its algorithm, sites can see a potentially significant impact to their overall reach. As your website ages, your load speed and outdated design can interfere with your SEO, and make you less visible. As we talk about your online activity and its relationship with your marketing success, we can help you identify obstacles that you need to clear in the new year, and point out changes in website technology that can help you expand your digital reach!
Let's Start Planning Your 2020 Marketing Strategy
We are excited to help our clients maintain successful online marketing efforts through the years. In order to best help you in 2020, we want to know what changes you plan to introduce at your practice, what your concerns for the new year might be, and how we can help you stand out in a potentially crowded dental health field to keep attracting new patients. Setting up an appointment to talk about your marketing strategy for 2020 helps us present you with a personalized SEO plan, and it gives you the opportunity to learn about changes in the world of digital marketing that you should know about. In addition to discussing the role your website should play for your practice in 2020, we can talk about programs to implement at your practice to encourage positive online reviews from patients. Your appointment also allows us to speak about your current social media activity, and different ways to make other digital platforms more important to your marketing success!
New To MDPM Consulting? Reach Out To Schedule A Free Consultation!
If you are not a client already, we would love to speak with you about the role effective SEO efforts can have in growing your practice! We welcome opportunities to discuss online marketing with interested parties. You can contact us to schedule a FREE analysis, where we can talk to you about your current website and online activity, and discuss what we can do to help you achieve growth at your practice in 2020 and beyond.
Our dedicated approach to SEO and digital marketing emphasizes more than just website building. While we can certainly build you an attractive and SEO-friendly new website, we can also boost your rankings in the right searches by creating original and user-friendly content. The right website content continues to play a prominent role in helping websites achieve better placement in SERPs (search engine results pages), as Google and other search engines have become increasingly skilled at ascertaining the value of different links. By implementing a tailored content marketing strategy, we have helped general practices and specialized offices achieve their goals of attracting new patients!
A Microsite Can Help Your Practice Grow In 2020
Is 2020 the right time to introduce a microsite for your practice? Unlike your general site, your microsite can target people with narrower interests when it comes to dental care. We can help you by building a modern, attractive site, and using informative and original content to boost your SEO in relevant searches. Our microsites have given many of our clients new avenues for reaching people in their area, and helped them succeed in ambitious plans to grow their practices!
Reach Out To MDPM Consulting To Discuss Your Marketing Strategy For 2020
At MDPM Consulting, we are committed to helping clients see great successes in 2020…and beyond! We are currently accepting appointments with current clients who want to talk about online marketing in the new year! If you are new to us, we are happy to arrange a FREE analysis, which can help you see the many benefits that come with a better approach to online marketing. To find out more, or to schedule your consultation with us, please call MDPM Consulting today at 972-781-8861.