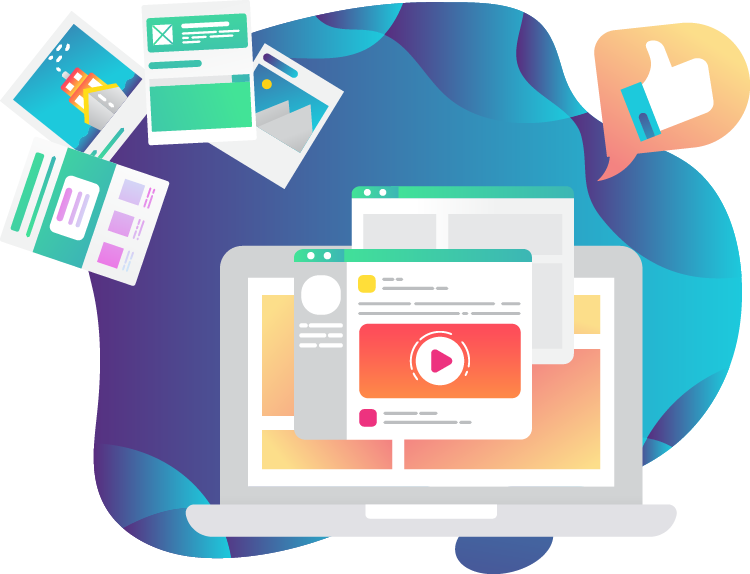 A major hallmark of the internet of the past decade — if not longer — is communication. More specifically, two communication types: connecting with others and maintaining interactions are not only important but also expected. Social media is the primary medium for cultivating this communicative process and despite significant criticisms, it is here to stay. Much of our news consumption and general information gathering now comes from social media platforms. Major journalistic entities share articles in this public sphere, and major brands take advantage of the opportunity to engage in dialogue with their customers. We even see websites writing about these interactions, creating an ongoing cycle. No matter how you may feel about social media, it is undeniable that people use it daily and put a lot of stock in it. Because of this ubiquity, it is an essential tool for digital marketing.
At MDPM Dental Marketing we have the experience to not only help you set up your social media presence but also maintain and grow it. We can fully integrate these platforms into your larger digital marketing plan, allowing the components to work together, maximizing your ROI, and gaining new patients for your practice. While we are fully equipped to handle all of your social media needs, we believe it is essential for you to understand its marketing importance and the benefits it can provide to your practice.
Why You Need A Social Media Presence
We understand that if you've had a successful, consistently growing practice for a while now, creating and maintaining a Facebook, LinkedIn, or Twitter account may seem unnecessary. After all, you've done well so far without one. Looking forward, however, , it is important to understand that as you get new patients, and, younger patients, there will be an expectation to have one. Moreover, there are a lot of people who use social media. This is crucial to keep in mind because you need to direct your marketing efforts to places where eyes will see them. You can come up with a brilliant campaign, but it won't net you the results you want or expect if it goes unnoticed.. According to the Pew Research Center, close to 70% of Americans use Facebook. You should be capitalizing on this vast number.
When you have a social media presence, you can build brand awareness, which keeps your practice at the forefront of your audience's mind. When combined with effective branding, people in your community will recognize and remember you. It also allows you to casually post existing content you already have, establishing your practice as a thought leader. You want potential patients to view you as a trusted leader in your field; they want to have faith that they are receiving their dental care from the best team around. Social media mentions  also provide you an opportunity to direct users back to your website where they can not only learn more about the procedures and care you provide but can also book an appointment. Ultimately, you are providing them an opportunity to access your services in a direct way.
A great social media presence also allows you to capitalize on others' use of these platforms. If you provide someone with fantastic veneers, they could tag your practice in their post when they share pictures of their new, radiant smile. This is free advertising for you because their friends will see your name and either click through to your page or remember you when they want to schedule their next appointment. It is also an easy way to engage with your larger community, tagging other local businesses and highlighting events that are going on. People love to see their community leaders and businesses showcase what is happening. This builds a sense of pride, which, in turn, will prompt your patients to feel proud about visiting your office.
Best Practices
We have highlighted why social media is so important for marketing, but it is also essential for you to understand the best ways to properly utilize it. The first step is to define your audience. You should consider the demographics of your current patients and those you would like to see in your office. Think about the characteristics of your patients, their location, age, and more. Once you grasp this, it is easy to take the steps to target them on social media platforms. While social media is a great way to reach a vast number of people, you still want to optimize your efforts to reach those you most desire to see in your practice, and who have the greatest chance of being your patient.
This efficiency is also important when deciding which platforms to be on. If you primarily serve an older, professional base, it is wise to stick to platforms like Facebook or LinkedIn. Although it is easy to share the same content across platforms, you do not want to spend unnecessary time posting in places where your ideal audience won't see it.
Once you begin posting and sharing, it is crucial to maintain a consistent voice and tone, just as you want to do for successful branding as well as content marketing.  People appreciate consistency, so you should think about the way you say something just as much as what you say. For instance, you could opt for a calm and informative tone or you could take a more humorous, yet still helpful approach. Consider your own personal style and inclinations and go from there.
Staying organized is also essential. It is wise to post on a regular schedule. It can be difficult to stay on top of all this — especially when you are running a practice — so keeping a content calendar is helpful. This allows you to write your posts in advance and then copy and paste them in at the scheduled day and time. There are also various software tools that can let you schedule posts in advance and across platforms with just the click of a button. Facebook offers a helpful guide to scheduling posts and stories through their business suite.
Finally, it is important to create meaningful, relevant posts. You never want to post just for its own sake. Rather, say something that will benefit your  audience. This can be humorous, informative, highlighting something in your community, or anything else your primary base will identify with. Not only will your audience gain something, but it  increases the chances of people sharing your posts, which, again, is free marketing.
How Social Media Affects SEO
As we've been discussing, using social media is a fantastic way to get more eyes on your brand and practice. Similarly, taking advantage of search engine optimization (SEO) has similar goals. While SEO is a branch of digital marketing, in and of itself, your social media efforts can also influence your search engine rankings. Before delving into how the two can affect one another, it is important to discuss SEO as a whole.
At its core, SEO concerns itself with helping your business rank higher on search engines. For instance, if you are a dental practice in Grand Rapids, MI, you want your practice to be among the top results when someone searches for "best dentist in grand rapids." SEO is the practice of trying to make this happen. This allows you to gain new patients by being the most visible result on a search engine. Google is where you should focus these efforts because they have over 90% of the search engine market share across the globe. We have an in-depth look into SEO for dental practices that can give you more information, but it is important to understand how your social media efforts can affect your Google rankings overall.
For starters, it is crucial to keep in mind that social media, itself, won't directly help your rankings. Rather, it is a helpful way to bolster the rest of your digital marketing efforts that do directly affect SEO. Platforms like Facebook are a great place to share the content you create. It is advisable to maintain a blog on your website, and every time you make a post, you should be sharing it. Creating original content is very important for achieving higher rankings because it shows search engines that your website is active and provides helpful information. When you share a blog, article, or video on social media that then links back to your website, you will amass more users, which does positively impact your rankings.
Similarly, when more people see what you post on social media, you are increasing the likelihood of them linking to it. This is called backlinking, and it is a major component of SEO. When someone links to your website, Google notices that others are finding your content valuable and is therefore worthy of ranking higher. This goes hand-in-hand with more people visiting your website. This increase in traffic makes it more likely that people will not only engage with your site but will also schedule an appointment and become a patient, which is likely one of the primary goals of your digital marketing efforts.
Overall, social media affects SEO by driving more traffic to your website. Over time, this shows search engines that people find your site valuable, which indicates that more people should be aware of it. When you have a custom website that is designed with a great user experience in mind, those who visit it are more likely to view your practice as a great place to receive their dental care. In addition to this leading to more patients, it also establishes you as a notable member of your community, which continues the cycle of people taking note and remembering you through your social media presence.
MDPM Can Help
We know that all this might be a lot to take in. When you have a practice to run, getting involved in the details of maintaining your social media page can seem overwhelming. At MDPM, we have a dedicated team of marketing professionals that can help you create and run your pages, regardless of platform. We are happy to help you gain a more in depth understanding of what successful social media marketing looks like. We can also create content that fully adheres to your desired voice and highlights the subjects you want to discuss, and then post it at optimal times for the most engagement.
When we integrate your social media presence with the rest of our digital marketing services, we are able to create a cohesive brand for you. This means that your logos and color schemes are consistent across all of your platforms and that the overall content is shared. This allows us to increase clicks back to your website, elevating your search engine rankings as well as conversions. We are happy to be as hands-on as you would like. If  you want to hold the reins, we provide monthly social media and photo booth kits to our clients, and you can simply copy and paste relevant evergreen content to your pages without having to write anything yourself. We can also manage your pages — this includes responding to comments and reviews, whether they are good or bad. Reputation management is essential with the conversational nature of the internet, so it is crucial that you respond to and address any negative engagement you receive. Overall, we are in your corner no matter what, and we are here to assist you in every aspect of your social media presence.
Contact Us To See How We Can Help Your Social Media Thrive
At MDPM Dental Marketing in Dallas, TX, we understand that focusing on your practice, team members, and patients is your top priority, so we are here to create and maintain your social media presence across any platform that will help your business grow. In addition to handling this aspect of your marketing, we can help with every other part of your digital marketing efforts. We are experts across the field, and we want to see your practice thrive. If you have any questions or would like a free analysis of your website in addition to your social media and online presence, we invite you to contact our office at (972) 781-8861 today.