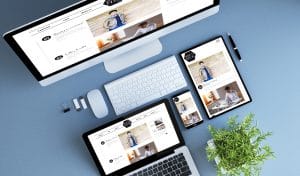 Digital marketing is most effective when you have a strategy in place, because a strategy can guide each of the moves you make. Your digital content tactics may include social media, your website, email blasts, targeted advertising, and blogging. Each of those tactics can have its own benefit, but they should all be working to achieve an overall, strategic goal. If your website and your social media channels aren't working together in concert, you can create mixed messaging and obscure your own brand. Here are steps you can take to make sure your digital marketing materials sing.
Make Sure the Information You Provide Is Consistent Across All Platforms
Beyond any sort of cohesive design or branding for your business, you need to make sure that the information on your website and social media channels is consistent. Business hours, business address, and business name should absolutely be consistent. (Be sure to look out for holiday hours updates on sites like Yelp and Google.) Not only does this improve the SEO of your website, but it also improves the user experience! If a patient finds one set of business hours on your website, another on your Facebook page, and yet another still on Google, it will confuse and frustrate them.
Use Your Website Content to Drive Your Social Content
Blogging is an effective way to drive search traffic to your site using specific keywords. Blogging can also set up your social media content strategy. If you're focusing on children's dentistry one month, write a blog focused on the topic for your website. Share that blog on your social media channels. Then post a photo of a child patient in the office receiving preventive care. Then share a graphic about child dentistry statistics. End the month with a video sharing tips for brushing and flossing. This is just an example, but using your website content to point you in a consistent direction on your social media channels can help these two platforms work together.
Choose Consistent Brand Colors, Images, and Taglines
When the actual information on both your website and social media channels is consistent, then you can focus on the artistry of branding. Using consistent brand colors, images, and taglines across every digital platform gives you a recognizable look and feel. If your logo has a certain shade of blue in it, make sure you're using that same color on graphics for your Instagram account. Does your dentistry provide "quality oral healthcare for the whole family?" Use that type of messaging whenever you can to enforce your message. This type of consistency is what branding is all about.
MDPM Consulting Is Here to Keep Your Messaging Consistent
Branding for your business requires constant attention, and that's often means spending more time in this area than you reasonably can. MDPM Consulting is your digital marketing partner. We provide social media management services, website building and design services, and custom content. Learn about what MDPM Consulting can do for you by contacting our Dallas, TX office at 972-781-8861.