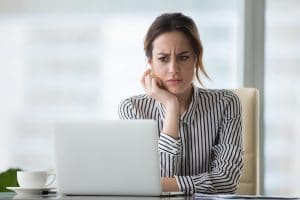 Earlier this week, Google shared news of a new broad core algorithm update. In this instance, site owners and SEO experts enjoyed advanced notification, but in the past, announcements have only been made after an update is made. If you are trying to promote your practice online, these algorithm updates should be a concern. While some changes have more impact than others, these algorithm updates can make it necessary to change how you approach SEO. For those who attempt to manage their own online marketing efforts, this can lead to problems – you may suffer a drop in website traffic with no idea what has changed! Our commitment to SEO means we keep up with changes implemented by Google, so we can make timely adjustments to your online marketing strategy.
Google Is Releasing Their Next Broad Core Algorithm Update
On September 24, Google made their plans to perform a broad core algorithm update. This update gives SEO experts and site owners advance notice that changes will take place, which may impact your site's visibility. A broad core update is not a targeted change, but are meant to lead to a general improvement for their users. These updates can occur somewhat regularly, not every update calls for a response on a site owner's end. With that said, when you know an update has taken place (or is about to take place), it can be smart to pay attention to your site's traffic, as you could see a change in the location of your links on search results pages.
Changes From Broad Core Algorithm Updates Can Be Hard To Predict
So what is the appropriate action to take after hearing the news of this latest update? Unfortunately, it can be hard to know exactly how a broad core algorithm update might impact your site. It is possible your links will experience no changes, and call for no actions on your end. However, it is possible that your links will become harder to find in relevant searches, which can call for a change in your SEO strategy. It is important to note that losing your rankings is not a "punishment," but a reassessment. Unfortunately, this means that targeting and fixing a specific issue is not necessarily the answer.
We Keep Up With The Latest SEO Developments
In order to successfully promote a website, it is important to keep up with the shifting trends in SEO. Our focus is on the changing world of online marketing, and we take care to stay informed about the latest updates to search engines and website technology in order to help our clients remain highly searchable. Even if the latest developments regarding Google's ranking of sites lack specific changes, we can keep up with expert analysis and emerging trends to look for possible concerns. Because of this, we are prepared to recommend changes when a once-successful SEO strategy loses some of its effectiveness. More support for your online marketing efforts will allow you to sustain your visibility, even at times when other dental practices are struggling to recover from a recent update.
Of course, having expert insights into SEO does not always mean making changes in response to new information. We can also provide reassurance when an update is NOT impacting your online visibility. In these situations, you can avoid committing to unnecessary work, and needlessly jeopardizing your already successful online marketing strategy.
Remember That Google's Ultimate Goal Is To Share Quality Content With Its Users
We may not know what specific changes Google hopes to make with its latest broad core algorithm, but we do know that their overall goal is to share better, more informative sites with users. This is the ultimate aim for any changes that a search engine might pursue – after all, these sites prove their worth by giving people useful information. With this in mind, we pursue an SEO strategy that leads with site quality. We can provide updates to your website design that look great, and make it easier for users to find relevant information. We also create website content that engages readers, and provides original and useful information. We pursue these efforts in addition to making sure your site is taking advantage of technical SEO features, and contains the keywords and links that help with ranking in relevant searches.
We Provide Broad Support For Your Online Marketing Efforts
Our goal in providing digital marketing support is to offer broad assistance. In order to boost your site's search ranking, we can provide technical site support and quality content. We also provide help with your online presence in several ways – we can create a micosite to help you better promote a specific focus of your practice, make updates to your website design, or even provide you with a brand new website! These services can ensure that you have a more attractive digital presence that potential patients interact with, and it can help you share more links that can rank highly on relevant searches. Our SEO services make a special effort to help you reach people in your area, so that your site traffic is more likely to lead to new appointments on your schedule.
Our assistance covers more than just your website. Thanks to our reputation management efforts, our clients can generate more positive reviews in online spaces, which can attract more people to their practices. We also extend support for social media platforms. These services include regularly shared content that you can use to grab attention, and engage with people. These spaces can also be ideal for sharing information to your current patients quickly and easily!
Talk To MDPM Consulting About Maintaining Your SEO
The "right" SEO strategy can depend on many factors, some of which are out of a site owner's control. With that said, an SEO expert can help you sustain a successful online marketing strategy over time, even in situations when Google implements updates. MDPM Consulting is experienced at maintaining digital platforms for dental practices, and at producing relevant, informed, original website content. If you would like to take advantage of our dedicated online marketing support, you can reach our office by calling 972-781-8861.