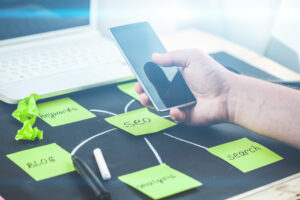 It is hard to overstate the influence Google has on how we seek information. Whether you are looking for a fun fact or an important service, you can rely on the search engine to help you. With that in mind, you can see the value in making sure people who look for dental services in your city have an easy time finding you on the search engine! MDPM Consulting offers support in this area—through better SEO (Search Engine Optimization), we can help ensure that your website pages are more likely to appear in the right queries. We help dental offices see success through organic SEO, which refers to efforts that make site pages and content more appealing to the algorithm when relevant searches are made. As valuable as this can be for long-term marketing success, we can also help you make the most of paid SEO.
Paid SEO is also referred to as Google AdWords, PPC, or Pay-Per-Click. It helps you place your links among the ads displayed at the tops of Google's first search page. That prominence comes with a cost incurred each time someone clicks on a link. When you have a smart strategy in place for paid SEO, it can serve you well as part of a larger campaign to grow your patient base. However, those who turn to it without having a sound strategy in place can wind up with marketing costs without desirable results.
How Search Engine Optimization Affects Your Online Visibility
Simply put, better SEO means that your website is easier for people to find when they search topics that are relevant to your dental office and services that you provide. For specialists and general dental offices alike, there are certain phrases that prospective patients are more likely to enter. In addition to focusing on search terms, the right SEO efforts can help you show up in queries from people in your area. As nice as it may feel to be seen by more people, you are not likely to start treating someone who finds your office despite living halfway across the country!
What Makes Paid SEO Different From Organic SEO?
SEO can be broadly thought about in terms of organic SEO and paid SEO. Each can help you promote your practice, and with the right approach, they can work together to sustain your visibility.
When you look at the first page of Google results, you can see that the top of the page has a select number of links that have "Ad" in front of them. These are Google Ads. Thanks to their prominent placement, they are the first results people will see after entering a search. You will be charged for this placement every time someone clicks your link. While this means your visibility is tied to a consistent cost, the right approach to PPC marketing can make you harder to miss when people look for dental work in your area.
Organic SEO efforts will help your links appear higher in Google's search results. While they are not included in the Google Ads space at the top of the page, you will not have to pay every time someone selects on of your links. Pages that are consistently easy to find during relevant searches can have long-term value over time.
We Can Help You See More Value From Paid SEO
The appeal of having your links in a space as prominent as Google Ads can make paid SEO attractive. Including it in a larger plan to market your practice can help you, but without the right efforts, it can be less than beneficial. Knowing the right keywords to bid on and how much you should bid will be important. You also need to ensure that your pages and ads are valued enough to consistently appear in the Google Ads space. The links you include in your paid SEO effort are rated on different variables including their performance history, their relevance to your chosen search terms, and your click-through-rate. After putting time and effort into marketing your practice with Google Ads, you may still struggle to attract new patients.
Another worry is that while your links are being clicked, your online presence is not bringing in patients. That means you still lose out on growth and have a higher bill to pay to Google!
Using Paid And Organic SEO As Part Of A Larger Online Marketing Strategy
A comprehensive online marketing strategy can employ organic SEO and paid SEO to make your website more beneficial to your dental office. By thinking about how likely you are to both reach people and provide them with relevant information, you can create pages that are more likely to rank highly in organic searches, and you can have more success in appearing in the Google Ads space.
When it comes to paid SEO, we can assist you by helping you select relevant keywords and search terms, create the right pages to enjoy better scores from Google, and fit social media marketing into your PPC outreach. Through organic SEO, we help you build a more appealing online presence, one that will be more likely to show up when people around you want to know where they can go to enjoy quality smile care!
Our Support Can Help You See Long-Term Benefits From Your Digital Presence
While you can safely assume that digital marketing will remain important, the right approach to SEO changes as Google continues to refine and modify their search algorithm. Having dedicated support and expertise to draw from will be important to your larger promotional efforts. We can continue to support you by maintaining your website and social media, adjusting SEO efforts to keep up with trends, and help you stay current with relevant and original site content. Our office is here to support you whether you are looking to begin your digital marketing efforts or want to transition away from a marketing strategy that has stopped helping you.
Talk To MDPM Consulting About Paid SEO And Its Place In Your Larger Marketing Approach
When you have the right information and the right support, paid SEO can be a beneficial part of your overall marketing strategy. We have experience with helping dental offices throughout the country reach more customers and grow over time through by helping establish them in the right digital spaces. To find out more about how SEO efforts can contribute to the long-term success of your practice, please call MDPM Consulting today at 972.781.8861!