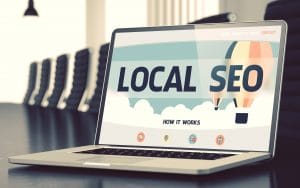 When you look for a new business, do you just visit their location and walk in the door? Do you pick up a phone book and see what's around? No, you don't. No one does! Now, we use a search engine to see what's in our area, and we make a decision rather quickly based on what sites come up and the impression we get from their websites. Often, these impressions only take a few seconds! To help ensure your office is one of the first to be seen when someone Googles a dental practice in your area, you need search engine optimization. Fortunately, the team at MDPM Dental Marketing offers local SEO for dentists that employs relevant and useful content following Google's best practices criteria.
Responsive Web Design
As we mentioned above, we take SEO into account with every step of the process. When we design and build your new dental website, we create a mobile-first, responsive design. We start by creating the website for a smartphone, then design one to fit a variety of different screen sizes, including tablets, laptops, and desktops. Each version will organize information in a specific way to make navigating the them and finding valuable details on that device simple and easy. Google knows that most people use a smartphone or tablet to conduct an online search, so they practice mobile-first indexing, giving priority to websites and businesses that offer a responsive experience. We also build local business schema into the backend of your dental website, as this is the key information that search engines pull when creating your result on a search engine results page (SERP). This will include your physical address, link to your website, hours of operation, and information about your services and specialties.
Organic Content
Over the years, the strategies and guidelines Google uses to rank results and direct users to quality content online has changed quite a bite. However, one common thread through all these changes is content. Google rewards businesses that provide quality content online, which is why MDPM Dental Marketing takes a very content heavy approach to organic SEO. Google's algorithms look at the intent behind a search, what is a user actually looking for, and who is the best authority to provide answers for them? With quality content, we seek to make you an authority on the subject of dentistry in your community.
The content, including webpage copy, blogs, newsletters, and social media posts, is created based on the services you offer, as well as common questions and inquires made by people in your community.  We need to know what they're looking for and interested in, so we can tailor your webpage and blog copy to reflect this, while also providing information to ensure search engines recognize you as an authority on the subject of these user searches. Along with details about your procedures, we also want to provide information about insurance, hours, oral health, and even common patient forms.
Part of the process is client feedback. We're in constant contact with you throughout the entire process to ensure your copy accurately reflects your services, and serves people in your community. Every aspect of the process, from your initial interview to the design and build is done in-house by people very familiar with the world of dentistry, including dental specialties! Creating useful content and communicating with our clients is essential for crafting a local SEO plan that fits your practice, sets you up as an authority, and increases the likelihood of Google and other search engines like Bing or Yahoo directing users to your webpages.
Social Media and Reputation Management
Social media and reputation management are also key aspects of your search engine optimization strategy. People often look for social media pages when finding information about a practice, as well as reviews. Which is why we create and maintain Facebook, Twitter, Yelp, Google My Business, and Instagram pages for our clients. We want you to have an easy way to communicate changes in operating hours, special discounts or offers, or information about your services. Google also takes interactions with clients and customers into account, so seeing an active social media presence is beneficial for your office. To help, we offer a free social media kit and our photo booth kit, to help provide new and fun content to engage with your patients online. With reputation management, we use best practices to help encourage reviews on sites like Googly My Business, Facebook, and Yelp. Reviews help lend authority to your practice, making them necessary for your online marketing plan. Since Google and other search engines can parse authentic reviews from fake ones, we never stoop to spamming your pages or creating fake reviews.
If you have any questions about our local SEO strategies and content creation process for dentists, then contact our team today. We would love to help your practice grow and succeed with a content-based strategy and marketing plan that follows Google's best practices guidelines, from build to go-live!
MDPM Dental Marketing Creates Custom SEO Strategies
Do you have questions about helping your practice grow, or finding new success for a current one or an office in need of rebranding? At MDPM Consulting, we take search engine optimization into account through each step of the process, from designing your dental website to going live and managing your social media. To find out how we help dentists grow their practices through organic and custom marketing strategies, then please call MDPM Consulting today at 972-781-8861. Let's build an online office that puts the best face possible on your new business!