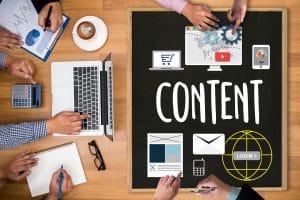 What role is content on your website really supposed to serve? Are you trying to entertain, inform, or just use posts to pack in keywords and links that can help boost your SEO? In the past, websites have focused on using their content to communicate with search engines like Google, at the expense of creating something that people would actually find useful. Unfortunately for those sites, search engine algorithms have improved to the point where this strategy can offer little benefit today. Google wants users to find links that have real value. Because of this, you need to make sure your content is original, helpful, and written for real people. As part of our commitment to giving practices a serious SEO boost, we can provide content that successfully communicates with Google, and with potential patients, in order to help you reach more people!
Is Your Site's Content Really Helping You Reach People?
If you still feel like the point of site content is to fit in links and keywords for Google and other search engines to identify, you may see limited results from your posts. In fact, as competing practices improve their SEO efforts, you may find yourself effectively invisible to people in your area! 
Simply avoiding the work of creating content for your page can also be an ineffective strategy. After all, keywords and links still matter, but they should be inserted into content that people can actually engage with. It is also worth noting that a site with more links creates more pages for Google to potentially share on SERPs. 
SEO-Friendly Content Is Audience-Friendly Content
The visibility of your content is certainly crucial to your site's ability to bring new patients to your practice. With that in mind, you should be aware that in the world of SEO today, audience-friendly content can be key to helping you reach more people. When Google bots crawl your site, they look for more than just superficial SEO features like links and keywords, because the company wants to promote truly useful pages. Better content can lead to more user engagement, and make it less likely people will continue their search after they find you. As a result, Google can find more value in your content, and make sure people have an easier time finding it.
We Provide Original Content On A Consistent Basis
As part of our SEO services, we can keep your website updated with original content. Our goal is to show that your site is active, and regularly providing new information. We also use ongoing posts to cover the different services you provide, and including different keywords that users are likely to enter when searching for dental services. When you keep producing links, and have plenty of recent links for Google to index and share, you can increase the chances that someone will find your page, and make an appointment! 
Many sites can fall short on content in one of two ways. Some may have useful information, but they fail to consistently offer new content. Others can offer consistent updates, but those posts can lack original material, or simply fail to engage readers. A partly successful approach to any aspect of your SEO can lead to disappointment, and frustration with your online marketing efforts. We understand this, and we can make sure your content is delivering big benefits!
Your Content Can Help You Focus On General Dental Care, Or Specific Services
The type of content shared in your site's posts will obviously matter. When we add new content, we can make sure to include keywords that are relevant to your practice. We can also use regionally-focused content to help boost your local SEO. Focusing on local SEO can be vital to better content marketing for local practices, because it encourages Google to share your links with people who are in your geographic area. After all, more site visitors might be nice, but you might not see much direct benefit from those visits if too many of the people who find you are too far away to set an appointment.
Your content can be tailored to fit your individual practice. If you want to make it clear that you offer a broad range of dental services, we can cover more services, and help you establish yourself as a great location for the whole family. However, we can also create more tightly tailored content if you have a specific focus, and want to make sure people who might need these specific services find you. Through carefully selected keywords, links, and topics, we can give you the kind of targeted SEO boost that makes you easier for the right people to discover!
How Content Creation Fits Into Larger Plans To Boost Your SEO, And Reach More People
Is the right content all that your site is currently lacking? For truly successful SEO improvements, you should think about the online experience you are currently providing. Over the years, changes to website technology have made it possible to communicate more effectively with Google's algorithm, while also improving the user's experience with a site. An older website may not have the capacity to improve your SEO in the way that you would like.
We can help you identify what issues are interfering with your online marketing goals. We can provide a new design for your website to make it more attractive, and easier to navigate. We can also help you make changes by building you a brand new website, and adding the right technical features to give you an important SEO edge. After building or redesigning your site, we can continue to support you with original content, as well as by offering ongoing social media support! 
Talk To MDPM Consulting About The SEO Benefits Of Better Site Content!
At MDPM Consulting, we understand how important it is to have original, effective content on your website! If you are not updating your page with new content, or if your approach to content creation is not focusing on giving people truly useful information, your SEO can suffer. We can help you reach more people by providing you with consistent content that is well-written and SEO-focused. We can also help you make any other necessary changes in order to start seeing real value from your online marketing efforts! To find out more about how we can help you, please call MDPM Consulting today at 972-781-8861.