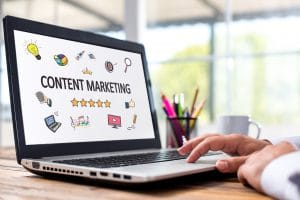 Content creation can be an important aspect of your SEO success…as long as you approach it in the right way. A successful approach to content marketing calls for material that is knowledgeable, relevant, engaging for readers, and structured in a way that helps your links rank highly on Google and other search engines. Unfortunately, many SEO "experts" recommend an approach that is outdated, unhelpful, and lacking in value. Our background working with dental offices has helped us write content that can be clear, informative, and SEO-friendly. Featuring blogs regularly on your website will help you communicate what services you offer, and become easier for people near you to find online! In addition to crafting quality content on an ongoing basis, we can provide effective content for your site pages when doing a website redesign, or when building a brand new website!
Poor Site Content Can Hurt Your SEO, And Jeopardize Patient Relationships
Google and other search engines have made big improvements when it comes to evaluating and ranking sites based on their value for visitors. If your current site content was written with the goal of reaching a top spot on results pages by manipulating keywords and links, you can have a more difficult time being seen today. Poor site content can also be worth less to you if your writers are attempting to pad the length of posts without putting in meaningful information. Materials that are clearly written to fool a search algorithm can be less engaging, and less helpful, causing would-be patients to quickly resume their search for a local dental practice. You will lose out on a chance to work with those people who quickly depart, and the poor visitor engagement can further hurt the visibility of your links.
It should be noted that the quality of your site content is more than just an SEO concern. Your website is a reflection of your office – if your current patients find poorly written information, or confusing details, it can hurt their confidence in you. In addition to relying on an outdated approach to SEO, less reputable content marketing companies may also rush their work. As a result, they may provide misleading or incorrect information that is now connected to your practice!
What Can Good Website Content Do For Your Practice?
Poor site content can ultimately hurt your SEO, put patient relationships at risk, and lead to little value for your practice. With that said, good website content can help help you reach new people, and add value to your digital presence. Your original content creates more links for Google and other search engines to find, index, and share in response to the right search terms. When your posts are written with human readers in mind, and they contain information that is accurate and useful, you can enjoy better site engagement, which can boost your SEO. Good content can still take links, keyword distribution, and length into account – after all, these can still help you show up in the right results pages. With that said, our approach to creating blogs is one that uses these technical details to supplement posts that have been made to impress readers, and persuade them to make appointments at your practice.
The Importance Of Creating Original, Audience-Friendly Content
Originality and audience-friendly writing are both important to successful content creation. They can also be aspects of it that other companies frequently overlook. If your posts are being padded with thin or copied information, Google can determine that your pages have less value. As a result, these links can receive low rankings, because there is (valid) concern that better information will be available to search engine users searching about oral health care. While people may now browse the content of a dental office' website for idle entertainment, it is important to think about content as something that people are interacting with as readers. Ideally, someone who clicks on one of your links will respond favorably to what they read, and will be motivated to make an appointment. Keeping someone's attention will be important for this, as will creating a sense that they can count on your practice to deliver quality oral health care.
We Have Experience Providing Content For Dental Practices
Because our background is in providing SEO support for dental practices, we have considerable experience creating content that is relevant to your field, and the services you provide. We make sure that the content being attached to your practice is written with authority, and accuracy. What we also do is avoid becoming overly technical, and possibly alienating potential patients. After all, we understand that your target audience is looking for oral health services, not looking to find out how they can provide them! This is an important distinction. Not only are we familiar with the language of dental services, we are experienced at tailoring conversations around oral health care to be both accurate and relevant to people who are not in the industry.
How Our Content Creation Fits Into Our Larger SEO Efforts
Quality website content is an important component of a successful online marketing strategy. We take our commitment to creating informative, SEO-friendly work seriously, but we are also ready to help you by taking on other roles when it comes to website support. We can help you start promoting a new practice, or help you completely revitalize your approach to online marketing by providing you with a brand new website. We can also update your current site, and make sure it has the right look and technical features to continue having value. Once your new or improved site is operational, we can provide ongoing support in multiple ways, including by creating content. We can also help you make sure all of your contact and location information is correct online, and advise you about changes in SEO that you should know about.
As much as the right website support can help you, there are other digital spaces where people can interact with your practice. We can also help you manage matters related to these other spaces! As part of our reputation management efforts, we can help you generate more favorable reviews online, which can help you attract more people to your office. We can also help you with your social media management, which can provide important opportunities for you to interact with current and potential patients alike.
MDPM Consulting Can Provide Your Practice With Quality Content As Part Of Our SEO Support
MDPM Consulting is ready to help you enjoy the benefits of modern SEO support! In addition to providing great website support, we can provide valuable content in order to help you better reach new people, and make favorable first impressions. To find out more, you can reach our office by calling 972-781-8861.