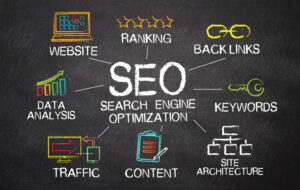 To kick off the New Year, make it a goal to ensure that your dental practice is utilizing Search Engine Optimization (SEO) to the fullest extent possible. Similar to updating and revitalizing your website as technology and user experience opportunities evolve, you need to stay up-to-date with advances in utilizing search engines as key marketing tools. As a dental practice with a localized patient base, you want your website to be one of the firsts to come up when someone is searching for a new oral healthcare professional. This is where SEO helps. In today's blog, MDPM Dental Marketing discusses how you can use Search Engine Optimization to drive up your business.
SEO Essentials
It is crucial for you to understand the power that SEO can have for your marketing efforts. As noted above, it is a digital marketing field that concerns itself with helping you rank higher within search engines. When someone searches for dental practices in your city or town, you want yours to be visible and close to the top. Consider your own searching practices: when you use Google or any other search engine, you typically click on one of the first few links. You want to be one of the ones potential patients see and subsequently engage with.
A Good User Experience Means Sound Technology
Having a clear, easily-navigable website is a core component of Search Engine Optimization. Your pages and content should load quickly and users should be able to find what they are looking for without difficulty: the fewer clicks to get to a page the better. Search engines factor in a content hierarchy that has clear cascading navigation; utilize headers and subheaders to help with this. Moreover, you should have mixed content and you should have clear indications of your location. Search engines need to be able to understand, index, and rank your content, and following the above steps, plus others, will help. Ultimately, your website must follow Google's technology standards in order to rank highly. The search engine understands that a good user experience is a clear factor in overall quality, which means it will likely increase your ranking. This makes the technical side of things crucial for a great SEO strategy.
Original, Relevant Content Is Essential
Search engines are also looking for good, original content. With it, your dental practice should establish itself as not only an office for patients to go to but also as a thought leader within the field. You should consistently write and publish blogs — or other pages — that explain services you offer and provide educational information, in general. Additionally, you need to utilize relevant keywords that are associated with dentistry. It is essential to write your own content; you should never reuse or plagiarize pages from other websites. Search engines can tell when you do this, and it will hurt your ranking. Overall, you want inquisitive searchers to see you as a trusted source in dentistry and come to you with any questions they may have about services and procedures.
Keep Learning And Evolving
There is a wide array of tools you can use to stay on top of best practices. Even once you establish your basic SEO and content strategies, you must still seek out new information to keep up with evolving trends. Google Search Console, for example, provides helpful data that you can refine your strategy around. When you see question-based terms, like "When do I need a dental crown?" or "How are wisdom teeth removed?" you can understand what your audience is asking and seek to answer these types of inquiries. Ultimately, by acting as a problem solver and educator, you are building a rapport with your audience, and they will be more likely to visit your practice. Search engines are aware of these merits and will reward you with a higher ranking.
Call MDPM Dental Marketing For A Free Online Analysis
We know that you want to focus on providing the best possible care for your patients, and that adding digital marketing — particularly, SEO — to the mix can seem overwhelming, so we are here to help. At MDPM Dental Marketing in Dallas, TX, we can help you with all aspects of digital marketing like content creation, interactive webpages, and more. If you have any questions or would like a free analysis of your website in addition to your social media and online presence, we invite you to contact our office at (972) 781-8861 today.