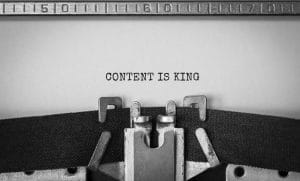 Search engine optimization (SEO) means creating copy and optimizing your website's design and function to appeal to popular search engines like Google, Bing, and Yahoo. Over time, this helps improve where you land on a search engine results page (SERP) when people look for dental practices with your services in their community. While many companies may offer quick SEO results, building organic SEO offers results that last and don't eventually cause your webpages to be dinged by popular search engines and lose their rankings. In today's blog, MDPM Dental Marketing looks at how we help your practice thrive online with a content-focused approach to SEO.
Outdated Practices
As we've mentioned in previous blogs, your dental website's design and function could be incredibly outdated after just three years, which means SEO strategies could become outdated just as quickly. If a company offers fast results with keyword stuffing and other outdated tactics, your results could be short-lived and actually cause problems for your rankings. However, our team keeps up-to-date on the latest online trends and algorithm changes. By focusing on quality content, we've found that our approach remains relevant even when Google, Bing, and Yahoo make changes to their algorithms.
Google Focuses on Content
The goal of Google, Bing, and Yahoo is to direct users to the most relevant and appropriate content when they search. After all, if people consistently find just what they're looking for, then they will continue to turn to this search option. Long ago, Google and others figured out that relying purely on keywords and links meant inadvertently sending people to poorly-written pages that relied on tricks to rise in SERP positions. Now, these search engines focus on original, well-written copy that employs keywords and links in an organic manner. They also look at the design and function of the dental site. If webpages are slow-loading, difficult to navigate on a smartphone or tablet, or wildly outdated, then this is likely a poor source for a user. Our team understands this and ensures the copy on your webpages is created specifically for your dental clients, avoiding duplicate copy or keyword/link stuffing. Our team can update your current website or help you create a brand-new one, offering optimal copy and design to help improve discoverability for your practice, and hopefully, attract new patients and their families.
What Are Your Visitors Looking For?
As we prepare to make the changes we will discuss further on in this blog, we first need to understand who your audience is. Who you tailor your copy to depends on who you treat. For example, a general dentist wants to reach families in need of general treatments, such as fillings or preventive checkups and cleanings. Offices with a focus on treating tooth loss with implant dentistry and other prosthetics, or treatment for periodontal issues, will need information tailored to adults and seniors. We will talk with you at length during the initial interviews about your practice, your services, and your patient base so every member of our team from the designers and builders to the copywriters knows exactly who you are and what treatments you're offering.
Improving Your SERP Positions
Let's talk a little about what we do to help improve your position on a SERP. First, we build multiple versions of your website, one for each possible screen size someone may use to view your pages, from smartphones and tablets to laptops and desktops. Google takes this mobile-first function into account when ranking a SERP. We take steps to reduce the weight of the images on your pages so they look great and load quickly. The text will of course use local keywords organically within the pages. We also tailor the information on each page to the services you offer so you have an easier time being discovered. After all, the text should be very different for a pediatric practice or one specializing in oral surgery and implant dentistry. No poor tactics that stuff the pages, but instead, well-written and informative text and blurbs that showcases your expertise and the treatments you offer for members of your community.
Local Schema and Metadata
We also build local schema into the backend of your website. This is the information that Google, Bing, or Yahoo pull when creating a listing on a SERP or a maps page. We include updated hours of operation, physical address, URL, images, and contact information. In the backend of each individual page, we also include metadata. This is a title for each page and brief description which helps your pages be easily discovered and lets people know at a glance exactly what can be found on that page. Instead of having general information about your practice, your teeth whitening page will have details about your whitening services so when people search for whitening treatments in your city, they will find not only your website but your specific page on the subject. This convenience, along with the local schema we've built into the site, helps people discover you and may make them more likely to schedule a visit!
If you have any questions about creating and implementing a local search engine optimization strategy marketed specifically for your dental practice, or if you would like to see what updates are available for your current site, then please contact our team today.
MDPM Dental Marketing Understands a Content-Focused Approach  
The information you put online not only helps rankings but could be the make-or-break part of attracting new business and helping your practice grow. At MDPM Dental Marketing, our team understands how to create new and original content to reach your patient-base. To learn more about creating a successful SEO plan that improves your SERP position, please call MDPM Dental Marketing today at 972-781-8861. We know that algorithms for popular search engines always change, but we've found that those changes only narrow the focus on the websites that provide users with quality copy and relevant information.