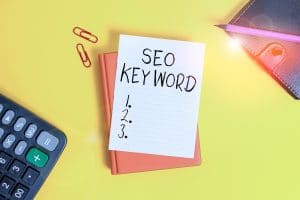 As Google and other search engines have made updates to their algorithms, they have become increasingly capable of recognizing websites that try to "trick" their way into better rankings. Thanks to search engine improvements, sites that once received high spots in important search terms because of heavy keyword and link usage have lost out to pages that have more value for visitors. With that said, you should NOT assume that keywords and links have no more value in site content. The presence of both can help Google and other search engines index sites, and determine when they might be relevant in different search queries. When we discuss organic SEO support for our clients, we emphasize the value of website content that is original, relevant, accurate, and user-friendly. As part of our commitment to creating and sharing useful content, we pay attention to keyword research, and take care to use the right words and phrases to make sure you are receiving high rankings in the right searches.
Content Quality Has Become Vital To Organic SEO
The heavy use of keywords and links in content will not help you achieve the most enviable spots in the right SERPs (search engine results pages). With that said, the way you use keywords and links can impact the overall quality and usefulness of your content. Over time, Google and other search companies have worked toward a goal of giving their users the best feedback based on their searches. Increasingly sophisticated algorithms are able to assess site links and content to see how valuable they might be to users, and how relevant they are to search topics. Without original, valuable content, placing your website links in the most useful Google results pages can be difficult. Because of this, we often focus on the importance of site quality when it comes to a long-term organic SEO marketing strategy.
Understanding The Role Keywords Play In Digital Marketing
When you think about digital marketing, you need to think about more than just where your links appear in results pages. Keywords help websites influence when their links are shared. Making yourself visible in the right search results can ensure that an increase in site traffic also leads to new patients visiting your practice. Even if keywords by themselves are not raising your rank, they can still affect what search queries Google might find relevant to your links.
When we create site content for our clients, we aim to satisfy several important standards. In addition to producing relevant and engaging information, we also take the time to implement keywords and phrases that people are likely to use when performing a search. Because the quality and value of a site can be so crucial to organic SEO, we make sure that keywords are used smartly. Saturation of words and phrases may not be helpful today, but the way keywords are worked into a post can still make a difference in your ability to rank highly, and be found by potential patients.
Keeping Up With Trends In Keyword Marketing
Selecting the right keywords to emphasize can be as important as the process of organically including keywords in your posts. There are several measures we can take to ensure that you have the right keywords, and that your content marketing strategy is producing the right results. We can monitor the performance of terms, check the results for searches that would be relevant to you, and track the metrics of certain words and phrases over time. The right approach to keyword marketing today may not be the right one tomorrow. If you want to see lasting benefits from an organic SEO marketing strategy, responding to changing trends can be valuable. With our experience in keyword marketing and digital marketing, we can give you an advantage over competitors by letting you know what is working, and when changes might be advantageous.
Using Keywords And Phrases For Local SEO
While it can be nice to see high traffic for your website, it can be important to think about what you can do to make sure the right people are clicking on your links. One important aspect of content marketing can be the emphasis on local SEO efforts. Local SEO efforts focus on raising the visibility of links in search terms that are seeking information for a specific area. In other words, we want you to show up in search results for queries like "dentist near me," or "dental care near [city, state]" over time, because these searches are often the ones performed by people who want to find a dentist in their area. When creating content for your website, we can include terms that have real value for local SEO. Thanks to this, you can have an easier time connecting with those people who are making it clear in their searches that they want to find a local dentist, while still connecting with people near you who perform general searches about oral health problems, cosmetic dental procedures, or other relevant matters.
How Content Marketing Fits Into Our Larger SEO Efforts
Content marketing is important for any practice that wants to sustain a successful long-term online marketing strategy. Of course, not everyone is ready to start sharing content! We are prepared to help clients who are setting up their first practice, and need to start building up their digital presence as well. We also have experience helping dental offices in need of major online marketing changes. In the course of our time together, we can provide you with a new website, or change the design of your current site to make it more attractive and user-friendly. We can also show you how valuable the right content can be in other platforms through social media support. We can use your social media platforms to help share content, and important updates about your practice. We also provide monthly social media kits that make it easy to sustain a relevant, actively updated space that holds the attention of patients, and grabs the attention of potential patients.
MDPM Consulting Can Help Your Practice Grow With Modern Digital Marketing Support
At MDPM Consulting, we are ready to help practices start marketing online, and those who are looking to make meaningful changes to their current approach to website management. If you have questions about the benefits of organic SEO, or if you are ready to start reaching more people through better digital marketing, please call us today at 972-781-8861.