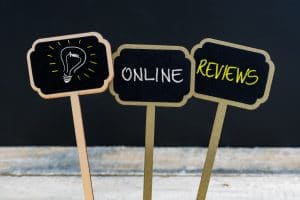 When someone in your area wants to find a dentist, they may start their search by checking the online reviews of practices in your area. If you want to have a real chance at attracting these potential patients, there are two issues you need to worry about:  a lack of online reviews, and negative online reviews. By providing quality service to your patients at every appointment, and building good relationships with the people who come in for care, you can feel confident that people have positive feelings about your practice. With that said, you may be less sure of how to motivate patients to share their valuable opinions online, or how to make sure people see positive feedback. As part of our overall commitment to helping our clients reach more people through online marketing, we offer assistance with reputation management. In addition to helping you make smart use of Google My Business, we can offer strategies for encouraging more reviews. These efforts, along with steps to ensure your location and contact information are accurate, can help you benefit from better local SEO, and reach the right people more easily.
Recognizing The Value Of Online Reviews
Sharing the right content on your website can be important for many reasons, but your site is not the only source of information people can be interested in exploring. While posts help you share the right links and keywords, and speak to the services your office provides, online reviews give people a chance to hear third party feedback about you and your team. This kind of feedback can be especially compelling to potential patients, as people often appreciate the ability to learn about a practice from other patients. Are your patients rating your practice highly online? Are they sharing this information on websites that can affect your SEO? The right reviews through Google, Yelp, and other trusted platforms can have significant value for any business hoping to attract more local support.
Using Google My Business To Boost Your Local SEO
Through Google My Business, you can make important information about your practice readily available. Your GMB profile also helps you establish your location, which can make it easier for you to show up in locally-oriented searches (e.g. "dentist in [city, state]," "dental care near me"). Local reviews are important for your GMB profile, and the profile can make it easier for people to find the positive feedback that you have earned. As part of our support for your online marketing, we can help you establish your profile, just as we can help you build your presence on social media platforms, and use these spaces to better engage with people online.
Google Can Recognize Attempts To Cheat The System
Why is it so important to use Google My Business the right way? Over time, Google has greatly improved its ability to evaluate websites, and determine their true value for visitors. When it comes to organizing search results, sites are less likely to receive high rankings if they try to stuff their posts with links and keywords while putting little thought into the value of their content. When it comes to managing GMB profiles, the company can effectively recognize efforts to build up positive reviews through paid reviews, or automated posts.
Encouraging positive feedback and building up your presence on Google My Business fit into a larger goal of building up your digital presence through organic SEO. Organic SEO efforts can be time-consuming, but they pay off by creating long-term advantages when it comes to online marketing. If you want to make sure your Google My Business page and your website are supported through the right SEO activity, we can provide helpful information and support.
We Can Help You Receive More Positive Feedback Online
We can put time and effort into helping you increase the number of positive online reviews you receive. Our approach to this can take several forms. If you have not included them already, we can recommend adding new information on your website to lead people to places where they can leave positive reviews. We can add links and widgets to assist with this when we update your website, or when we set out to build a new website for your practice. We can also help you push for more positive feedback with messages, social media activity, and more!
How Reputation Management Fits Into Your Larger Online Marketing Efforts
Our work with dental offices throughout the country is based on a commitment to growing practices through modern, organic online marketing efforts. Reputation management is an important component of this – after all, people tend to feel reassured when they see that a dental office is highly rated. More positive posts can also make your site more attractive to Google, so your links become easier to find!
In addition to helping you generate more online reviews, we provide important support for practices that need to update an outdated or poorly made website. Your feedback will be important, as we want this website to be the best representation of you, your team, and the services you provide. We can tailor your online marketing efforts to suit your needs, and even help you narrow your targeting to reach patients with select needs or concerns. Once your personalized SEO approach has been established, we can sustain your visibility through original, user-friendly content.
MDPM Consulting Can Help You See The Importance Of A Modern Digital Marketing Plan
A modern digital marketing plan can be important for many reasons. At MDPM Consulting, we provide valuable support when it comes to building websites, identifying the right SEO tactics, and increasing your reach with effective content and social media activity. We can even show you how to encourage better online reviews, and how to market yourself more effectively to local users by using Google My Business. The long-term growth of your practice can depend on how visible you are online, and how successful you are at turning site visitors into patients. To find out how MDPM Consulting can help you in these matters, please call us today at 972-781-8861.