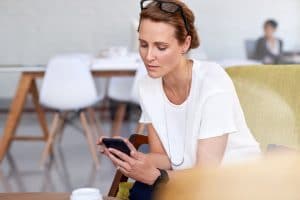 If your website is difficult to find, your practice can be overlooked by people in your area who are looking for dental care. If you want to boost your SEO, you need to take steps to ensure that your digital presence is easy for people to find. To do that, you need to be sure that your site is easy to use on more than just computers. People frequently trust their mobile devices to search for information online, and Google has taken notice. In fact, the search engine now uses mobile-first indexing for all new websites. We can help you make sure that your site is better designed so that it is easy to find, and navigate, on mobile devices!
What Devices Are People Using To Search For Dental Care?
While it is important to know what search terms people use, and what search engines they trust, when looking for oral health care, you should also pay attention to what devices they use. Because people often reach for their phone or tablet when they want to search for information, your site needs to be designed for easy navigation on these devices. If your site is not mobile-friendly, you may turn people away when they find you, simply because your page is hard to read on a smaller screen!
Mobile-First Indexing And Your SEO
Mobile-first indexing refers to a system where sites are evaluated based on the experience they provide mobile users. If your site is not mobile-friendly, your links can be lower on SERPs. Losing out on digital visibility can make it harder for you to reach new people, and grow your practice. If you have not updated your website design to work well on mobile devices, and nearby practices have, those competitors can have a serious advantage over you!
Struggling To Keep Up With Modern Websites? We Can Help!
We can help you change your website design, and establish a mobile-friendly online presence. While this is only one part of an overall plan to improve your SEO, it can be an important one. Fortunately, we can help you make bigger changes, and start attracting more people. We provide our clients with useful, original content for their pages, we can build you a brand new website, and we can help you make better use of your social media pages!
Talk To MDPM Consulting To Make Sure Your Online Presence Is Mobile-Friendly
Has your site been updated to be mobile-friendly? If you have yet to do this, you can have a harder time reaching people, and attracting new patients to your practice! MDPM Consulting can help you in this regard by updating your site design, and making sure mobile users can easily browse your pages. To learn more, contact us using the information provided below.
Is your site currently set up to be mobile-friendly? Contact us today and let us help! Email MDPM Consulting atinfo@mdpmconsulting.com, or call us at 972-781-8861.