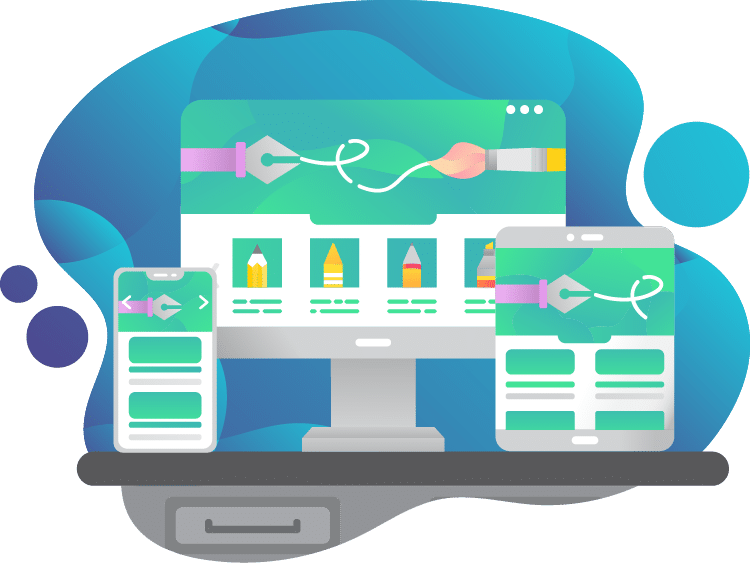 There's no way around it: your dental practice needs to have a custom website. Moreover, it must adhere to ever-evolving best practices and should be updated regularly. Not only should your website include helpful information about your practice and the services you offer, but it must also be easy-to-use and appear aesthetically pleasing to your visitors. At MDPM Dental Marketing, we understand that it is difficult to balance maintaining the quality of care you provide to patients while also working on your website. We are here to help you with all aspects of your digital marketing, but we also believe that it is crucial for you to grasp why a custom website is essential for your ongoing success. This is why today's blog discusses the importance of having a custom website and the benefits it can provide to your dental practice.
Responsive Websites Are Key
Contrary to what you may think, most people visit websites on their phones or tablets. According to data provided by Google, over 50% of web traffic comes from mobile devices. With this in mind, it is essential for your website to be not only mobile-friendly but also responsive. Mobile-friendly websites are easily accessible from a phone and shrink down to fit smaller devices. While this is better than nothing, it still leaves a lot to be desired. Think about the times you've visited a website and you struggle to click links or you keep clicking on other pages by accident. You do not want pages on your practice's site to behave this way.
Responsive websites, on the other hand, change based on the size of your visitor's device. They automatically adjust themselves to accommodate different scales in addition to optimizing the content to fit the user's needs. When your website is responsive, users will have an easier time navigating your pages and will be able to access the information they want and need. If a potential patient comes across your website on their phone or tablet, and they can easily learn about the services you offer and schedule an appointment, they are much more likely to move forward with your practice. On the other hand, if they cannot access the information they want, they are unlikely to remember your practice and search for it later on a desktop. At the end of the day, your custom website needs to put users first.
A Good User Experience Is Essential
Whether a user accesses your website through a mobile device or a desktop, it must provide a great user experience (UX). This is important for two reasons. First, an easy-to-use site is more likely to keep users and patients engaged and able to find what they need. Second, search engines can tell if you are providing a good experience, and if you are, this will contribute to ranking higher. This practice is called search engine optimization (SEO), and while we will discuss this fully in another post, it is crucial for you to keep it in mind. Almost all aspects of digital marketing come back to SEO, and having a fantastic custom website contributes a lot.
We know that user experience may seem nebulous and subjective, but there are a variety of best practices that must be kept in mind when creating and maintaining any website. For starters, all pages need to load quickly. According to Search Engine Journal, it should take under three seconds. If it takes longer, you run the risk of visitors becoming impatient and leaving your site. Search engines like Google take note of your site's speed, which can affect your ranking. To test your website, you can use Google's PageSpeed Insights to see how fast it loads.
Similarly, your dental practice's website should be easy to navigate with clear and consistent branding throughout. This is best achieved by having a clear navigation bar with descending headings. For instance, if a visitor wants to go to your page about cleanings and check-ups, they should be able to access it from the navigation bar in as few clicks as possible — ideally just one. Running with this example, they could hover over the top bar, mouse over to preventative or general dentistry, see their desired page and click on it. No matter what your user wants to find, they should be able to do so easily and intuitively. With a custom website, you have the ability to set up these pages and headings in a way that makes sense for your patients: both existing and potential. When your navigation has clear headings, your site will be more visible on search engines, leading to more people finding your website.
Informative pictures and overall layout also make your site easier to move around. Having a picture of your dentists and team, for example, could link to a page with staff bios. Consider what you value in a website, and make sure your pages reflect this. Any website also needs to be accessible to those with different needs — like those who cannot see well or at all, hear well, or are otherwise hindered by a text, sound and image-based website. Now, it is standard for pages to have text alternatives, non-text content with alternative text for those who need it, text transcripts, closed-captioning, audio descriptions, and more. You can find more about accessibility requirements from the ADA.
We know there is a lot to keep in mind when it comes to offering a great user experience, which is why it is important to have an experienced, knowledgeable team to help you create and maintain your custom website.
You Need To Update And Refresh Your Pages
Once you have a responsive, user-friendly website, your job isn't done. You need to consistently update your pages and create new ones. For existing pages, you should refresh them any time there is a relevant change in your practice. For example, if you get a new intraoral scanner, you should add this to your technology page. If you start offering a new service — like Invisalign®, for instance — you should create a new page (under your cosmetic navigation) to inform patients. Your website needs to reflect everything you offer, so visitors fully understand what you can provide. Not only does this increase value for your patients, it also causes search engines to keep indexing your website, which increases the potential for higher ranking.
Keeping this in mind, you should also regularly publish blog posts. Search engines will see  and value new content. Realistically, you cannot constantly update static pages, so blogs are a great way to achieve this goal. Your posts need to be original and factual, since search engines can tell if you are plagiarizing your content from elsewhere, and this will reflect poorly on your ranking. To attract visitors and patients you can create custom content: this is original content tailored to meet their information needs. In addition to potentially helping your ranking, informative blog posts will help solidify your practice as an authority in your field. You want users to know that you are a trustworthy source of information because they will then feel confident in visiting your practice.
It is also important to have your blog link back to other pages on your website. This is essentially backing up the information you are providing in your posts with a service you offer. If someone searches for "Do I need a root canal," and they find a recent post to read, your page on this procedure should be a mere click away. From there, they are more likely to explore your services and potentially schedule an appointment. Additionally, by regularly publishing content, users can see that you are actively involved in providing information to the community; you aren't just resting on your laurels. Rather, you are staying current on trends and updates within your field, which, again, highlights your practice as a trustworthy authority.
Overall, you need to consistently update your website to reflect any changes within the practice. This can range from adding holiday hours, unexpected closings, and new services and technologies. You must also maintain a blog that provides value to your patients and users looking to learn something new. When you accomplish these tasks, you are positively contributing to your overall web presence, making your practice more visible within your community and presenting your practice as a knowledge hub of the internet at large.
Your Website Needs To Be The Cornerstone Of Your Overall Online Presence
Now that you have an easy-to-use website that you regularly update, you need to think of it as a central hub. Today, close to 75% of the US population uses social media in some way. This doesn't just include Facebook and Twitter. Rather, it is helpful to think of it as any platform in which a user can engage directly with a business. This includes platforms like Google My Business, Yelp, and myriad others. While it is important to have pages on these sites, you must also link to them from your website. People love to read reviews and assess your overall online presence, so you need to make sure your pages are accessible to those who want to find you via social media.
On your website, it is highly advisable to have clear links to these pages, so users can find what they are looking for in just one click. Search engines also like it when web pages have external links. Similarly, when you link to another one of your external pages, it should also have a link going back to your primary website. This is so users who search for "porcelain veneers near me"  — for example — and find your site on your Google business page can then easily navigate back to your website and learn more about the practice. Most of these types of websites also have reviews, which can highlight the phenomenal service you provide. When you regularly receive reviews and respond to them — and they are on your official business pages — Google notices that people are engaging with your practice (indicating that it is active and recommended) which will subsequently increase the potential for becoming more visible in searches. Once again, you can see that providing easy navigation to and from — and within — your custom website provides the best experience for both users and search engine rankings.
Piecing It All Together
As you have most likely noticed, having a high-quality custom website does a lot. It showcases the services you offer and makes it easy for users to find them. It is something of a hub for all aspects of your online presence and showcases that you are active and are trying to help visitors find the information they need. Even if your practice has decades of success under its belt, the world is increasingly shifting to the internet for virtually everything, and as it moves this way, you need to remain at the forefront. Your website needs to reflect your experience and expertise and show that your practice is keeping up with the times. As technology continues to evolve, so too will your website. Even if you have a brand-new one at this moment, you will need to maintain it and update it as trends and best practices shift. By establishing your web presence now, you are helping ensure ongoing success. As users increasingly flock to the internet for all their information needs, you have the opportunity to be at the top of their screens via a fantastic, custom-made website.
Contact Us To See How We Can Craft A Custom Website For Your Dental Practice

We have the experience and expertise to help you establish your practice online. Our custom websites are responsive, easy-to-navigate, and are always built with both SEO and your users in mind. At MDPM Dental Marketing in Dallas, TX, we know that maintaining a successful dental practice requires a vast amount of energy and effort, so we are happy to take care of all your digital marketing needs. If you have any questions or would like a free analysis of your website in addition to your social media and online presence, we invite you to contact our office at (972) 781-8861 today.