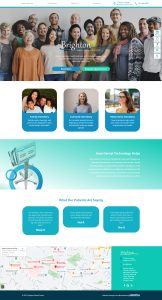 About once every three years, you should consider updating your dental website. After all, the latest in UX (user experience) and Google standards change from year-to-year, and a regular refresh could keep you from falling behind and help your content reach potential patients in your community. In today's blog, MDPM Dental Marketing is looking at the refresh we've provided for Brighton Family Dental Group, LLP, as well as the new features we could add to your site too.
Meet Brighton Family Dental Group, LLP
The Brighton Family Dental Group, LLP has been our client for over 12 years, and provides Brighton, MA, and surrounding communities with a comprehensive family dental care, employing the latest dental technology and a personalized approach. Like other dental practices, they've worked hard to continue to serve their community through the pandemic. To help them reach new people and maintain their current patient base, we helped their marketing plan by providing a makeover for their website.
Our Dental Website Refresh
We recommend a website refresh about once every three years, as Google is always updating their SEO standards, and you want your content to reflect these changes. We update the UX to give them an attractive design that looks great and is easy to navigate. After all, if your patients are deciding which practice to choose, having a site that is professional and attractive, and easy to use, could be the deciding factor. We also provided interactive features, such as the ability to schedule an appointment online and access necessary patient forms. We also created new web pages with original content, and continue to provide new blogs to boost SEO. The new logo and branding is also updated and consistent across their social media pages!
Updates With Interactive Features and More
Your practice, whether new or established in your community, benefits from adhering to the latest Google standards, which we also incorporate in our website refreshes. To stay up-to-date, we're also adding interactive features into our new build and refreshes, such as a payment portal, paperless signature forms, patient forms, and appointment requests. To help you stay connected to your current and past patients, we have an email list sign up option, and could provide live chat features and a patient wait list too. These features make scheduling a visit and staying engaged simple, and also help with COVID-19 precautions, as this limits how long someone needs to be in your waiting room.
Talk to MDPM Dental Marketing About Your Website Update
An updated site could help your pages look great and make your content more accessible and impressive to potential clients. If you would like to discuss improvements to your online footprint, then contact MDPM Dental Marketing in Dallas, TX by calling us at 972-781-8861 to meet with our team.