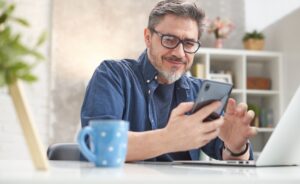 Is your current website a mess? As a dental office, your prospective patients pay attention to your design, and if you are not putting the best version of yourself forward, you could be missing out on their business. Before they even set foot into your office, give them a reason to choose you as their new dentist with an elegant website. In the digital age, you want to be sure that your web presence fits with your product.
With our team of digital marketing experts at MDPM Dental Marketing in Dallas, TX, you have the opportunity to give your prospective patients a view into who you are as a dentist. From general oral health professionals to specialized surgeons, your new patients want to know that their experience with you will be clean, tidy, and friendly. By placing those values into your new website, you help them to understand how important cleanliness is to your office. Your website is like a tour of your office, so take pride in how new clients view you with a crisp new website for your dental practice.
Your Site Shows Them What To Expect At Your Office
When people search for your practice on the internet, one of the first places they will turn is to your website. While we certainly appreciate the need for a robust social media strategy, your home page is a common destination for your new patients. If your current site design is just not receiving the attention that you need, it can affect your ability to draw in new mouths.
By keeping to an elegant color scheme and aesthetic, you can help your new clients to better understand your office. After all, when someone thinks about their dental needs, they rarely think about browns and greys. Your current website may be off-putting if you focus too heavily on the wrong colors.
Are You A Specialist? The Right Choices Can Make All The Difference
For dental professionals, it is important to tailor your content to meet the needs of your practice, and making the wrong decisions can give your new patients the wrong idea about what you do. As an example, a pediatric dentist may want bright and vibrant colors, but this design will look out of place for an oral surgeon. Make sure that you and your team represent your office well with a theme that fits your audience.
Keep Their Attention With A Website From MDPM Dental Marketing
If your current website is just not giving off the right vibe, your potential new patients can pick up on it. To learn more about your options in improving your current site through a redesign or a refresh, give us a call at MDPM Dental Marketing at (972)781-8861 today!