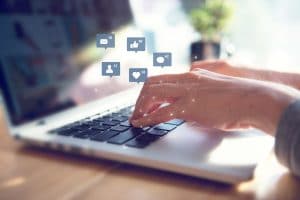 You can safely assume that people in your area will go online to search for nearby dental practices. With the right website, and the right approach to SEO, you can count on more people finding you online. With our help, you can start attracting more patients thanks to a revitalized digital presence, engaging site content, and our reputation management efforts. In order to truly raise your profile online, we can also help you make the most of your social media activity. Having a Facebook page for your practice can give you a new channel for communicating with your patients, as well as a new resource for connecting with new people. While it is common for small businesses to create profiles, many see limited benefits because they are not taking the right approach to social media. We can offer insights, help with understanding social media metrics, and even by providing you with posts that are designed for wide appeal!
Why Your Practice Should Have A Social Media Presence
It has become increasingly common for small and local businesses to create pages for themselves on social media. With a dedicated Facebook page, you will have a space where you can share important updates with patients. This also creates a new space for you to share and promote website links, which can help with your larger SEO efforts. Of course, the Facebook page itself can help because it establishes a new link that Google and other search engines can find, index, and share in appropriate keyword searches. Social media pages, and Facebook's page in particular, can also be a great space for sharing personal information about your practice, and your team members. These posts help patients feel more connected to you and your office, which can help them feel more loyal.
Are You Doing Enough To Promote Your Facebook Page?
If your website is outdated, infrequently updated, and hard to find, its practical value can be underwhelming. The value of your Facebook page can also depend on how much you do with this digital space. A more active account, and one that posts during periods where Facebook receives more traffic, can see better results. Making effective use of social media can be time-consuming, and it can be frustrating if you are not familiar with effective online practices. We can include social media support in our larger plans to help you promote your practice online!
We Can Help You Follow More Effective Practices On Facebook
Your activity on Facebook, and your efforts to promote your page outside the social media space, can help you generate more value from your page. It may seem obvious, but many people do not take the step of asking friends and family to support their page. Asking for help from your personal network can help you prove that your page, and your practice, deserve outside interest. You should also make sure you use your page to share interesting information. We can make sure that whenever new content is created for your website, it will be shared to your Facebook page with a compelling caption. This helps generate traffic for your pages, but it also encourages Facebook engagement that can be beneficial. Sharing these posts at the right time can lead to more attention, and give more value to your actions.
Not everything you do to promote your Facebook page has to be on Facebook. One important step is to make sure that your Facebook page link is easy to find on your website. When building a new website, or providing website updates, we can make sure your site has an eye-catching widgets for Facebook, and other social media accounts you have created. While this can seem like a relatively simple step, it is always important to create clear lines between your different online properties, as they make it easier for people to stay on your pages as they look for different information.
Measuring Your Facebook Success
How can you tell if your efforts to promote your social media page are truly going well? Is the act of counting and tracking your "likes" on different posts enough to tell you whether you are doing a good job, or are in need of improvement? We can offer expert interpretations of the different metrics Facebook provides business profile accounts. With this information, we can assess the current effectiveness of your social media behaviors, and it allows us to determine how effective your ongoing strategy will be. Competition, changes introduced by Facebook, and shifting user behaviors can sometimes introduce the need to vary your strategy. We can recognize when a new approach is called for, and help you continue to see value from your social media activity!
We Provide Website And Social Media-Exclusive Content For Your Facebook Page!
You can count on us to analyze your social media activity, recommend better posting and sharing strategies, and make sure your Facebook page is easily accessible from your website. What you should also know is that we are ready to help you share quality posts as well! Each month, you can receive a special social media kit that contains captions and images. These posts keep the focus on oral care while also staying timely. We take the extra step of determining when different posts should be shared, so your content is spaced out for better engagement. These quality posts can capture the attention of your patients, which can lead to likes, comments, and shares that help you reach more people!
MDPM Consulting Is Ready To Help With Your Social Media And Website Marketing Efforts!
At MDPM Consulting, we understand that an effective online marketing campaign should focus on more than just your website. While our SEO efforts can lead to site improvements, and the sharing of beneficial content, we are also prepared to take on your social media activity! A well-managed Facebook page for your dental practice can help you strengthen your relationship with your existing patients, while also making it easier for you to reach new people. If you have questions about your website, your Facebook page, or any other social media platform, we are ready to help! Find out more by calling MDPM Consulting today at 972-781-8861.