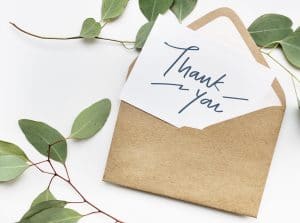 It's easy to sound like a fist-shaking, get-off-my-lawn curmudgeon when talking about how technology has changed communication, but in reality, the way we interact with one another has shifted. How many promotional emails do you receive per day? It's nice to receive a message that you actually want to read. The absence of that personal touch actually creates an opportunity for your digital marketing strategy. Personal thank-you notes from your dentist's office to patients and vendors alike can go a long way. Here's how you can use thank-you to easily build patient relationships.
Send a Thank-You Note to Patients After Their Visits
The thank-you can be in the form of an email, or even better, a handwritten letter. It may seem like a dated practice, but the absence of personal communication is exactly what makes this type of tactic effective. After your patient has come in for a visit, send them a personal thank-you that references the visit and expresses your gratitude. Patients like personal attention and feeling like they matter to their caregivers. You can use this opportunity to also follow up on any recommendations that you may have made during the visit.
Guidelines for a Personal Patient Thank-You
Composing these personal thank-you messages after visits doesn't have to be hard. You can have a template that you use mentally. The three parts that a post-office-visit message should contain are an expression of gratitude, a specific detail from the visit, and a recommendation or follow up. You should begin your message by thanking your patient for choosing your services. You should then include a personal detail that demonstrates to your patient that you pay attention during their visit. You can close by following up on a recommendation from your visit, or including a date for the patient's next visit.
Use a Thank You Note as Part of All Your Strategic Relationships
You'll probably find that you enjoy the process of writing personal thank-you notes for your patients. It feels good to express gratitude to people that you care about. You can use this tactic with any of your strategic relationships — venders, patients, office staff — everyone likes the touch of personal communication.
Learn About the Simple Steps You Can Take to Build Relationships with MDPM
MDPM Consulting is a digital marketing firm that specializes in dental practices. We help dentists from across the country attract more patients and build stronger relationships with the clients they have. We use a variety of strategies and tactics to do this. Learn more about what you can do to foster lasting relationships with patients by contacting MDPM Consulting in Dallas, TX at 972-781-8861.