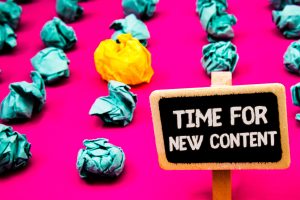 Along with a good UX and integrated map platforms and mobile-first designs, a successful dental website means each page needs original copy. A focus on new and original content, and not duplicated content, could help your SEO and allow people in your community to discover you easily online. In today's blog, MDPM Dental Marketing discusses the benefits of a marketing plan that includes custom copy, and how we provide this as part of our monthly SEO plans.
Why Google Wants Original Content
When you publish a webpage or a blog, Google's bots will crawl and index this page. Along with keywords and links, they're looking for original copy. When you use duplicated or template copy, even if this is taken from library articles or reputable sources like the American Dental Association (ADA), this hurts your SEO. Canned content is a recipe for disaster, which is why our office employs a team of copywriters to create new and original content for our clients' websites.
Creating Quality Copy
Quality matters! Google looks at whether the words are original, and also takes into account length, links, organic keywords, and photos. Which is why you should turn to professional writers for this, not someone in the office who already has a full workload and who cannot devote the time and attention necessary to create the quality elements your pages need. Yes, the technical aspects we build into your site are vital, but that's only half of what your SEO needs. The rest relies on the words on the page!
Blogs and Monthly Plans
As part of our monthly SEO plan, we can create blogs for your site. Blogs provide a steady stream of new material for Google to crawl and index, which improves SEO. They can also pull double duty, acting as eblasts and emails you can send to new and current patients to always maintain a connection with them. We can post these on a daily or weekly basis, depending on your unique marketing needs. Whether you need content for a new or existing dental website, we can help you. If you have any questions, or if you would like to schedule an interview regarding our services, then contact our team at the number below.
Talk to MDPM Dental Marketing About Your Content
We want to make sure that every page and blog on your site helps with your SEO. If you would like to discuss a plan to add original words to your new or existing dental website, then contact MDPM Dental Marketing in Dallas, TX by calling us at 972-781-8861 to meet with our team. Our team is focused on helping you create a marketing strategy that works for your office and your budget.