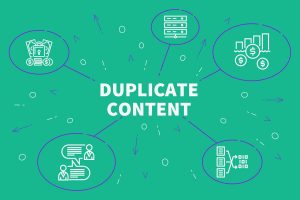 When it comes to your online visibility, there are a number of factors that can set your site apart from the rest. On the flipside, there are also a number of things your practice can do wrong that causes your website ranking to tank significantly. Indeed, circumstances that lead to the latter option happening includes things such as sub-optimal SEO practices, failing to keep up with modern reputation management practices, and even posting duplicate content. In today's blog, the team at MDPM Dental Marketing in Dallas, TX will take a look at the influence that duplicative content has on your online visibility, as well as how proper reputation management can garner the attention you are looking for.
The Impact on Your Site's Ranking
Making sure that you check all of the necessary boxes for ideal search engine optimization (SEO) can be a tricky task as a dental practice. After all, many practices offer similar services such as restorative and cosmetic dental care. The key is to ensure your content is original in nature, and that your website copy or blog content is not the same as what might appear on another website or multiple pages of your own.
Our team recognizes that content is king. What's more, Google and other search engines are programmed to recognize this as well. This means that you simply cannot pass off a plagiarized blog or a copy/pasted blurb without enduring a significant hit. In other words, search engines take a number of factors into consideration when ranking websites on a search engine results page (SERP), and duplicate content is a big one that causes your listing to fall in the ranks.
What Search Engines Consider
To ensure your site makes its way to the top of the list on the first page, cutting corners is not an option. Oftentimes marketing companies make false-advertisements revolving around getting the most views out of any other competitor through a number of specific steps. At the end of the day, however, content is king, branding matters, and you cannot cheat the system when it comes to proper SEO practices.
Whether you use Google, Bing, Yahoo, or another search engine, all of them are programmed to look for key items that ensure an article or a page is in compliance with the current SEO standards. These include items such as original content, a reputable brand, and more. Contact MDPM Dental Marketing to learn more about these factors today.
Generating Unique, Quality Content
While dentistry in and of itself may be similar across the board, that does not mean that your blogs or website copy has to be. There are a variety of unique ways to discuss the importance of preventive dentistry in your everyday life, or discuss the difference between implant-retained dentures or traditional models.
Indeed, with a dedicated blogging team trained in technical writing and SEO standards, we can make sure that your content and blogs are not only accurate, but reflective of the most recent website standards. We can even provide highly-specialized content that best reflects your services. This means that we can custom-tailor content in a highly-accurate manner to address your prosthodontic options, discuss oral surgery, or even promote your small business! Reach out to our team to learn more today.
Staying on Top of Your SEO Needs
Search engine optimization contains a number of factors that are taken into account so that your listing can be placed properly on a search engine results page. In other words, when individuals search keywords such as dentist, oral care, and more, Google's bots perform a quick sweep-through in order to provide the best answers to your inquiries.
Bear in mind, however, that simply copying or mimicking the listings that land at the top of a SERP will only harm you in the long run. After all, Google and other search engines' bots will punish duplicative content, causing your listing to fall much farther down the list than you were anticipating.
To best avoid these circumstances from occurring, you will want to take great care to ensure your SEO practices are up-to-date. This includes laying a healthy foundation of excellent backend practices as well as organic SEO.
Another major benefit includes the source of authority your practice gains with time. In other words, putting consistent effort into your marketing and online presence will inevitably benefit you, as search engines will recognize your practice as an authority figure when it comes to dentistry and other specific treatment.
Finding the best SEO package to aide your practice should not be more of a chore than it has to be, and our team makes the process simple. We offer three unique packages that range in services and frequency. What's more, we recognize that SEO is not a one-size-fits-all situation, and so our packages are customizable to best address your needs.
Boosting Your Website's Performance
When duplicate content tanks your web listing on a search engine results page, it can be quite difficult to bounce back afterwards. Fortunately, marketing is our specialty and we are ready to help. Our team recognizes the importance of online visibility.
Site performance is gauged in a number of ways, but a few factors continue to stand the test of time. These include a healthy combination of effective branding, organic SEO, proper reputation management, establishing a strong social media presence, and, of course, having the hearty content to provide necessary substance. If any of these areas fall short, your clicks can tank and your site can be punished, resulting in overall diminished visibility.
Our team is dedicated to helping your dental practice grow its online presence, and we contain the necessary tools and expertise to do so effectively. Reach out to our team today to learn about your options.
Meet with Our Team to Learn Your Next Steps
As technology continues to advance and expand the scope of capabilities, having a strong online presence is a must for a fledgling – or even established – dental practice. When you are ready to grow your visibility and online presence, reach out to MDPM Dental Marketing in Dallas, TX by calling us at 972-781-8861 to meet with our team.