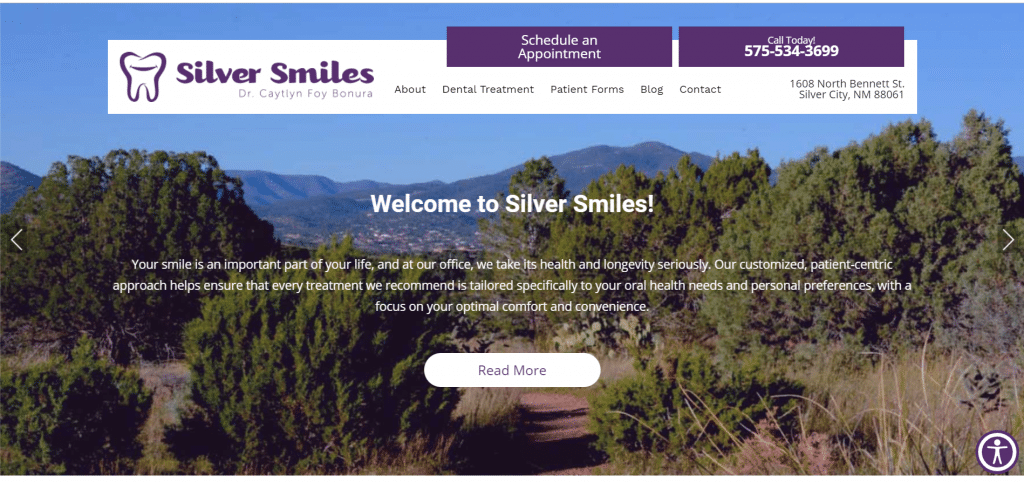 For our latest client feature, we want to introduce Silver Smiles, a dental practice located in Silver City, NM. Dr. Caytlyn Foy Bonura provides a range of oral health services from the practice, which can offer routine care in addition to more involved work to address cosmetic and oral health concerns. When patients visit Silver Smiles, they feel confident knowing that their dental health and smile are being supported with modern services. When Silver Smiles needed to replace their old website, we were able to create a new site for them that supplied important SEO features as well as an attractive, modern appearance. As important as a modern website can be, we make sure clients like Silver Smiles also benefit from dedicated online marketing support through the creation of new content, and efforts to reach people with smart social media activity.
About Silver Smiles
At Silver Smiles, patients can look forward to expert care when they meet with Dr. Cytlyn Foy Bonura. Born and raised in Silver City, NM, Dr. Bonura earned a Bachelor of Science in Biology at Creighton University, and earned her Doctor of Dental Surgery at Baylor College of Dentistry. She would go on to complete the Advanced Education in General Dentistry program at the University of New Mexico.
Dr. Bonura is committed to staying informed about the changing field of dentistry so that she can make sure her patients have access to modern services. Thanks to the care she and her talented team provide, Silver City residents enjoy routine preventive services that keep them safe from the effects of common threats like tooth decay and gum disease. Patients at Silver Smiles also enjoy access to modern, appearance-friendly restorative dental services, and cosmetic procedures that lead to stunning smile improvements!
Creating A New Digital Space For Digital Smiles
Silver Smiles patients benefit from access to modern services that effectively preserve the look of healthy teeth, and make big cosmetic changes possible through conservative dental work. When it comes to SEO, a modern website can offer important advantages is you want to reach the right people. While the site Silver Smiles previously used was beneficial, its age was starting to limit how effectively they could reach people through Google and other search engines. Our goal in designing their new site was to improve their formatting for all devices, and find the best ways to share relevant information. We also used their site update as an opportunity to improve the look of their digital space. Of course, in addition to making these visible changes, we were able to use updated technology to ensure the site is more effective at communicating with Google, making its links easier to understand and rank.
What Silver Smiles (And Other Clients) Gain By Replacing Their Old Website
If your website is more than three years old, you should be serious about an upgrade. Website speeds slow over time, and page designs can look dated. You can also have a harder time competing for top spots in SERPs (search engine results pages) because competitors with newer sites can take advantage of new technology to communicate more effectively with Google. With a site upgrade, Silver Smiles (and other clients) are able to provide a more user-friendly experience, and make their links easier for Google to analyze. For sites struggling to reach people because of low rankings, a new website can be a crucial first step in clearing obstacles toward better SEO.
How Changes To Google's Algorithm Affect Your SEO, And Your Site's Value
Google and other search engines continue to improve at evaluating the value of links, and providing more useful and user-friendly results to search queries. Sites that have been slow to keep up with these changes can struggle to reach people, especially if their SEO strategy has not been revised. While Google shares limited details about specific algorithm updates, you can be sure of one thing each time a change is announced – they want users to see better results. As part of their overall effort, Google is better equipped to judge the user experience that links are providing. Keywords and links still have value, and help Google know when to share your links, but your site speed, user engagement, and design have become more important for SEO. We can help you understand what an update can do to boost your rankings, and we can rely on a combination of website content and meta information to improve your placement on SERPs.
One particularly important change to Google that you should know about is the move to mobile-first indexing. With this new approach, Google is ranking links based on their performances on mobile platforms instead of desktop platforms. If your site is not optimized for mobile devices, or if there are features missing from your mobile experience, it can be difficult to secure favorable rankings. We make sure all of our clients receive mobile-friendly websites that can count on favorable rankings under this new standard!
We Offer More Than Just Website Development And Support!
Developing and designing your new website is important, but you need more than just a better site if you want to see value from online marketing! We provide dedicated SEO services that help you show up in more search queries, target local people, and see more value from social media. Your site can reach more people thanks to the original, relevant content we produce for your page. With a content strategy tailored to your practice, and your goals, we can help you appear in more search results, and help people understand why they should go to your practice for oral health support. We can offer reputation management services to help you gather more favorable reviews online. We even provide scheduled social media posts you can use to stay in touch with your current patients, and to reach new people!
Discuss Your Goals For Online Marketing With MDPM Consulting!
At MDPM Consulting, we can help you see the many advantages that come with SEO improvements, and work with you to create an effective online marketing strategy. If you are interested in replacing your old website, want to discuss changing your SEO strategy, or are preparing to open a new practice, we can help! To find out more, please call MDPM Consulting today at 972-781-8861.