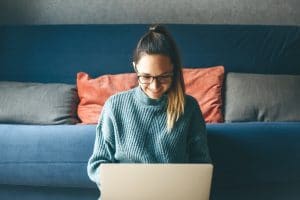 How are you doing? How's your family and your team?
As I said last week, now is the time to talk about
the solution instead of the problem
. Is your website set up for helping you serve patients now? How will that translate to the "new normal" once your practice reopens. Today, we're examining 4 tools we can add to your website to transform it from an informational resource to a tool you and your team can use to best serve your patients.
1. Patient Wait List
With the submission of an
easy contact form on your website,
patients can join your wait list to get on your schedule once you reopen. You'll receive an email every time you receive a submission, AND all submissions will feed to a Google Doc that you can access to see the patient's name, phone number, email address, and message in the order the submission was received. Then, you and your team contact the patients to get them scheduled!
2. Telemedicine Appointment Request
Are you offering telemedicine appointments to your patients? Great! Let's get a telemedicine appointment request setup on your website. Similar to the wait list, you'll get an email with every contact form submission requesting a virtual appointment. From there, you'll contact the patient to set up the appointment and relay any information/instructions.
To set this up, we'll need to know who you're offering telemedicine appointments to (existing and new patients, emergencies and consultation, etc.).
3. Facebook Messenger Integration/Live Chat Function
Your patients are encouraged to call, email, and submit your website contact form to get in touch with you, but how about giving them other routes of communication? You've probably had patients reach out to you via Facebook Messenger (P.S. are you checking those messages regularly? You should be!), but how about integrating this feature into your website? See it in action on our website here: 
https://mdpmconsulting.com/
This gives patient just one more way to reach out to your office. If you choose to not run this chat feature through Facebook Messenger, we can also provide live chat options depending on the features you're looking for.
4. Payment Portal
Are you accepting payments on your website? Why not? An online payment portal is a great way to allow patients to pay their bill anytime anywhere. Once you start seeing patients in the office again, having an online payment function will be very important so that your patients and team aren't handling credit cards and cash. The setup is simple and starts with your credit card processor. From there, we integrate it into your website.
One more thing:
We've created a
Special COVID-19 Social Media Kit
that you can use on your own Facebook and Instagram page. Now more than ever, it's important to show up and interact with your patients any way you can, including social media. 
Ask us about this kit!
As always, we're here to help, and we'll be in touch every week to make sure you know we're thinking about you. Please don't hesitate to reach out at any time.
Stay healthy,
Jill Nastasia
Founder & CEO, MDPM Dental Marketing