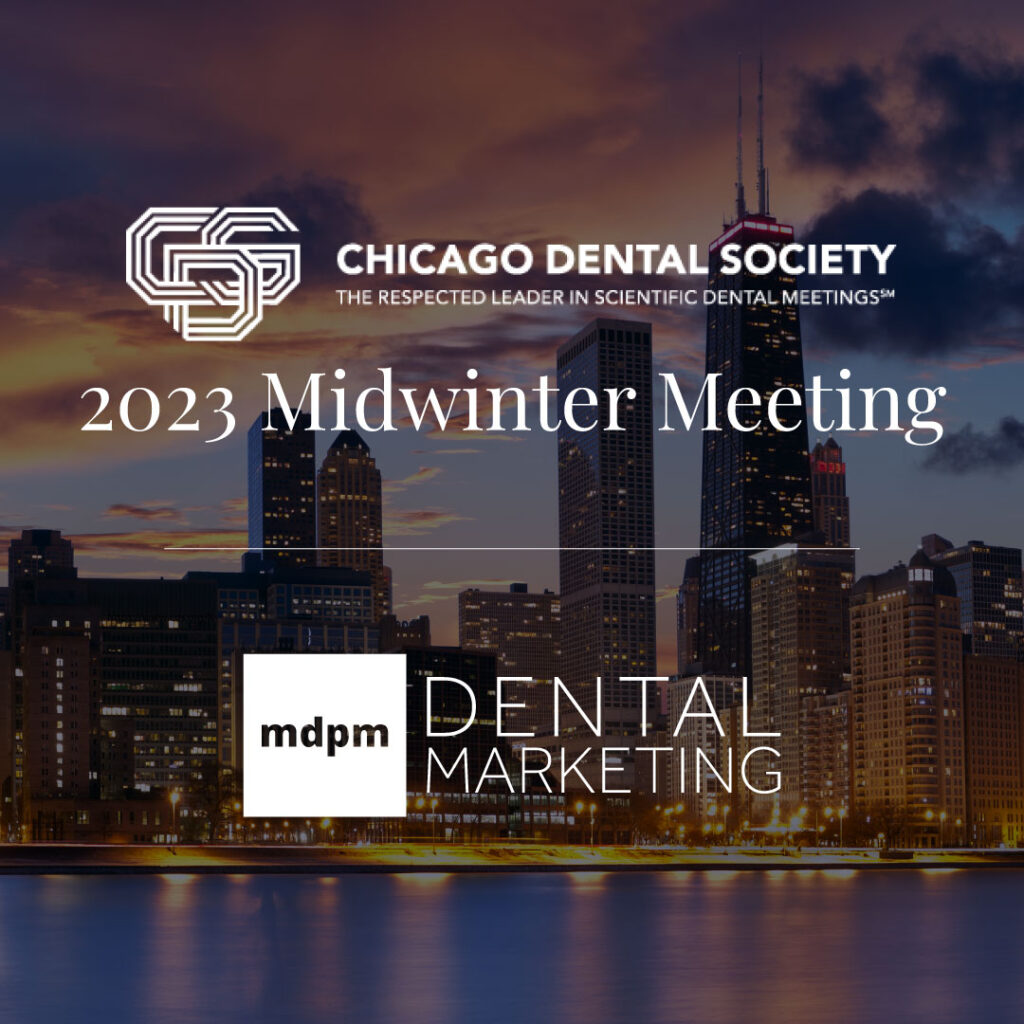 The Chicago Dental Society is preparing to host their 2023 Midwinter Meeting. This is the 158th time they have done so—as with past gatherings, this will be a great chance to meet with other dental professionals and find ways to improve your practice. With more than 240 courses planned and additional information available in the Exhibit Hall, you can find out about recent innovations that you can incorporate into your services and do more for your patients. You can also take time to learn more about the role that your digital presence can play in building success for 2023 and beyond.
MDPM Dental Marketing Founder and CEO Jill Nastasia will be on hand throughout the Midwinter Meeting and would love to set aside time to meet with new and potential clients. Our team continue to provide robust services in the fields of online marketing and support. Whether you are due for a new website, hope to better promote your specialty services, or want to make sure you remain easy to find online, we can help. A meeting to discuss your current strategy for online marketing and what you can do to foster growth can help you see more success in this year and beyond!
Will You Be Attending The 2023 Midwinter Meeting?
The Chicago Dental Society has a long and proud history of supporting oral health professionals in their area and beyond. The Midwinter Meeting is a great opportunity to learn about innovations in service of providing oral health care to patients. New technology, new treatment approaches, and important research can be shared at these gatherings. Of course, they also provide additional support through the professional connections formed and strengthened while at the conference. More than two hundred courses are scheduled for this year's event. Dentists and non-dentists can also explore the commercial exhibits, which provide many innovations and offers of support to help practices grow.
Professional Conferences Can Introduce You To More Than Just Changes In Treatment
When you come to a conference like the Midwinter Meeting, you can discover more than just what is happening in the field of dentistry. You can also spend your time learning what successful practices are depending on to best support themselves. Providing the right care is important, but you should also think about how professional gatherings like this and others help you learn more about growing your office. The effort given to online activity can be vital to the success of any enterprise that depends on local support. Both your website and the effort you put into search engine optimization (SEO) will impact how likely it is someone will find you when they look for a dental professional in your area. Whether you are looking for someone new to support you in this or you are interested in changing how you approach digital marketing, we can take time to meet with you during Midwinter Meeting to learn how we can support your dental office.
Setting Aside Time To Discuss The Role Your Online Presence Plays In Supporting Your Practice
By making time to talk about digital marketing, website support, and SEO, you can make sure your practice is reaching more people, and you can even influence how people speak about you online. Our online support can start with website development and design, but we do more than just establish your digital presence. Original and relevant content added to your site regularly can boost your SEO organically, which means more of your links are likely to appear in the right Google searches. Because we support our clients with social media and reputation management activity, we are able to extend your reach and help you keep up with the different channels of digital marketing more easily. We have meetings available during Midwinter Meeting. The sooner you let us know that you wish to talk, the sooner we can make plans to help support you!
MDPM Dental Marketing Is Ready To Help You Grow Your Practice!
By attending events like the Chicago Dental Society's Midwinter Meeting, you can gain valuable knowledge to use to grow your practice. Learning what has changed in the fields of dental care and technology will matter, and so will taking the time to learn about how you can best use the internet to grow your office and connect with more potential patients. Founder and CEO Jill Nastasia will be at this year's event on behalf of MDPM Dental Marketing and would love to speak with you! For more information, please contact MDPM Dental Marketing today at 972.781.8861!