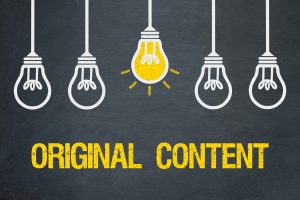 Now that vaccination rates are on the rise, people are feeling more comfortable leaving the house and even attending overdue medical and dental appointments. To make them more likely to schedule an appointment with you, a custom dental website with original and engaging content could make the difference. You want to showcase the strengths of your practice, and be what they find when they Google a practice in your area. To accomplish this, your practice benefits from original content, and MDPM Dental Marketing is ready to help!
The Importance of Original Content
Your dental website should help convert viewers to patients, providing them the information they need to make a decision. From the design and esthetic components, to the function and the information on each page, they should feel confident your office is the one to address their dental needs, and those of their family. To help facilitate this, we don't believe in a standard site and template copy. We don't want your pages to feel like everyone else's. In addition to helping convert people who view your pages, this also helps Google improve your rankings on a search engine results page (SERP), making you easier to discover for people searching for dental care in their community.
Designing and Building Your Website
Each one we create is made from the ground up for our clients, and several versions are created to ensure they look good on a variety of devices, from smartphones to desktops. The design is responsive, making it easy to scroll, negative, and use on a variety of screen sizes. Our team employs the latest standards and trends in UX, so your pages never feel outdated. Taking a mobile-first approach, making sure the website is optimized for smaller screen sizes, also boosts search engine optimization (SEO).
Creating Original Copy
Now, let's talk about the content on your webpages. From your homepage to each individual service page, we want to make sure every bit of copy is original, optimized for organic SEO, and an accurate depiction of the services and treatments you provide. Not only that, but we also offer blogging services to create a steady stream of new content. When we do, Google begins to regularly crawl and index your pages, which improves your discoverability when someone searches for a dental practice or a dental specialist in your community. We use targeted keywords and link strategies to help SEO, while also ensuring your content is readable and digestible for potential patients. After all, you want to showcase your expertise!
Other Content Strategies
Remember, you own all of your content and can use any of it in anyway you see fit as part of your marketing strategy. Our team is experienced in implementing these strategies, and is willing to work with you. Along with the copy on your webpages and in your blog, we can create social media posts, ebooks, newsletters, and more!
Talk to MDPM Dental Marketing About A New Website
Even as SEO practices and UX change, the need for original and engaging content will be always be vital for your marketing strategies. If you want to improve your dental practice's reach online, then contact MDPM Dental Marketing in Dallas, TX by calling us at 972-781-8861 to meet with our team.