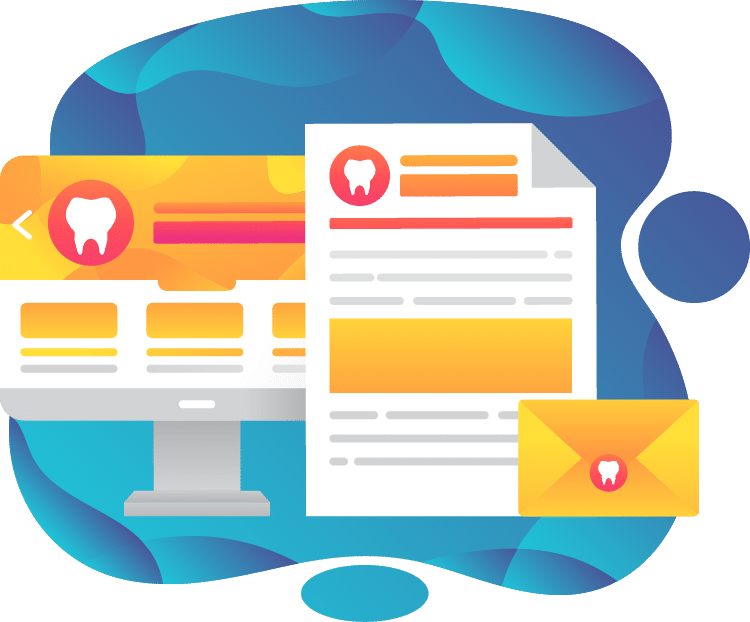 Although your dental practice probably won't enter the public consciousness in a worldwide context , it is still important to have high-quality consistent branding that is familiar to both your existing patients and new ones. Branding is more than just logos and color schemes; it is how you engage with your customers and how they view you. In today's blog, MDPM Dental Marketing discusses the elements that contribute to good branding and how you can use it to improve your business.
What Is Branding?
Branding is the process of telling your customers — or patients — who you are, what you care about, and what they can expect from you. Think about it as everything your practice prioritizes and carries out day to day, distilled into just a few words. Of course, you can't describe all of your services in a single sentence, but you can think about your approach to dentistry: what sort of patients do you focus on? How do you want to be perceived and remembered? What makes your practice unique? Your brand is how your community thinks about you. It is a consistent identity that stretches from your physical office space to your website to your social media pages and more. With the ubiquity of the internet, it is essential to establish your practice's digital brand, as this is where most of your patients will initially interact with you. Whether you are new to digital marketing or have been utilizing its power for a while, it is important to come up with a brand as one of the first steps because this will help guide everything else you do online.
How Branding Works With Marketing
Branding goes hand in hand with digital marketing. Branding focuses on establishing value and recognition while marketing focuses on reaching new and established customers and ultimately bringing patients into your office. Branding sets the look and feel and tone of how you convey your message, and marketing is actually implementing it.
Imagine a person searching for a new dental practice in their city, using the phrase "best dentist near me." They are more likely to click on links from practices they are familiar with — perhaps when they recognize a name, logo, or the general messaging. Moreover, once they click on your site's link, whether they are familiar with your practice or not, they want the layout and overall messaging of your website to appeal to them and feel consistent throughout every page. While these are key concepts in creating a great custom website (and digital marketing, in general) they all stem from branding. Furthermore, once they are familiar with your business— and brand — they are more likely to come back and feel loyal to you. According to research from Search Engine Land and Survey Monkey, close to 70% of consumers actively look for brands they are already familiar with when searching for something. This demonstrates that effective branding is paramount for maintaining and growing your practice. For more tips on how to integrate your branding with your digital marketing efforts, you can check out Google for helpful insights.
How To Create A Strong Brand
One of the first steps in creating a strong brand is designing and implementing a logo. This is a single image that people will associate with your practice. It is more than just a picture you like; it should encompass your practice's personality and speak to your ideal patient base. If you embody a modern, sleek approach to dentistry, your logo should reflect this. If you are appealing to parents looking for a pediatric dentist, the logo should be designed accordingly. It needs to be able to scale up and down so it can be adapted to an appointment card or  a mailer to a billboard and everything in between.
Creating the logo is also the time to start thinking about your color scheme. While you want the colors you choose to look good together, they should also convey the emotions you want to evoke. Color psychology is real, and it has informed the design choices of the most well-known brands. Red, for instance, conveys passion and energy. Green promotes nature and health. Purple embodies creativity, wisdom, and confidence. Once you decide on your primary color, you can choose secondary and tertiary colors as well. Consulting a color wheel or a guide is helpful in determining what goes well together. Once you have your color and logo design picked out, you need to implement them into all aspects of your digital presence.
Your website is one of the primary places your branding will be seen. Every page of your site needs to maintain consistent branding. Colors, patterns, and your logo should stay the same and be in the same places from page to page. You can create multiple versions of the same logo to use in different situations. For instance, if you have a sparsely populated page, you could use your full-color logo. If you have a page with a lot of color pictures, you could use a minimalist version, so the page doesn't look too busy.
When designing a website that maintains consistent branding, you also need to incorporate an easily navigable user experience. This is part of SEO (search engine optimization), and it is an essential component of your overall web presence. SEO concerns itself with keeping your practice — and its branding — visible via search engines. It is an entire field of digital marketing, in and of itself, but branding certainly affects it. For instance, Google values clear, concise pages that users can get to with as few clicks as possible. Your overall branding efforts can accommodate this by opting for simple yet memorable design choices. It should also be engaging and informative.
When branding is effective, users who are familiar with your brand will be more likely to click on your link when it comes up on their searches because you are a known, memorable practice.
What To Do After Creating Your Brand?
Once you've established your logo, color scheme, and general website layout, you can't rest on your laurels.  SEO requires constant maintenance, so even businesses with established web presence need to stay current on recommended features and best practices, and update regularly. . Whenever it is relevant, you should update your website to reflect changes to your business. This could be new holiday hours, a new piece of technology, or a new service you offer. Whenever you add to your website, Google reindexes your page, which makes it more likely to show up in searches. And every time you add a page, it should reflect the branding you've established to maintain consistency and familiarity.
Even though you need to consistently update your website, it isn't exactly feasible to keep adding new static pages. After all, you only add new services every so often. Maintaining a blog, however, is a great way to keep adding new pages while also providing helpful information to your readers. You can write about anything relevant to your practice and community. It can range from giving details about various procedures you offer to helpful brushing tips to highlighting great events in your community. This is all part of your larger content strategy, and it is integral to higher ranking by search engines.
With this in mind, you need to establish a consistent voice and messaging. This is another major component of branding that is often overlooked in favor of branding and graphic design. Your messaging and voice are how you communicate to your patients and the world at large. You need to have a tone that reflects the way you see your business, what you stand for, and the things that set you apart from other practices. Are you an authoritative, trusted voice? Are you informal and witty? Do you want to be a steadfast resource for your community? Whatever you choose, you need to maintain that idea throughout all of your content. You should remember that you are primarily going to be writing for an internet audience, and your messaging and overall branding should reflect this. Try your best to engage with trends and memes, even if this doesn't inherently seem to fit with your established messaging. Rather, try to incorporate the two, so you are staying true to yourself while also reaching those who spend a lot of time online.
While your branding and messaging need to be consistent on your website, they  need to extend to social media as well. Many of us are hesitant to actively participate on Facebook, Twitter, Instagram, and other social media platforms, but these interactions allow more people to see your brand and follow your links back to your website, where they are then more likely to learn about your offerings and book an appointment. Your logos and color schemes on social media platforms need to be in line with those of the rest of the website. This circles back to consistent branding. If you come across a practice's Facebook page with one logo, yet on their website you see a totally different one, you will probably feel confused. With branding, you want all aspects of your online presence to feel familiar to your users.
This extends to your voice and messaging, as well. Your tone and word choices should be consistent, so that even if a viewer doesn't immediately see your name or logo, they can ideally ascertain that it is, in fact, you. When you write a great blog and link it to your social media pages, the blurb you include should make sense given the article and the rest of what you publish.
Outside of the traditional social media pages, it is also important to maintain your messaging when responding to reviews on Google My Business or other professional pages. It is jarring to see a business that has built a reputation as a trusted, valuable source respond to comments in an unprofessional, terse manner. Reputation management is crucial to establishing and perpetuating your brand, and you should certainly pay attention to this facet of digital marketing. Professional on-brand responses address individual questions and comments, and show the many ,others who read comments and reviews that you are actively trying to engage with your community, and this looks good. Responsiveness can certainly become part of your overall brand.
The Importance Of Branding
Overall, the branding process begins the moment you open your practice. It is how you present yourself, interact with the world and how they perceive you. Your logo, color scheme, and messaging are all part of this, and they all begin with you and your values. While it is admittedly difficult to distill yourself and your practice down to just a few key elements, doing so drives everything you put out there. Without consistent effort and planning,  both in the beginning and consistently throughout everything you do, you won't see the maximum payoff either in person or online.
Contact Us To See How We Can Develop Your Brand

At MDPM Dental Marketing in Dallas, TX, we know that creating a brand — especially when you already have an established practice — can seem daunting. After all, you have the day-to-day business of your practice to think about. This is precisely why we are here to help you with your branding. All aspects of your digital marketing come back to branding, and our team of experienced designers, writers, and marketing experts can help you create your brand and also maintain it for years to come. If you have any questions or would like a free analysis of your website in addition to your social media and online presence, we invite you to contact our office at (972) 781-8861 today.