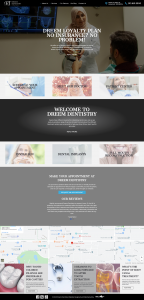 We don't just help dentists across the country build a brand-new practice, we also assist those purchasing an existing one. When you start anew at an existing practice, transitioning it to a new brand may seem overwhelming. Fortunately, MDPM Dental Marketing understands, and will assist you through every step of this process, including creating a custom dental SEO strategy and rebranding your new office with a new logo and fresh website design. We've done this for many practices, including our latest for Dr. Reem Haj-Ali of Dreem Dentistry!
Understanding Your Existing Patient Base
The odds are, if you purchase an existing practice, then you intend to continue offering similar services. After all, why buy pediatric office in your community if you intend to focus on dental implant placement? That said, you should still have a good understanding of patient demographics making up your clientele. Are you primarily seeing older people? Children? Adults? Proving prosthodontic treatment or general services? When you begin the process of rebranding a dental practice, you want to assure current patients that the care they've come to expect will still be available, and if anything, they should only expect improvements.
Adjusting Your Services
Now, what will change? As you transition from the previous owners to your team, will you be implementing new technologies? Will you start offering new services previously unavailable? For example, going from traditional crowns to same-day placement with CAD/CAM technology is the kind of improvement you want at the forefront of your marketing campaign and website overhaul. Simply put: your patients, both old and new, need to know what's changing and what's staying the same, and at the same time, a simple glance at your new dental website and social media should give them an idea of the philosophy and approach you're bringing to their dental care.
Updating Your Logo and Branding
A major aspect of your dental SEO and practice transition is creating a new face for your business. You will likely be making changes to your physical office, but your online one is the first impression many people in your community will have with you. To start your rebrand, you need a logo, something simple that grabs people's attention. We also need to finalize your new name, as your name and logo are critical for a successful rebrand. We also work with Google My Business doctors to ensure a strong an consistent brand! Fortunately, we have a team of talented designers ready to work with you to finalize an image that you'll be proud to have online representing your new office.
Embrace Responsive Website Design and Dental SEO
Since you're transitioning to your own business, now is the time to make major changes to your website. When people Google search for a dentist in their community, you want to be on the front page. To do so, you need to implement a solid dental SEO strategy. First, we will create a website that employs a responsive and mobile-first design. Your dental website will look great and be easy to navigate on smartphones, tablets, laptop's, and desktop alike. Since Google maintains mobile-first indexing, and has since 2018, this helps you gain a better position when people search for a dentist in your city.
We will also create custom content and copy, and with a blog, continue to provide original copy to help with your SEO. Along with organic SEO, your design will incorporate your new name and logo. You will give final approval on the overall look of your site as well, because we want to make sure you're happy with your design, and that it reflects your approach to dentistry. After all, first impressions matter and the look and function of a website allows people to make a judgment on your business as a whole in just a matter of seconds. The good news is, MDPM Dental Marketing knows how to make that impression count, with simple intuitive designs that look modern and make finding key information about your business simple on any device. In addition, between your new custom content and SM/Citation campaigns, we create authority for your brand to both search engines and patients!
The Benefits of Social Media and Reputation Management in Your Transition
Social media and online reviews have changed the face of marketing forever, and are crucial components of your dental SEO. After all, when you look up a business, whether a dental office or a restaurant, how do you feel about one with a bare bones social media page, or little to no reviews? A total lack of reviews may have the same impact as overwhelmingly negative ones for many people. To help transition your dental practice, we will create social media pages and help you manage them, including your Facebook, Twitter, Instagram, and Bing pages. We will operate a Google My Business page for reviews, as well as Yelp and Maps (which is integrated into your website). With our social media kit and photo booth, we help your team continue to offer new content to engage with your patients and potential patients in fun and unique ways. Obtaining organic and genuine reviews, creating opportunities to engage and interact with patients online, and using social media to spread the word about your services and specials, are great ways to make your new business your own! If you have any questions about this process, or if you would like to learn more, then please contact MDPM Dental Marketing to schedule an interview.
MDPM Dental Marketing Helps Dentists Build A Brand
Even if you're purchasing or taking a practice that has been in the community for a while, you can still manage a successful rebranding. At MDPM Consulting, our team will help you through the process, from dental SEO strategies to creating a new logo and a modern website design. Our team is even experienced in custom content creation and social media management to help a dental practice build their new brand. To find out how we help dentists through existing office transition and rebranding, then please call MDPM Consulting today at 972-781-8861. Let's build an online office that puts the best face possible on your new business!