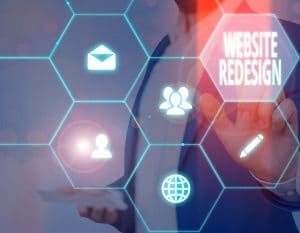 We know more than anyone about the sheer amount of work that goes into creating a dental website that not only looks great but provides a boost in search engine optimization (SEO). However, shifts in design trends and updates to search engine algorithms means that, on average, a website has a shelf life of about three years before major designs are in order. MDPM Dental Marketing knows how to update your website to ensure it continues to communicate well with Google, provide a positive user experience, and boost SEO with a mobile-friendly design. In today's blog, we're going to talk about the benefits of an update and how we approach the process of redesigning your homepage and web content.
Is Now the Time to Update Your Dental Website?
Your site is crucial for attracting new patients. Studies show that 90% of consumers use a search engine to find a local business in their area, and that includes dentists! Google is the dominant search engine used, with 63% of people using it when searching online. This means if Google's algorithms find you have an outdated design, particularly one that isn't mobile-friendly and doesn't include local schema, this could have a negative impact on where your practice lands on a search engine results page (SERP).
When should you make updates to your site? On average, websites are usually outdated after about three to four years. If left outdated, this could lead to your practice falling further and further down the listings on a SERP. Keeping your outdated pages only means harming your search engine optimization efforts. Fortunately, we're happy to take a look and see if you need an online facelift or a complete overhaul and make sure you're completely satisfied with the finished product.
Making Sure Changes Only Improve Your SEO Efforts
Our team keeps up-to-date on the latest trends in web design and search engine optimization. We know what search engines like Google look for when ranking web content and how to keep your content relevant. First, we look at the content within your site. We want to make sure all your links lead to active pages and not 404 errors. We remove duplicate content and make sure all links are properly indexed. We incorporate local schema into the backend of your website and ensure your content is optimized for relevant local keywords. We also incorporate reviews, social media, maps, and Google My Business pages, to ensure that when search engines pull information to create a listing for you, they include the details you want potential patients to see, as well as information about your searches and about the possible experiences your past patients have enjoyed.  Of course, we also make sure your pages look great, reflecting the latest design trends to ensure your homepage and internal pages are aesthetically pleasing and easy to navigate for people interested in your services.
What if You Need a Brand-New Website, Too?
How outdated is your design? For some, maybe a little more than three or four years have elapsed since your last redesign, which means you may need far more than a few updates to your aesthetics and content. This is especially important if your site isn't mobile-first (which we discuss in further detail). In these situations, we are more than prepared to help you build a brand-new site from the ground up. Our team will work with you to create a new look, add updated copy, and incorporate local SEO to bring new life to your search engine optimization efforts and online marketing strategy.
Mobile-First Indexing and Your SEO
Did you know that Google practices mobile-first indexing? This means that priority is placed on sites that are mobile-friendly, meaning they are easy to use and navigate on smartphone and tablet screens. After all, these screens sizes are how most people today look for businesses online. This allows them to enjoy higher rankings on SERPs, ultimately increasing the likelihood people will discover you in local searches and, in turn, increase the number of appointments scheduled for dental care.
Our team actually builds several versions from top-to-bottom for different screen sizes, ensuring the finished product remains aesthetically pleasing and user-friendly. This way, people can easily find valuable information whether they look at your pages on a smartphone, tablet, laptop or even a desktop. Being able to explore your online content on mobile devices means increasing digital visibility, which is crucial for the success of any business, even dental practices!
We're Here to Help Your Practice
We know how to update your homepage and internal pages to reflect the latest design trends, improve search engine optimization strategies, and appeal to the factors Google takes into account when ranking content on a SERP. We want to help you attract new patients, and to do that, we're ready to make big changes from redesigns to building a brand-new dental site, and even making the most of your social media pages! If you have any questions about our SEO packages and online marketing strategies, then please contact our team today. Let's make 2020 the year you make the most of your online marketing by helping your office continue to grow and help people in your community enjoy their best smiles.
MDPM Dental Marketing Can Redesign Your Dental Website
We want to help preserve your current online marketing efforts and ensure your webpages continue to offer the best user experience possible, even if people are navigating it on smartphone screens. At MDPM Dental Marketing, our designers, builders, and copywriters will all work together to ensure an attractive, user-intuitive, and SEO-friendly redesign. To learn more about updating your online content and helping your office grow and attract new patients and their families, please call MDPM Dental Marketing today at 972-781-8861. Since more states continue to open their doors and dentists are finally able to treat non-essential cases, making sure you're putting your best face forward online with a solid marketing strategy and up-to-date online content is more vital than ever! Let's work together to make up for lost time.