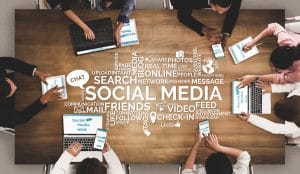 If you asked people to describe our current state of the world in one word, they would likely use the word "uncertainty." After all, many businesses are opening, while others are closing, and what we need to do to stay safe and protect ourselves (and our patients) varies greatly depending on who you talk to. This means that being able to communicate with your patients and members of your community with ease is vital, and social media provides that opportunity. At MDPM Dental Marketing, our team knows that social media not only helps improve search engine optimization (SEO), but also allows you to interact with your patients and let them know what's happening with your office. In today's blog, we're going to talk about the importance of an active social networking presence and the benefits of our social media kit!
Social Media and SEO
Google, Bing, and Yahoo look at a number of factors when they rank results on a search engine results page (SERP). After all, the success of these search engines depends on the ability to direct people to relevant websites and services that are located in their community, while addressing their concerns or questions. These companies will likely focus on content within webpages and blogs as well as an active social media presence. Being active on Facebook, Twitter, Google My Business (GMB), LinkedIn, and Instagram show sites like Google and others that you're constantly communicating with patients, providing them with information and answers to common inquiries. The number of likes, comments, and shares is a factor in how active you appear to a search engine. This is factored into where your website lands on a SERP. To attract new patients and continue to grow, even in these difficult times, you need to land on the first page and preferably within the first two or three results of a SERP.
Knowing Your Audience
Another key is understanding who your audience is. Who will be following your pages, and what information is relevant to their experiences? If you're a pediatric dentist, then you want family-friendly content and blogs that speak to children's oral health issues. Offices with a focus on implant dentistry and periodontal care means information on Facebook, Instagram, and Twitter should be relevant to adults with questions regarding tooth loss and gum health. Now, that doesn't mean you only share posts related to dental care. You could also provide content tailored to upcoming holidays and local events. Feel free to encourage your office to share reviews too, as reviews from former and current patients are taken into account when people search for dental services in their area.
Formatting Blogs and Posts
When people visit their social network accounts, they have a lengthy feed filled with new content. You need to consider whether your post will grab someone's attention. Consider including eye-catching images and statuses that catch your viewer's attention, talking about issues that impact people in your community or who may benefit from your services. You can be less formal than you would in your blogs or on your website, and be brief, as people tend to skim their feeds when killing time on their accounts.
A Close Look at Our Social Media Kit
We send a social media kit each month that contains 15 different posts to share that month. They can be used across multiple platforms, including Facebook, Twitter, GMB, LinkedIn, and Instagram. Along with topics about general dentistry and oral health, there are also some with tips for better health habits, monthly holidays, and even fun jokes and quotes. They can be altered if you prefer to customize them, and you can post them the day-of or all at once, as we will discuss further on.
How Much Does the Kit Cost?
That depends! If you currently carry a monthly SEO package with our company, then the kit is included free of charge, along with a fun photo booth kit too. If you don't have a monthly SEO package, but would still like fun posts to share on your pages, then we can make it available for just $99 a month! Be sure to give us a call to find out more.
Scheduling Your Posts
Some of our clients prefer to oversee the process of posting themselves. However, we also know that at times there simply isn't enough time to see to treatment and to spend time sharing content to social networking accounts. Fortunately, our team members can do this for you. We can schedule and share the posts to your pages and even make customizations in the process. For example, we have clients that only want the clinical posts shared, while others enjoy small changes to make them feel more personal. Along with sharing content from the kit, our team is also able to make edits and changes to your pages quickly should you need them, and also create custom banners for your Facebook, Yelp, LinkedIn, and GMB pages. We're ready to work with you to ensure you enjoy the activity on your accounts that reflect your office and your approach to dentistry. If you have any questions or concerns about our kit or about SEO, then please contact our team today.
MDPM Dental Marketing Helps Maintain Your Online Presence
We know that having an active presence across multiple platforms helps your business grow and attract new followers, and hopefully, new patients too. At MDPM Dental Marketing, we know how to help you manage your content and encourage interaction with patients. To learn more about our kit or our SEO strategies, please call MDPM Dental Marketing today at 972-781-8861. Now more than ever, you need a way to communicate with people in your community, letting them know you're open and taking their safety seriously! If you have pages set up that need management, or if you need us to create brand-new accounts for your practice, we're here to help!