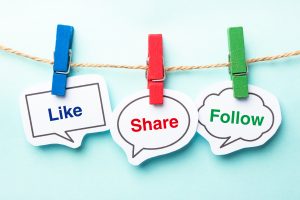 With our focus on organic SEO, we can help you increase your visibility online, and attract more patients to your practice. While your website and the content you share play a big role in a smart digital marketing strategy, you can rely on more than just your website to reach people. You can safely assume that many people in your area are regular users of more than one social media platform. If you are not present on social media, or if your activity on these platforms is not effective at reaching people, you miss out on important online marketing opportunities. Our digital marketing support includes assistance with your social media platforms. We can help you establish yourself with an effective posting strategy, and content that can grab attention in these competitive spaces. You can also count on us for guidance when it is time to refresh your approach to maintaining your accounts on sites like Facebook, Instagram, and other platforms.
You Should Be Present On Social Media
Simply put, you are not making the most of your online presence if you are not present on social media! People frequently visit Facebook, Twitter, Instagram, and other social media apps on their phones throughout the day, where personal and professional accounts can easily reach them. It is certainly important to make yourself easy to find on search engines, but social platforms create new avenues for engaging with people in your community that should not be ignored. Also, your social media activity can help you establish more personal relationships with your current patients. Content you share to social media can lead to more engagement with them, which can lead to more positive reviews online and more referrals!
The "Right" Approach To Social Media Can Change Over Time
Social media platforms have gone through considerable changes over the years when it comes to how content is organized and shared. As algorithms implemented by Facebook, Twitter, and other sites change what shows up on someone's timeline, and how visible your activity is going to be. The increased use of social media by businesses also creates more competition, which means your posts need to be more effective at holding someone's attention, and making them care. Better posts can lean on the creativity and visual appeal of what you send, but you should also think about how you can share content that is rooted in the interests of people in your community.
Creating Posts That Help You Hold The Attention Of Social Media Users
When people visit your office, you want them to have more than just a generic dental treatment experience. Quality care is important for maintaining patient relationships, but so is building connections with the people who come to you for care. When it comes to posting on social media, what sets you apart from any other dental office? We can help you do a better job with your posts by providing a combination of informative and personal content. We provide monthly packages of social media posts that use attractive images to share helpful information, as well as captions that are both professional and friendly in tone. For further support, we can provide you with guidance on sharing posts that let people feel more personally connected to you and your staff. These posts let patients see you and your team as more than just experts providing a service. When people feel more personally invested in your practice, they can be more likely to speak highly of you to people looking for dental work, and more likely to stay consistent about visiting you.
Recognizing The Importance Of When And How You Post To Social Media
Why do we create a schedule of social media posts for the month? When your account is clearly active, people can feel more motivated to like and follow you. Without assistance, the idea of sharing new posts several times in a week may feel overwhelming, and it can be hard to produce content that is well-made and visually interesting on a consistent schedule. In addition to providing posts that we can share for you to keep your pages active, we can provide analytic support to help you see the usefulness of your activity, and to determine when it might be time to make changes to a posting strategy.
Regular posts on sites like Facebook and Instagram are no longer the only way to share content to your followers. As people and businesses increasingly turn to "stories" posts that appear and disappear a short time later, you may feel like you need to move into this new avenue for sharing content. We can provide support and guidance for you as you start to take advantage of these posts, so you can see more engagement and positive feedback for your efforts. In addition to creating and sharing content, we are happy to offer our assistance when you have questions about activity you might want to pursue on social media.
Connecting Social Media To Your Larger Online Marketing Efforts
MDPM Consulting is prepared to support you in your overall online marketing efforts, which means you can enjoy a cooperative relationship between social media and website management efforts. By sharing original website content through social media channels, we can create more opportunities for people to see original and user-friendly content supporting your practice. This helps produce more links to your content that Google and other search engines can share, while giving you more posts that can reach people via social media.
MDPM Consulting Can Help You Do More To Support Your Practice With Social Media!
If you want to succeed at online marketing, you need to look to more than just your current website for support. At MDPM Consulting, we provide broad support for digital marketing – we can create, update, or maintain your website as needed to increase your organic SEO. We are also prepared to support you through better social media activity, and with reputation management efforts. To find out more about the value of social media as an online marketing tool, please contact MDPM Consulting today at 972-781-8861.