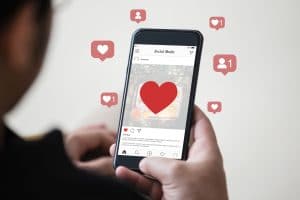 Digital marketing is all about determining your audience and catering to it. That's especially in a sphere like social media. Most businesses utilize at least a Facebook page as part of their social presence. However, an eMarketer report says that the average user time spent on Facebook per day is decreasing. In contrast, the average time that individual users spend on Instagram is actually increasing. Is your dental practice on Instagram? If not, it's time to get started on this vital social platform.
Instagram Is a Visual Social Marketing Tool
Before you set up your dental practice's Instagram account, you may be wondering how, exactly, Instagram works. Instagram is entirely visual, with posts based around photos, videos, and graphics. While it's recommended that you use visuals on Facebook because those posts tend to drive more engagement, it's a necessity on Instagram. That means that all posts are visual, so you need to make sure that you have strong, cohesive visual elements for this social channel. Choosing a consistent style and visual voice will help you brand yourself.
Hashtagging on Instagram Can Draw New Eyes to Your Practice
A great feature of Instagram is post hashtagging. You can add up to 30 hashtags per post. Unlike on Facebook, these hashtags can actually be pretty effective in driving new users to your account. On Facebook, you can slowly grow your audience and communicate effectively to a group of people who already know about your business. This is useful of course, but Instagram offers the opportunity for more reach. A striking visual and great copy with the right combination of hashtags can catch the attention of a new user and draw them to your brand.
Instagram Can Still Accomplish Branding Goals that Facebook Does
You may already have a nice Facebook audience assembled, and so the idea of starting a new social account can seem daunting. Building your Instagram audience is about consistency — in your visuals, copy, and posting schedule. You can still accomplish branding goals similar to those that you would with Facebook. You can create a visual style and introduce people to your dental practice. You can share your personality with patients before they make a visit to your office. Doing so on a platform that allows you to reach more new users is even more helpful.
Need Help Starting Your Instagram Account? MDPM Consulting Is Here
We know that social media marketing can feel like a huge undertaking, and that's why we want to help. MDPM Consulting can get your social channel off the ground, help you develop best practices, and even create content for your dental practice's social media platforms. Call MDPM Consulting in Dallas, TX today at 972-781-8861 to learn about our social media services.