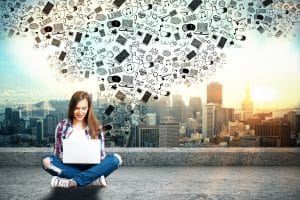 You're probably well aware that your business needs to use social media. Social media consists of many free platforms that you can use to brand your business and communicate with customers and clients. Why wouldn't you take advantage? However, once you sit down to really evaluate how you're going to use social media, it becomes clear that this is a job, not a hobby. Developing a brand voice, creating content, answering questions, and tracking account growth isn't something you can do in your very limited amount of spare time. It may be time to outsource your social media management.
Outsourcing Your Social Media Management Allows You to Focus on Your Job
If you own and operate a business, you've already got a full plate. Your daily schedule is overbooked. If you try to add all of the responsibilities that a social media manager has to your schedule, you'll drive yourself mad. Outsourcing these responsibilities allows you to focus on your job and what you're good at. However, handing the branding responsibilities that come with social media over to someone else is no small move. You want to be sure that you've found a partner who will take time to learn your business and develop your brand voice.
Social Media Management Is About Diligence and Creativity
To make effective use of social media channels you have to use them. You need someone to stay engaged on these channels and interact with followers. It takes diligence and constant attention to grow your accounts. The person in charge of these accounts also needs to be a creative person. Churning out fresh content all of the time takes effort and creativity. You have to be original, yet consistent. It's a tough balance to strike, and if you're tied up with other aspects of your job, you probably won't have the time or energy.
Should You Hire Someone to Manage Your Social Media Internally?
Then comes the question of whether or not to hire someone internally. An internal social media manager would be part of your business, ensuring that they'd be able to understand your brand's personality and be on-hand when exciting things happen at your business. It's very possible that hiring someone full-time to manage your social accounts simply isn't feasible. Hiring an agency or freelancer is another great option. You'll just want to make sure they fit the criteria laid out in the previous paragraph.
MDPM Consulting Offers Social Media Management
MDPM Consulting wants to help you grow your online presence with social media. Our team can create and curate content for your pages to help you brand your business online. Learn about everything MDPM Consulting can do to help by contacting the Dallas, TX office at 972-781-8861.