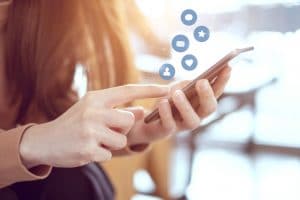 What are you currently doing to make sure your social media presence is supporting your practice? Your profiles on sites like Facebook and Instagram create opportunities to generate more links for your site, and share attractive posts that can grab the attention of potential patients. Your activity can also encourage your current patients to feel like they have more than just a professional relationship with your practice. We are now offering a special MDPM Photo Booth In A Box, which provides you with the resources to create a special area in your office for fun photographs. This can encourage your patients to engage with you on social media, and it can help you share more memorable images of you and your team.
Take Advantage Of Our Special MDPM Photo Booth
Your monthly Photo Booth, included with your Social Media Kit, gives you access to a new background, and links to purchase festive props people can hold during pictures. Once it is in place, you can use it to create fun pictures of your staff, including any new hires you want to introduce. It can also be great for taking pictures to advertise special promotions, celebrate birthdays, or as a reward for a positive checkup. These photos can be engaging and interesting to patients, while still keeping a focus on you and your practice.
Social Media Activity Can Contribute To Your Online Marketing Efforts In Important Ways
Your social media activity can have real value for your overall approach to improving your SEO. Creating more opportunities for engagement with people, and more chances to link to your site, can help you raise your ranking in online searches. We provide topical and eye-catching content every month with our special Social Media Kit. You can count on these posts, with a schedule for posting, to help you encourage more of your patients to interact with your profile, and boost your visibility online.
Providing A Customized Approach To Your Social Media Activity
For those interested in making social media a larger focus of their online marketing efforts, a customized social media plan can be created. In addition to providing original, SEO-friendly content for your website, we can create monthly calendars with planned activity for your social media pages. You can use this additional support along with your monthly Social Media Kit, and your MDPM Photo Booth In A Box.
MDPM Consulting Can Offer You Extra Support With Your Social Media Activity
At MDPM Consulting, you can receive dedicated support for your online marketing efforts! We can provide smart strategies for social media and website marketing that help you boost your SEO, and build better connections with your current patients. To learn more about how our social media support can help you, please contact us via the information provided below.
Are you ready to learn more about our Photo Booth In A Box? Please contact us today and let us help! Email MDPM Consulting at info@mdpmconsulting.com, or call us at 972-781-8861.