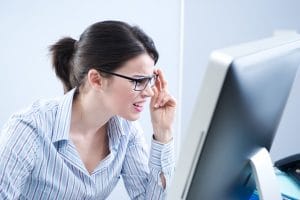 You can find tools that help you track the success of your online advertising. For instance, Facebook Pixel allows you to keep up with the impact your paid Facebook ads are having, and see how much attention for your practice's website these ads really generate. Of course, having that information, and knowing what to do with it, are separate matters. We can help you maintain a successful social media profile while online with posts that are designed to draw attention. We can also help you make sure your social media page effectively promotes your website, and assists in boosting your SEO.
What Are You Currently Doing With Your Social Media Presence?
While paid ads can help you see an immediate boost in your online visibility, you can be impressed with how a better social media posting strategy can help you in the long run. Engaging posts with attention-grabbing visuals can encourage your patients to follow you, and feel more connected to your practice. This strategy can have more lasting appeal – by making your regular posts on social media more visible, you can depend on them to reach more people without having to continue spending on ads.
Our Social Media Kits Help You Stay Consistent And Engaging Online
We offer our clients monthly social media kits that can give them quality content. In addition to providing captions and images, we can provide you with a schedule for when to share new posts. That consistency can make sure people have a greater chance of seeing your social media activity, as you can strike a beneficial balance between overwhelming people, and posting too infrequently. We also offer our special MDPM Photo Booth, which provides you with information on creating a fun photo booth area you can use to create content worth sharing! The photo booth can give you a fun way to introduce team members and make announcements.
Exploring Different Options For Improving Your SEO
We can help you understand how your website, and your social media, contribute to your larger efforts to reach more people, and promote your dental practice. If your only interest is in sharing ads, you can overlook other issues that are hurting your ability to be seen. We can provide you with the right website content to rank highly in relevant searches. We can also help you by discussing the importance of keeping your website updated. If your site is out of date, you may be missing the right technology and design features to stay visible online. We can provide you with a new website design, or even create a new website that is better equipped to promote you and your services!
MDPM Consulting Can Help You Take Advantage Of Modern Online Marketing Tools
At MDPM Consulting, we can help you understand the benefit of different online and social media marketing strategies. We can help you look beyond paying for ads, and recognize the steps you can take to make your digital presence more valuable, and more useful for promoting your practice! For more information, please use the contact information below to reach us.
Are you ready to learn what you can do to improve your online marketing strategy? Contact us today and let us help you! Email MDPM Consulting at info@mdpmconsulting.com, or call us at 972-781-8861.