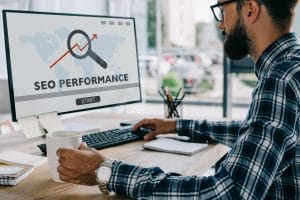 Your current website is doing a good job of introducing you, explaining your services, and letting people know how they can make an appointment. With all of these pieces in place, you may feel that you are doing enough to support your practice online, but a lack of effective SEO measures can make you practically invisible to potential patients! A truly successful online marketing strategy can call for technical features that make you easier to find online, as well as content that helps you connect with people in your area. Implementing a smart SEO strategy can take less work than you might think – if your site is set up through WordPress, we can transfer it and make SEO improvements right away!
Are You Making The Most Of Your Online Presence?
If you are not keeping up with trends in SEO, or if other practices in your area already have an SEO strategy they are following, your site can fail to help you reach new patients. Your visibility online matters – when someone is searching for a local practice, or when they have a concern about their dental health, they are likely to look for information online first. An attractive, well-maintained website is important…but if people keep finding links to your competitors before they find you, it may offer you little in terms of real support.
The Right SEO Efforts Can Be Crucial For Your Digital Presence
SEO efforts can cover a wide range of services. Your website content can help you show up in relevant searches, while the right technical features can make your site easier for Google and other search engines to read, and include in search results. If you are not factoring in the latest developments in the world of SEO while managing your website or creating new online content, you can struggle to be seen.
Our goal is to make sure our clients are seen by the right people, and we stay current with the changing world of SEO to ensure success. We provide support with backend features that make your pages easier for Google to evaluate, we keep up with website design trends, and we can provide regular updates for your website and social media profiles. By taking an active concern in your SEO success, we can make your website a vital part of your practice's success!
We Can Help You Optimize Your Current Site, Or Develop A New Page For Your Practice!
If your website is set up through WordPress, we can start making positive changes without delay. Once your site is transferred, we can make the right technical changes, and start sharing the content that can help you connect with more people. We can also talk to you about possible design updates to make your site more attractive, and easier to browse.
While the ability to transfer your site can lead to improvements in the short term, we do have the ability to build you a new website. If your website is older, and not able to offer the right technical SEO features, this might be a beneficial approach, as we can make the necessary improvements to give your site more value. We can change the way information is laid out, update your site design, and make sure all of your online information is accurate. We can also make your website responsive, meaning it will be easy to use on both desktop and mobile platforms. This can be a welcome development for site visitors, and it will prepare you for Google's move to mobile-first indexing.
Featuring The Right Content On Your Website
You may be surprised at how important the right content can be if you want to grow your practice through a better digital presence. A new or redesigned site can be an important first step towards improved SEO, but your regular output can ensure that you continue to have better reach. One reason is that, simply put, when you have more links, there are more links for potential patients to discover during their searches. Your content also lets you put out focused information, so you can target people with specific concerns, like cosmetic dental work, or prosthetic dental work. With that said, the right content also provides more opportunities to boost your SEO with pages that are set up to be favored by search engines, and placed in higher positions on SERPs (search engine results pages).
Because search engine algorithms have become more sophisticated, the quality of a site's content has taken on increased importance. While keywords and links still matter, the quality of provided content has become crucial. Your website can be evaluated based on how much time people spend on your page, and on how often the people who click one of your links go back to continue their original search. We take care to provide meaningful content that has value to site visitors. This means providing quality work, while also including the right links and keywords to make it clear when your content might be relevant to people online. We also use locally-focused content so Google is more likely to see the value of your pages for people in your area. This can ensure that the people who find you are people who can actually be counted on to make an appointment!
Including Social Media Outreach In Your Online Marketing Efforts
When we take on SEO support for a client, we provide more than just help with their website. You can rely on us to help with your social media activity in order to further extend your online visibility! Social media activity and SEO are linked in important ways – one benefit to a properly managed profile is it creates a new avenue for sharing site links. You can also count on a popular page to help you reach people with visually appealing, informative content. While effective for expanding your reach, your social media can be especially useful as a means of staying in contact with your current patients!
MDPM Consulting Can Help You Attract New Patients With A Better SEO Strategy!
MDPM Consulting is ready to help you navigate the modern world of online marketing! We can offer a full service approach to SEO, and make sure the right people are finding your website. We can also provide website support, original content, new websites, and social media management! To learn how we can help you improve your online marketing outreach, call MDPM Consulting today at 972-781-8861.