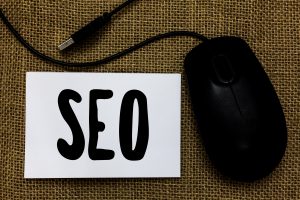 It can be hard to succeed as a business of any kind when you lack a digital presence. Because of this, just about everyone needs to think about how accessible they are online, and particularly in relevant search results. If you want to make sure your dental practice is easy to discover when someone is looking for oral health care, or when they enter a search term about dental matters, you need to think about SEO (search engine optimization). The right strategy, and the right website features, can make you easier for people to find. While some practices can pin their success on paid search ads, organic SEO measures enable you to tailor your online marketing to visitors who are more likely to become patients. We can implement an SEO strategy for your website that helps you show up in the right searches, and stay successful in the world of digital marketing! 
You Need To Make Online Visibility An Active Concern
When a person needs to do some shopping, or when they want to find a restaurant in an unfamiliar area, you can safely assume they will turn to the internet. We often trust what we find online when we want to find a business, or decide who to trust when we need to pay for a service. With that in mind, it should be easy to see why your practice benefits from a website that people can easily find. You can expect potential patients to search online for practices near them, and you can predict that many people who worry about their oral health will Google a concern before making an appointment. If your links appear at the top of searches that concern dental health, people are more likely to find your practice, and seek you out! 
Why Should I Worry About Organic SEO When I Can Use Paid Search Ads? 
If you are thinking about how to make yourself more visible online, the seemingly easy solution might be to purchase paid search ads that place your links prominently on SERPs (search engine results pages). In this scenario, every person who clicks on one of your links adds to the cost of your online marketing plan. While this can seem like a fair transaction, you may not see a related increase in appointments, despite the increase in clicks. With organic SEO, you can establish an online marketing strategy that focuses on showing up in the right searches, and on making you easier for nearby people to find. 
It should be noted that your links are still in competition for top spots with paid search ads. For instance, when a search seems relevant to your ad, your links are being judged next to links from other sites who have paid for this service. Because of this, it can still be important to have SEO practices in place to establish your relevance and value for visitors.
We Keep Up With The Changing World Of Organic SEO 
Organic SEO efforts encourage growth through changes that preserve the quality of your website. The concern with quality has become increasingly important as Google and other search engines have become more sophisticated in how they examine pages. When your links are crawled by Google, they are evaluated on their potential for answering users' questions, and putting an end to their searching. 
While keywords and in-site links can still help you raise your rank online, you should also concern yourself with the value of your site for a visitor. Engaging content, responsive pages, and smart website design features can be key in today's world of SEO. We are aware of the challenges in the modern world of online marketing, and we continue to monitor developments in SEO – when new strategies are called for, we can make sure your site is ready to respond, so you keep seeing value in your online presence! 
Smart SEO Strategies Can Make You More Visible To People In Your Area
For a site like Amazon, the goal is to make links easy for just about everyone to find. After all, when you ship to locations throughout the world, a focus on "local" site visitors doesn't mean much! Your dental practice is not Amazon – the right SEO strategy is one that prioritizes your visibility with people in your area. We pay attention to local SEO, so we can ensure your links are showing up in the right geographic areas. Targeting local users can make each visit more meaningful, and more likely to bring you a new patient. 
We Can Use Your SEO Strategy To Help You Reach The Right People
We work with practices that want to provide general dental services to patients of all ages, with different needs. We also help practices that have a specific focus, and are most interested in a more select group of people. Your focus should impact the way your website is developed and maintained. When we approach your SEO needs, you can look forward to support that is tailored to what will work for your specific office. If you are concerned about providing certain procedures to people who might need the treatment you are providing, we can make sure your SEO support reflects this. If you want to establish yourself as a practice that an entire family can count on for oral health care, we can make sure your online marketing efforts help you with this, too!
Our Online Marketing Support Can Go Beyond Visibility
What will people find when they click a link you have paid to promote? Will they find an attractive, actively maintained website, or will they encounter a page that is not optimized for users? This is a question you should take seriously – your website is the first encounter someone can have with your practice, and their reaction to your page can determine if they want to have a second encounter! 
In order to help you truly excel with your online marketing needs, we are prepared to take on different roles in maintaining your digital presence. We can help you by updating your site's design, and making improvements to the way it runs. If the time has come for you to leave your old page behind, we can work with you on the development of a new website! We can also help you maintain a good reputation online, and support your social media presence!
Talk To MDPM Consulting About Implementing An Organic SEO Strategy!
At MDPM Consulting, we can help you understand the value of having an organic SEO strategy in place! With the right approach to website management, you can make yourself easy to find, and you can keep up with a digital presence that makes your practice seem more appealing to people who click your links. For more information on how we can help you, please call MDPM Consulting at 972-781-8861.