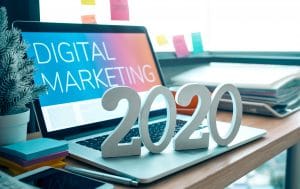 The internet tends to be the first place people look when they want to find a nearby business or service, which makes it hard to overstate the importance of having a website that is easy to both find and use. When we approach SEO support for clients, we make quality site content a priority, as the information you share can help you establish your value with search engine algorithms and earn higher rankings. The value of site content has risen in value over time because Google and other companies have learned how to better gauge the worth of links to their users. However, this is one of many improvements search engines have made, and one of many factors you should consider if you want to make your online marketing efforts more successful in 2020. Because Google and other search engines are growing more sophisticated with what they can analyze, and because they are able to provide more information to their users on their SERPs (search engine results pages), a successful SEO strategy should rely on technical support as well as content. Fortunately, we are prepared to help you help you sustain a modern and attractive website in addition to providing content-based marketing support.
Why You Should Care About Better Technical Support For Your Website
The information you share on your website will matter for your SEO, but the way you share that information is also important. As website technology improves, competing dental offices can make their pages more engaging, and also make it easier for Google bots to evaluate and index their links. We have technical experts who can help you understand what can be done with your website, and who can support you as you make changes to effectively reach more people in 2020.
In addition to offering support when you want to build a new website, or implement changes to your site design, we are able to use modern tools to track the success of your pages, and check on the success of your current approach to SEO. By staying better informed, we can help you make adjustments, or identify aspects of online marketing that are working especially well for you.
Modern Tools Can Help Algorithms Understand What Is On Your Website
When you share information on your website about the services you offer to patients, you want to give people useful information. Your target audience consists of people who want to schedule dental care, and your content should be tailored to their questions and concerns. With that said, these visitors are not your only audience – you also need to think about what search engine algorithms are learning about you from your website!
In order to stay visible with your online marketing for the new year, data structuring and organization will be important. Fortunately, we can make sure algorithms for different search engines are able to "read" your pages easily, and understand who your site might be meant for. This is about more than just raising your rankings in general – with more clarity, search engines are more likely to recognize when your links should be shared.
Making Your SERP Information More Engaging
What happens when someone enters a search query, studies the results, and leaves the search? It may seem like a scenario where no one benefits, but these "zero-click searches" are becoming more common because search engines are finding ways to provide more information on SERPs. With that in mind, you should make sure you have the right technical information on your pages for Google and other sites to review and share. If you are missing this information, competitors that share contact information and page synopses on SERPs can secure more attention, even if their link is below yours in the rankings! When creating content and sharing pages, we provide the right meta information for Google and other search engines so you can start to benefit from zero-click searches.
Search Engines Are Making Better Judgments Of Website Value, And So Are Users
Content's importance in SEO rankings has been established for some time, and you can safely assume that other dental practices in your area are trying to make their website information more compelling. This development in online marketing can be traced back to changes in what Google analyzes when it indexes pages, as search engines have developed better technology so they can more capably "understand" and evaluate what is on your page. With that said, better content can also be beneficial because you can also do a better job grabbing and holding the attention of visitors. Thanks to the meta information shared on SERPs, people can see "previews" of what your links will discuss. We can use those snippets of detail to help convince them that your link is able to address the questions or concerns they might have about a dental procedure, or about the benefits of visiting your practice over someone else's. Because we can share your content through social media pages, valuable content can also help generate more sharing and views for you!
The Right Website Support Is About More Than Just Information On Pages
Online marketing will be important for as long as people rely on the internet to find people and services. You can safely assume that the technology that impacts website design, search engine algorithms, and even SERPs are subject to change, and that you may run into technical challenges if you do not have the right support for your website. In our commitment to providing robust SEO support, we can make sure you have the right content as well as the right technical help to reach more people in 2020!
MDPM Consulting Can Help You Make Better Use Of Your Digital Platforms In 2020!
At MDPM Consulting, we offer important support when it comes to building and maintaining websites for dental practices. We can help you with content-centered marketing services, but we are also ready to help you take on matters that concern technical SEO! If you have questions about digital marketing in 2020, or if you want to discuss creating or replacing a website, please contact MDPM Consulting today at 972-781-8861.