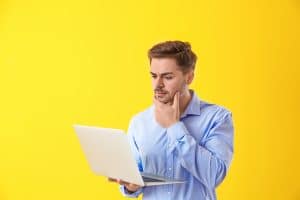 If you want to succeed in your online marketing efforts, you should be concerned with your visibility. With that in mind, many people assume that SEO improvements should solely focus on moving their links to the top page of relevant search topics. A higher ranking can certainly have value, but the right path to reach that goal can vary for different sites, making it more obtainable for some than others. We can work with you to determine what issues you might face when it comes to improving your SEO, and help you prioritize your ranking in the right search topics. As search engine algorithms continue to improve, the goal of better SEO can involve changes to your website content, and to your overall web presence. 
You Should Care About The Visibility Of Your Links
Simply put, you will have a hard time reaching people online if your links are not ranking highly in the right search terms. While the right meta information can make your links more informative and attractive, people are not likely to scroll continuously, and look past the results of their first page. 
If you have a new site, or if you have neglected your online activity in the past, a high ranking can take time and work. Google and other search engines have become more adept at crawling sites and gauging their quality. Because of this, SEO improvements call for more than just the right keywords, and a sufficient number of links. These should still be present, but search engine algorithms also factor user experiences – you need to be prepared to offer the right content and information for visitors in order to establish your value.
The Quality Of Your Site Is Important To Your SEO Efforts
The first step to take towards better SEO may involve improvements to your website. Is your site currently making a good first impression on visitors who might want to make an appointment at your practice? If your design is outdated, if your page is hard to navigate on mobile devices, or if you lack useful information, you can push away users, and Google may see little reason to promote you to people searching for dental care in your area. 
Sites that have kept up with changing technology and design trends can find that changing their content strategy and approach to marketing is enough to push them into the top of the page in a relatively short time. However, you may need to establish yourself as a worthwhile web presence before you can expect to see your links move up for competitive search terms. The world of SEO has changed over time, and the "tricks" that might have helped a site sneak its way to the top of the search rankings in the past can provide little value today.   
Reaching Page One Rankings For The Right Keywords
How important is a page one search ranking? That can depend on the popularity of the terms being searched. If you reach page one for search terms that are rarely entered by Google users, your SEO growth is going to offer little real value. We can help you pursue SEO improvements for relevant topics, so your online marketing strategy offers actual benefits for your practice. When we create a plan for SEO improvements, we can help you focus on changes that make you more competitive in searches that enjoy higher traffic. 
For some practices, SEO improvements need to be more specific. General dental search terms may be popular, but they can mean less to a practice that wants to promote a particular focus. If you have a goal of reaching a particular type of patient, we can make sure your SEO strategy is engaged in connecting with these people more often, so you can better build your practice around your focus!
Making Local SEO A Priority
SEO improvements are about more than just when you secure page one rankings – for your local practice, you also need to care about where you enjoy better rankings. Local SEO efforts are set up to give you better rankings when people in your area search for matters related to dental health. For a dental practice, local SEO efforts can be key to reaching the right people, and attracting site visitors who are likely to make appointments. We can help you understand the value of local SEO improvements, and give you the opportunity to more effectively reach the people in and around the area where your practice is located.
Organic SEO Improvements Can Take Time, But They Can Also Offer Long-Term Support
Establishing your site as an informative, useful destination for users will help you compel search engines like Google to give you higher rankings, and place your links on the front pages of the right keyword searches. When we provide help with online marketing matters, we emphasize the importance of organic SEO improvements. These improvements prioritize changes that give your site more value to users, and help to show Google that you have more to offer people interested in dental care. 
We are ready to provide support in a number of areas in order to help you enjoy organic SEO improvements. We are ready to work with you on a new website design, and we can even provide you with a brand new website. You can also look forward to receiving the kind of quality content that users and search engine algorithms can appreciate. Even if your goal is to improve your practice, not your website, changes that establish the value of your online presence can be key to succeeding in today's digital marketing environment. 
Talk To MDPM Consulting About Improving Your Page Rankings On Google And Other Search Engines
MDPM Consulting is ready to help you make better use of your website, and boost your SEO! We can work with you to boost your rank in local, relevant searches, while also helping you improve your web presence in ways that make it easier to stay highly ranked over time. If you have questions, or if you would like to learn more about how our organic SEO strategies can help you, please call MDPM Consulting today at 972-781-8861.