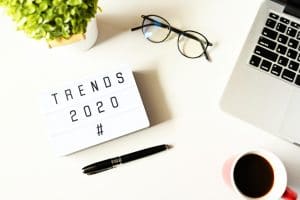 The start of a new year is a good time to reassess the strategies you use to reach people online, even if your current strategy has felt successful to you. Your approach to SEO can – and should – change periodically. This is partly because your practice can go through changes over time, but it is also because the world of online marketing can leave you behind if you are not paying attention. Without the right adjustments, you can struggle to reach people in 2020, and fall behind as other dental offices become more visible in important online searches. We provide dedicated SEO support to our clients, and we monitor trends in digital marketing and website design so we can discuss when it might be time to make a change. You can rely on our experience in the fields of website development and maintenance, content creation, and even in efforts like reputation management to make your online presence more appealing to people.
Why The Right Approach To Website Marketing Changes Over Time
If your approach to online marketing has satisfied you in the past, why should you worry about making changes? There are several factors that can lead to your website slipping in important search topics. Sometimes, this change can occur because new competitors set up new sites that compete with your links for space in SERPs. In other cases, existing competitors can make advantageous updates that give them an SEO boost. Broader changes in search engine algorithms and website technology also have the potential to affect your SEO. If you are not able to keep up with these changes, or if you are not able to sustain the quality of your website over time, it can become difficult for you to reach people online.
The Importance Of A User-Friendly Website
As website technology improves, users can look forward to better experiences at the different sites they visit. Just as you want to make people feel welcome in your waiting area, your goal should be to give people a positive experience when they visit one of your links. If your website is older, it may lack features that other websites offer in terms of easy navigation. This is a particularly important factor when you are thinking about accessibility – without the right features, you may be lacking in ADA compliance! Your website design also matters, as people can be less trusting of a site that appears to be out of date.
When you think about user experience, you should know that the matter concerns more than just the individuals who find your page. Google and other search engines have updated their algorithms to better evaluate the user experiences people have when they visit different links. If your pages are received poorly, your SEO can suffer as a result!
You Should Be Concerned With The Quality Of Your Site's Content
Website content has become vital to successful SEO efforts. While you can expect there to be many changes in what a successful SEO effort looks like, you should count on website content to be a priority. After all, search engines want people to trust the results they receive, and that gives them an incentive to care about the value of what you share in your links. We can help you reach more people in 2020 by producing informative, useful content on a regular basis. With the right content, you can take advantage of search engine algorithms that want to reward sites that give people original and relevant information. This effort also creates more links, and provides more chances to feature keywords and links that help Google and other search engines understand what your site provides to visitors.
Establish That Your Website Can Be Trusted
Making patients feel comfortable in the dentist's chair is vital to the success of your practice. One of the most important factors when it comes to building trust is demonstrating that you are an expert in your field. Presenting yourself as an expert is also important online, and its value can be hard to overstate when it comes to current SEO trends. We can help you present authenticity and authority by focusing on your E-A-T. E-A-T stands for "experience, authoritativeness, and trustworthiness." The quality of your website's content can be critical when it comes to E-A-T. However, this is not the only factor – you also need to make sure your online reviews are positive. In order to help you boost your SEO, we can work on reputation management efforts. These efforts focus on increasing the number of positive reviews your patients are leaving, while also helping gently guide them to sharing those reviews on the most beneficial sites. This can come through efforts at your practice, but we can also use your social media activity to communicate effectively with patients, and encourage more positive feedback.
Have You Made The Move To A Mobile-Friendly Site Yet?
The ability to provide a quality online experience for people using mobile devices has been important. For the new year, the value of a mobile-friendly website is hard to overemphasize. Google understands how important this is – as of July 1 of this year, every new page is being ranked based on their mobile experience. Sites that existed before this date are being moved to mobile-first indexing, so if this has not affected you already, it certainly will in the future. If your site is not designed to run smoothly on mobile devices, and organized to make navigation easy, your SEO success may be in jeopardy. We can talk to you about implementing website design updates for the new year. If your site is older, replacing it with a mobile-friendly website can have terrific value for your online marketing future.
MDPM Consulting Can Help You Succeed At Digital Marketing In 2020…And Beyond!
MDPM Consulting is ready to help you promote your practice online in the new year, and we can provide continued support in order to deliver better SEO success as the world of digital marketing continues to change. If you want to discuss your online marketing strategy for the new year, if you have fallen behind on SEO trends, or if you are trying to establish a digital presence, we can help! To find out more, call MDPM Consulting today at 972-781-8861.