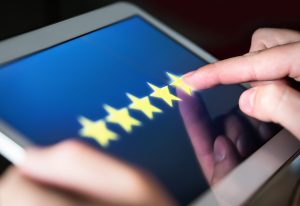 While a well-maintained website gives you the chance to effectively promote your dental practice, others will have a chance to share their thoughts on you through online reviews. Fortunately, when you provide quality care, and encourage people to share positive experiences, you can make sure people find glowing comments from patients. What you should know is that your online presence can actually be used to solicit more positive feedback. We can help you by offering support and expert insights to more effectively manage your reputation online. By focusing on reviews, smart SEO efforts, and changing trends in digital marketing, we are committed to helping you enjoy consistent value from your online presence.
The Value Of Positive Online Reviews For Your Practice
Simply put, people can find online reviews reassuring. A reviewer, unlike an advertiser, has no stake in your professional success. If someone likes you enough to share their experiences online, it tells others that they can count on you to provide quality care. Of course, providing quality care for patients may not be enough to increase the number of positive reviews people share. We can help you by offering strategies that turn happy patient experiences into enthusiastic reviews. In addition to providing these strategies, we can give you a more visible digital space to simply remind people that reviews are important to your business, and that their online support is appreciated.
Making The Most Of Positive Online Feedback
Like your website, an online review has less value if no one can find it! Because we keep up with trends regarding which sites people are turning to, and where reviews seem to have the most benefit, we can help you nudge patients towards those sites. That way, you see more value from their feedback!
How Online Reviews Fit Into A Larger Digital Marketing Efforts
Focusing on one aspect of online marketing, and only that aspect, can lead to limited success. For instance, you may have an active social media presence, but you can discover that these pages offer less space, and less freedom, to share the full spectrum of care you provide at your office. You can also find that without social media activity, you can have a harder time interacting with new and current patients in a digital space. We can help you manage your site, and your social media presence, while also helping you manage your digital reputation in the realm of online reviews. When all of these steps are in place, you can enjoy better SEO, and more successfully support your practice!
MDPM Consulting Can Help You Maintain A Good Online Reputation
MDPM Consulting is ready to help you manage your reputation online, and gain more from the digital reviews people leave for your practice. For more information, you can contact us with the information provided below.
How can you make sure online reviews are really benefiting you? Contact us today and let us help you! Email MDPM Consulting at info@mdpmconsulting.com, or call us at 972-781-8861.