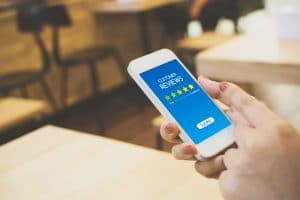 It seems safe to assume that just about everyone likes hearing compliments. Compliments in the form of positive reviews for your dental practice can certainly be welcome – they can also help you promote your services online more effectively. The importance of good online feedback is hardly a secret. In fact, Google My Business is working to make it easier for businesses to share positive feedback, so others are more likely to encounter it. We can help you manage your reputation online so you see more of those glowing recommendations shared on Google. We can also help you with other efforts to reach current and potential patients through your website and social media, so you can enjoy more support for your practice!
Positive Reviews Create Content That Can Compel People To Visit Your Practice
While it is common for people to look to the web for helpful information on where they can find services, positive feedback from happy customers (or patients) can be especially compelling. After all, unsolicited praise is easy to trust, and a review can help others imagine themselves receiving the services being reviewed.
Are You Doing Enough To Encourage People To Leave Reviews?
When you encourage your patients to share their experiences online, they can help you attract more people to your practice. As clear as it may be that positive reviews have value, it can be less clear how you should urge satisfied patients to let other people know what to expect from you. We can give you the kind of tools and content capable of raising interest in sharing reviews online. We can also help you with the technical side of online reviews by making sure people have outlets for sharing their positive experiences.
We Can Help You Make Better Use Of Your Digital Presence!
If you want to effectively promote yourself online, we are ready to help! Your digital presence can do more than just tell people who you are, and where they can find you. We can boost your SEO, and make you easier for people in your area to find. We can also help you make better use of your social media profiles, which can help you grow your relationships with current patients, and connect with new people!
Online Marketing Support From MDPM Consulting Can Help You Reach More People
MDPM Consulting is ready to help you take on the many important aspects of digital marketing, so you can successfully grow your practice! With our support, you can attract more positive reviews online, and sustain truly effective strategies that can help you reach more people through your website and social media accounts. For more information, you can reach us with the information provided below!
Contact us today and let us help you! Email MDPM Consulting at info@mdpmconsulting.com, or call us at 972-781-8861.