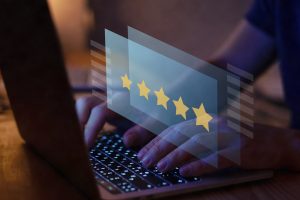 When people need to see a dentist, they will go to Google to find one in their area. They don't just select the building physically closest to their home, they will also look at your website, social media, and reviews. Which means reputation management is crucial for making a great first impression and convincing someone to schedule an appointment. In today's blog, MDPM Dental Marketing will explain how we use reviews and social media to manage your reputation online and make your office attractive to potential patients in your community.
The Value of Reviews
When people see multiple reviews of your office, this makes you appear more professional, especially if most of them are positive. To make this possible, we can work with your team to coach them on reputation management, and how to respond to negative reviews. Often, a measured and mature response to a negative review can mitigate the impact and vast your office in a good light! We'll make leaving reviews simple by creating consistently between your website local listings, and social media pages. Our team will also set up and help manage profiles on Google My Business and Google Maps, Facebook, Bing, Yahoo, Yelp, and others! Since we know the rules and regulations of these companies, we can ensure your positive reviews are beneficial for SEO and there to stay.
The Benefits of Social Media
Social networking offers a unique opportunity for your team to engage with current patients and make a connection with them. You can also attract new patients, and being able to be tagged in posts and content can help spread the word about your office. Which is why our team is ready to create or manage your profiles on Facebook, Google My Business, Instagram, and Twitter. We'll create brand consistency between these accounts too, so there's never any questions which accounts belong to you.
Social Media Kits and More
Along with setting up and managing your pages, we can also coach your team on posting and sharing content, interacting with people online, and even offer ideas for campaigns! We also have a monthly Social Media Kit and custom editorial calendars, which is free and contains 15 posts you can share on your pages throughout the month. You can post and share yourself, or we can do this for you. We also have a monthly Photo Booth Kit, with fun props and backdrops your team can take photos with.
Talk to MDPM Dental Marketing About Reputation Management
Our team knows how to use social media to help you connect with your patients and grow your practice. If you want help improving your reputation online, then contact MDPM Dental Marketing in Dallas, TX by calling us at 972-781-8861 to meet with our team.