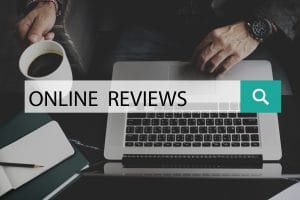 There are many approaches to online marketing that can help you reach more people and attract new patients, especially if you keep up with trends in SEO. With that said, online reviews from satisfied patients can be particularly compelling to someone looking for a new dental office. After all, positive information in this setting is unsolicited, and based around direct experience. When you take great care of patients, you can look forward to kind words online. With that said, you may be less than confident in your ability to make sure those kind words are being found on Google and other search engines. The visibility and value of web reviews can become confusing, particularly as web reviews on Google can sometimes provide confusing information to users. As part of our commitment to help you manage your digital marketing needs, we can help you navigate questions about user reviews while also providing support for your website!
Positive Online Reviews Are Important!
Even if you are not sure how to confirm that people are seeing positive reviews for your practice, you certainly want to encourage good feedback from patients online! New reviews posted to different programs create more information about your practice that people can find. They can also persuade someone in search of a new dental practice to work with you. 
If you want people to share flattering feedback online, all you need to worry about is providing expert dental care in a friendly setting…right? Great service is certainly crucial to offering positive experiences, but many patients who are thrilled with your work may not share reviews because they just don't think to do so. If you want to see more positive reviews, it can help to have a strategy that encourages people to post them.
What Are People Seeing When They Look At Google's "Reviews On The Web" Information?
Search engines like Google have taken steps to make their results pages more informative for users. One feature you can expect to see on Google is the business knowledge panel, which provides location information, access to a company's website, and snippets of user feedback on different review sites. While there are concerns that confusing or inaccurate information is appearing on this section when it comes to user reviews, having positive scores and feedback to share is still something you should pursue. Keep in mind that reviews gathered from different sites are only part of the customer feedback that can appear on Google, as people can rank and review practices on the search engine, too. 
Because issues with Google's web reviews information appear to be an issue with Google, and not individual websites, fixing that particular issue can be difficult. With that in mind, pursuing other avenues for positive feedback, and following better SEO practices, can help you make sure there are plenty of opportunities for you to attract patients who are searching for local dental practices, or who have questions about their oral health that lead them to Google.
Our Reputation Management Support Can Help You Receive Positive Feedback On The Right Review Pages
In order to provide great SEO for your website, we provide valuable help with the management of your digital spaces. We are ready to provide an update to the design of your website, or even a brand new page for your practice. When it comes to maintaining your site, we offer technical support, and we can sustain your digital presence with original content that appeals to people, and provides the right features for SEO. 
We understand that a quality website and good content are vital to your SEO, but there are other areas of online marketing that should receive attention. One of the many forms of help we can offer is in the area of reputation management. In order to help your practice grow, we have strategies you can put in place to encourage your patients to share their great experiences online. We can even help you recognize the importance of securing glowing reviews on Google, and in other spaces where reviews may do more for your SEO.
Other Steps We Can Take To Provide More Helpful Information On Search Engine Results Pages
There are important features of a web page that may not be visible to visitors. In order to make your links more attractive and informative in search engine rankings, we use meta information that allows Google to list snippets of information about a page, as well as contact details for your practice. Meta information can give you an important advantage over other practices on a page by making your site appear more professional. Including contact information can even lead to people contacting you to make an appointment without following the link to your page!
Social Media Interactions Provide Additional Opportunities For Positive Interactions With Patients
Positive feedback can be found in more spaces than online review sites. Social media pages for businesses provide opportunities for promotion, but they also serve as a great space to interact with patients. People can leave reviews about your practice on your social media profiles, which give you scores that reflect highly on your services. When actively update these spaces with relevant, attractive posts, you can increase engagement with people, which can lead to increased visibility. 
MDPM Consulting Can Help You Gain More From Online Patient Reviews
At MDPM Consulting, we understand that an effective approach to online marketing is one that pays attention to more than just what is happening with your website. Our reputation management services help practices attract new patients by encouraging more online reviews. Positive feedback from other patients can be highly influential on people who have yet to visit you, and better scores in Google reviews may have important benefits for your SEO efforts! If you have questions about the value of online reviews, if you want to overhaul your website, or if you have any other concerns regarding digital marketing, we are here to help! To learn more, or to discuss the benefits of our services, contact MDPM Consulting today at 972-781-8861.