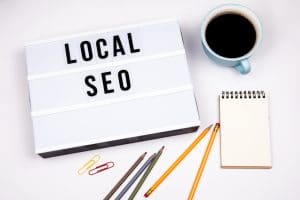 Google and other search engines can recognize when a user wants to find nearby services, and can adjust the links they provide accordingly. The efforts you make to ensure your links appear in local searches is referred to as local SEO. While many websites have little to worry about when it comes to local search rankings, your online marketing success can be closely tied to how effective you are at reaching people in and around your location. After all, people may appreciate the information you share online, but you can hardly expect someone to drive great distances for routine dental services! When working with dental offices, we make local SEO a priority in order to make you visible with the right people. Our goal as we build websites and maintain them with site content is to include information that leads to the most useful site traffic, rather than simply trying to raise your overall visits.
Who Is Visiting Your Site?
Ultimately, you need to be concerned with who visits your site online. Would you send out mailers to addresses hours away from your office? Would you be willing to pay for billboards located on the other side of the country for you? The most useful promotional efforts are the ones that local people see. The ability to achieve higher ranks in local searches is just one of many reasons we emphasize the importance of organic SEO efforts. With the right site content, and the appropriate information and meta data on your site, you can ensure that your site visitors are people close enough to your office to actually visit you.
What Makes Local SEO Different From SEO?
You should not think of local SEO and general SEO efforts as exclusive. In fact, the general practices that make your links more appealing to Google can be important to a successful local SEO strategy. With local SEO, you are more likely to show up in search queries that ask for results from your city, or in "nearby" searches that happen close to your location. Local and general SEO efforts work together. Confirming your location can help you with these specific Google searches, but you should still depend on general SEO features to make your links more attractive than the ones found on competing sites, as you obviously want to be ranked above them.
How Local SEO Affects Our Approach To Supporting Your Practice
When we work with a dental practice, our goal is to help them reach potential patients, not just to raise their overall site traffic. Our focus on local SEO can begin with the development of a new site, as we can include location information on pages to make them eligible for the right location-focused search results. For additional support, your site content is also written with a local focus in mind.
One thing to think about when it comes to online marketing is what devices people might use to look for dental health services. Mobile devices are being used with increased frequency by people who go online. You can be sure that many people who want information about local services or offices will perform a search in their phone to see who might be near them. If you want to make a good impression on these people, your site needs to be optimized for the mobile experience. We have helped many people update their sites with new designs that make browsing easier on phones and tablets. In addition to making better impressions on these users, this update is now important for your overall SEO success thanks to Google's move to mobile-first indexing.
The Link Between Local SEO And NAP
Something as simple as failing to update your contact information, or leaving a typo on your site, can negatively impact your local SEO efforts. For websites that depend on better local SEO efforts, the importance of maintaining the accuracy of your NAP is hard to overstate. NAP refers to your office's Name, Address, and Phone Number. Obviously, you want patients to have easy access to these details, but you also want to make your contact information as clear as possible for Google. If there is confusion over where you are located, your ranking can be negatively affected. As we work with you to update or replace your website, we can take care to look for any outdated or incorrect information, and make the appropriate updates. If you have multiple locations, we can help you maintain consistency, and prevent any confusion that might interfere with your local SEO.
The Importance Of Tailored SEO Support
The online marketing support we provide focuses on organic SEO support. Organic SEO is an approach to online marketing that improves a site's value, and earns better rankings from Google and other search engines in relevant searches. We emphasize the importance of these efforts over pay-per-click marketing, as organic SEO can make your website more appealing to visitors while also protecting you against long-term costs with online marketing.
At the start of our support, we take the time to learn what you want from your website, what your goals for your practice are, and about the community you serve. With this information, we can redesign your site, or build a new site, that is better equipped to help you maintain better SEO. We provide different packages for clients based on their needs, so you can control how often your site is updated, and what service or services receive the most focus when we create new content. This tailored experience is meant to give you the full benefits of smart online marketing!
Talk To MDPM Consulting To Learn More About The Importance Of Local SEO
At MDPM Consulting, we have experience providing local SEO support to practices throughout the country. With the right strategy, we can make sure that your links are being visited by people in your area who can be counted on to make appointments with your office. If you want to learn more about the relationship between local SEO and online marketing, or if you want to know how you can start seeing real value from your website, contact us at 972-781-8861.